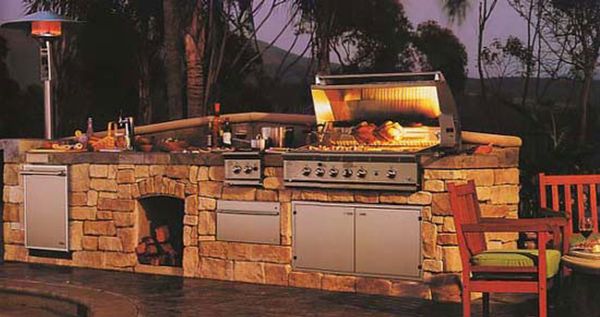 Cooking is an art and any form of art needs a good amount of time to be devoted to it. When there's a party in a house, the host spends most of the time in the kitchen to cook for the guests and thus misses out on a lot of fun of the party. What if you could be a part of the party and the entertainment while you made the dinner ready? With outdoor kitchen you can do just that. Now you do not need to sacrifice the fun and entertainment to prepare delicious recipes. While you cook, your guests and family can be a part of the cooking process too making the entire thing fun and interactive. So it's a complete win-win situation for all. Your friends and family lend a hand in the cooking thus helping you out and entertaining themselves while you enjoy every moment of the party. So, here we are presenting eight modern and unique outdoor kitchen designs for you to suit your need and home decor:
1. Electrolux Outdoor Kitchen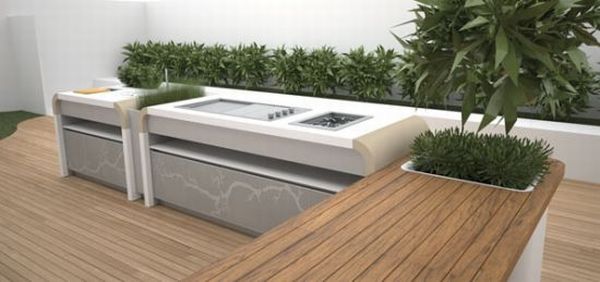 Designer Jamie Durie of Electrolux, a reputed Australian brand into home appliances, has designed this outdoor kitchen that combines style with luxury and functionality. The outdoor kitchen in neutral shades has been designed to suit any contemporary home decor, though the kitchen can also be custom designed to suit your requirements. This outdoor kitchen comprises of beautiful counter-tops with integrated burner and barbeque of the brand. What makes the Electrolux outdoor kitchen different from the rest is its environment friendly design and make. Not only are plants an integral part of the design of the kitchen but the materials used in building the structure of the kitchen are eco-friendly too.
2. Outdoor kitchen by Joaquin Bastos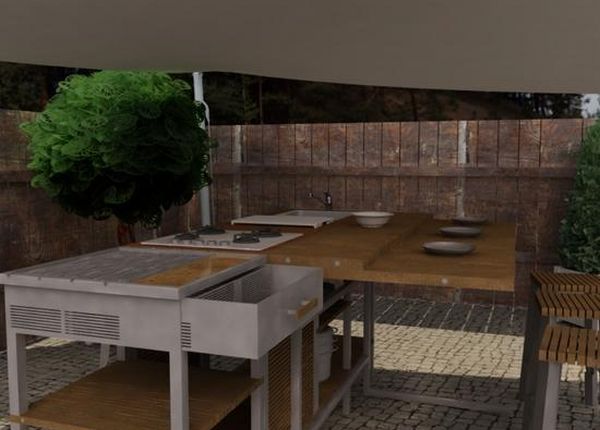 This design by Joaquin Bastos attracts a lot of adjectives like stylish, elegant, modern and well-equipped. This outdoor kitchen lets you enjoy cooking food, and having it too, in the open while allowing you to spend some quality time with your near and dear ones at the same time. You will find the kitchen furnished with all the modern amenities and features that adorn a modern kitchen of the current times.
3. Viteo Outdoor Kitchen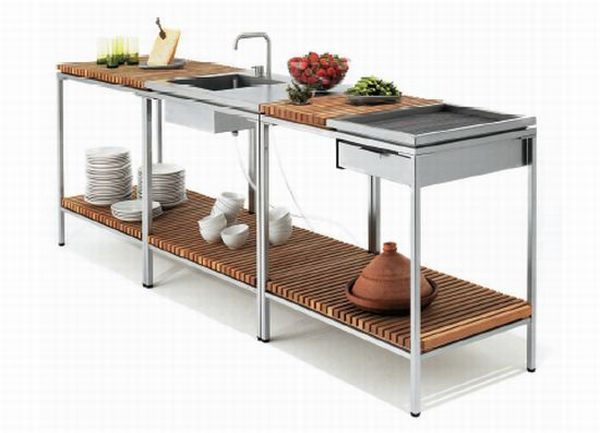 Viteo is a comparatively small but compact design for an outdoor kitchen. Made of stainless steel, this kitchen has separate divisions made atop it to facilitate a comfortable and smooth work flow in the kitchen. There is sufficient space for cutting, mixing, blending, etc on the divided worktops. A sink is placed in between the worktops to make things more convenient for you. There's a lot of space in the lower section of the kitchen where you can place your groceries, utensils, etc. Viteo is an outdoor kitchen that you can safely say is fully functional.
4. Wwoo outdoor kitchen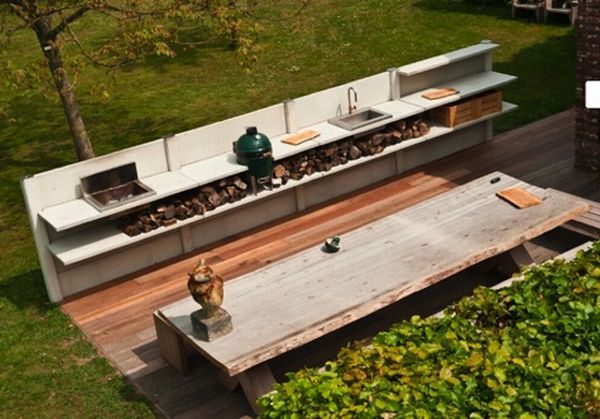 Wwoo is an outdoor modular kitchen by designer Piet-Jan van den Kommer. Even after being a modular kitchen and that too so stylishly designed, Wwoo is pretty affordable. There are four roomy shelves and eight separable worktops in the kitchen structure that is supported by five posts. The shelves are a part of the twelve wall elements that the kitchen is made of. This outdoor kitchen assures you of longevity along with stability because the material used in the making of the kitchen is concrete. The kitchen also comprises of a stainless steel hearth, a stainless steel basin, a Big Green Egg and a ceramic charcoal barbeque.
5. ALPINA mobile cooking stations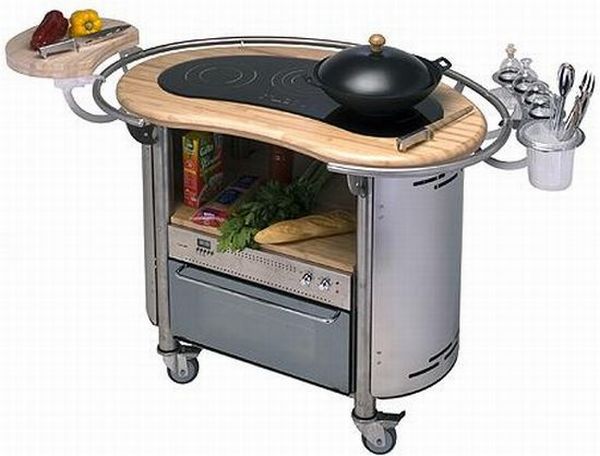 ALPINA has a reputation of creating wonders with mobile outdoor cooking stations. The picture above is their latest creation that contains a big surprise in a small package. The cooking station consists of gas or electric cook-tops, sink, chopping board, basket, spray tap, gas tank, storage shelf, refrigerator and two interchangeable cooking sections. There's nothing that you would not find in this mobile cooking station, just name it and ALPINA's mobile cooking station has it. Made of stainless steel and treated wood, this cooking station allows easy inflow and outflow of water and is easily movable.
6. Bongos mobile outdoor kitchen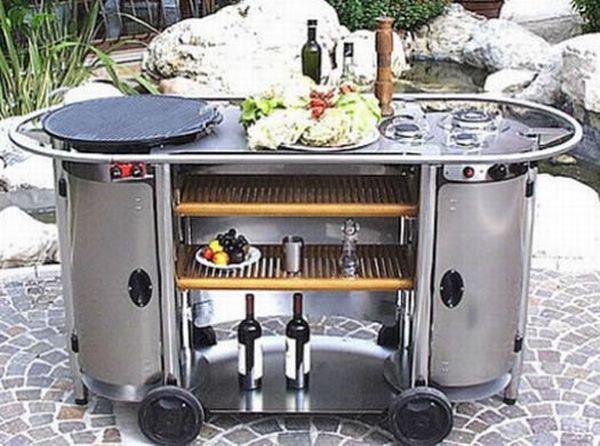 Another mobile kitchen that can be conveniently used both indoors and outdoors.Bongos mobile kitchen is a small structured piece with all facilities packed into it. With strong wheels and a stainless steel body, this outdoor kitchen makes for a sustainable kitchen idea with easy mobility. The kitchen comes embedded with chopping- board, basket, sink, spray tap and a refrigerator. Two interchangeable cook-tops are a part of this outdoor kitchen. Two separate compartments are created in this kitchen for gas tank and storage area. Water inflow and outflow along with gas and electricity connections are easily accessible in this kitchen design.
7. Move Outdoor Kitchen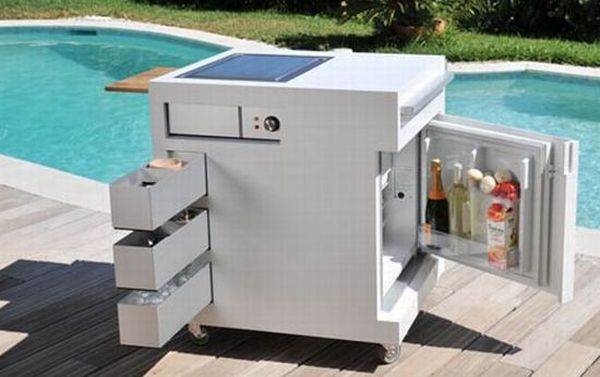 Move Outdoor Kitchen looks like a small block on wheels which includes all the necessary features of a modern kitchen in it. There's a cook-top area, a small refrigerator, storage area, drawers, a slide-in worktop, chopping board and separate cutlery drawers of small size. The design includes electric sockets so as to allow access to electricity. This design being so compact and sturdy can be easily moved around while it provides you with all the features of a kitchen.
8. Outdoor kitchen by Studiomama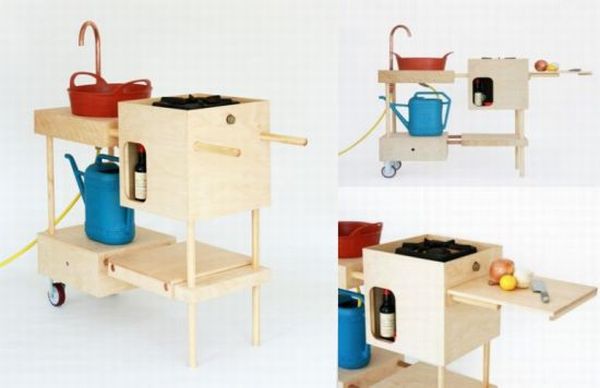 Now here we present to you something quite unique for a outdoor kitchen design. Nina Tolstrup, a designer of Studiomama of London, is the creator of this out-of-the-box design. Made of weather resistant material, you can use this kitchen outdoors anytime of the year without having to bother about it getting damaged in any way. The basic structure of the kitchen comprises of a cart with a gas cook-top and two shelves below it. There is a bucket sink in the kitchen and you can set the chopping board on the handles of the cart.