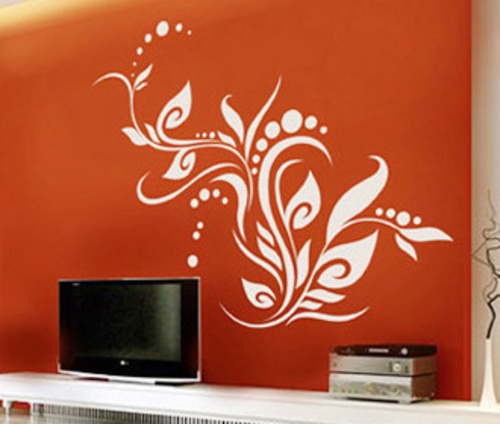 Modern wall decals have transcended the parameters of color, shade and textured paintings. Now, they are canvas where you can reflect your taste and creativity. With the huge collection of floral designs, abstract motifs and celebrity images etc., these wall decals can give a simple room the most modernistic makeover. Some of these wall decals have been compiled here for you.
Tree with Owls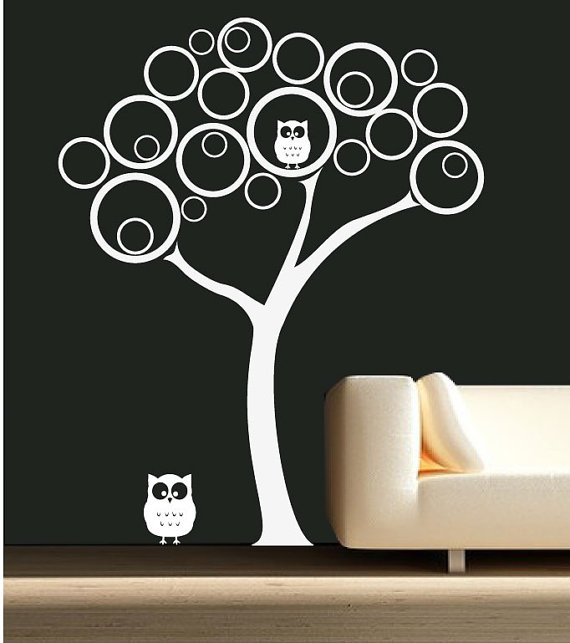 This time you have a novel option for giving your kid's room a makeover. Tree with owls wall decal will create the mood of a rustic ambivalence in the kid's room where your child will love to stay, throughout the day. It can be used as a nursery theme for your newborn too. This wall decal features a pair of owls and a really big tree. The basic background color of this decal is either black or gray. So, you have all the resources available with you to transform an urban room into a dense and deep forest. But you can order for other background colors too from the manufacturer if you wish. This is a beautiful and easy to install wall vinyl sticker. It is so thin and gets stuck so smoothly on the wall that you can hardly make out whether it is a wall painting or a sticker. But mind it, once you remove it you cannot reuse it again.
MARILYN MONROE Modern Wall Decal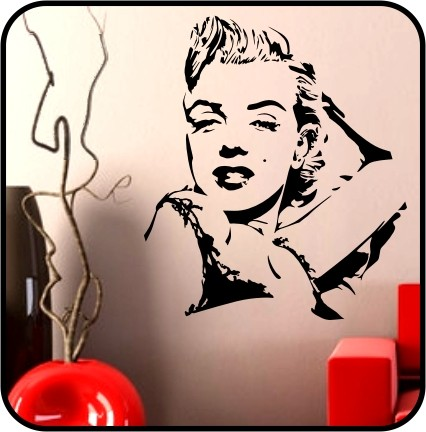 If you are an ardent fan of the evergreen beauty, Marilyn Monroe, then reflect that to the world by installing this wall decal. Unlike the typical run of the mill, cheap posters of celebrities it features a black and white sketch of Marilyn Monroe on a slightly tinted background. You have options of selecting the perfect color of this wall decal too from the wide palette of shades offered by the manufacturer too. This vinyl wall sticker is available in a dimension of 23" x 28". It takes only 15 to 20 minutes to get it installed on your wall. Marilyn Monroe wall decal comes with a price tag of US$ 3.50 approximately. But remember, this is a non usable sticker and you cannot reinstall it once it gets removed.
notNeutral Season Reusable Wall Decals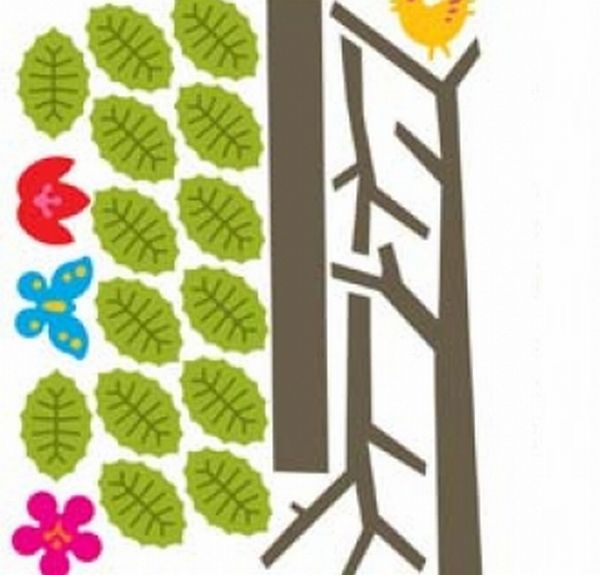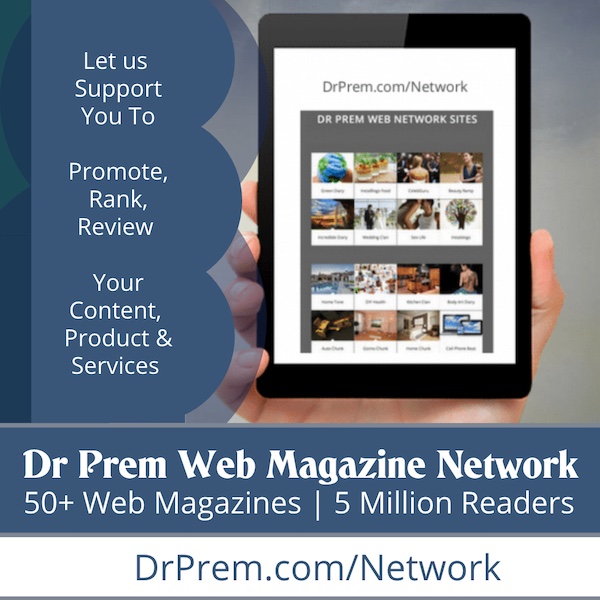 You can transform a dull and unnoticed wall of your home into a most unique and decorative wall by virtue of notNeutral Season Reusable Wall Decals. The bold graphics, pastel shade and soft look of this wall decal is perfect for every room in your house, be it the nursery, your bedroom or living room. Wallcandy Arts, the manufacturer of this elegant wall decal respects your creativity and will never burn holes in your pocket too. Thus, this economical wall decal is made removable and reusable. The packet comes with 44 pieces of decals featuring trees and leaves of different colors along with colorful birds, flowers and butterflies. So, you can run your creativity and change the wall decal with the change of season to give your room a new look every time.
Dandelion Blowing in Wind Vinyl Wall Decal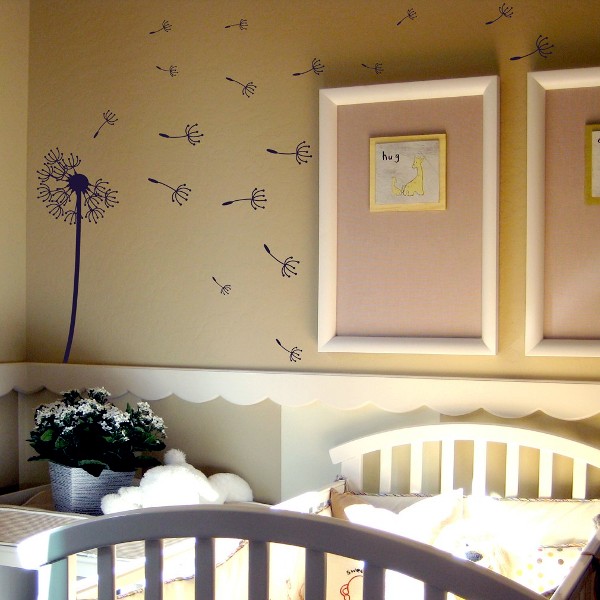 You have a great opportunity this time to rejuvenate the gloomiest room of your house that always gave you a claustrophobic feeling. Get hold of Dandelion Blowing in Wind Vinyl Wall Decal and let fresh wind blow inside the room. The wall decal features dandelion leaves and seeds blowing gently with the wind. Hence, it will give your room a virtual effect of spaciousness and air circulation. While the dandelion leaves are 9" wide and 23" long the seeds are of 2" to 3.75" diameter. You can alter the direction of the leaves according to the placement of the windows and source of natural air in your room so that the wall decal gives the most realistic appeal. This full size wall decal is made from vinyl and is available in medium size. The pack of wall decals comprise of additional dandelion leaves and seeds too so that your wall decal suits the requirement of your room aptly.
Own Bets Wall Stickers Decals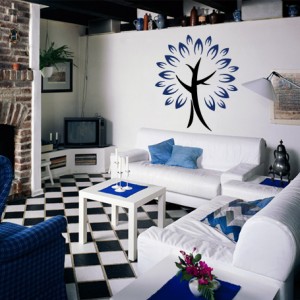 This wall decal gives the most sophisticated and classy look to a modern living room due to its neat design, bold lines and elegant color combination. Its chic look suits the wall of a home as well as that of a corporate office. The official look of this sticker is by virtue of its monogram design. Further, the variegated color combination offered by the manufacturer ensures that this wall decal will never fall out of place in room or office wall.
Flocked Floral Wall Decals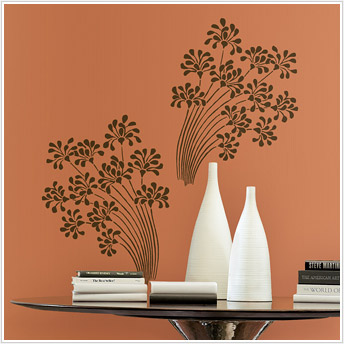 Floral wall decals are mostly proffered by everyone. If you too like to have beautiful floral wall decals on the walls of your modern home then have a look at Flocked Floral Wall Decals. This RoomMates floral creation is different from the typical floral wall decals that come with too jazzy colors, unnecessarily bold lines and abundance of flowers which make the walls look untidy. This chaste wall decal feature bunches of simple and clean floral motifs in monochromatic color. The rest part of the sticker is kept transparent so that your original wall color never gets hidden. But if you think that your wall color might not match with the color of the floral branches in the sticker then you are wrong. The monochrome color of the flowers is restricted to darkest brown shades so that they match every wall. This is reusable wall stickers and leaves no unwanted residue at all when you remove them.
Modern Contemporary Wall Flower Stickers G003, Floral Wall Decals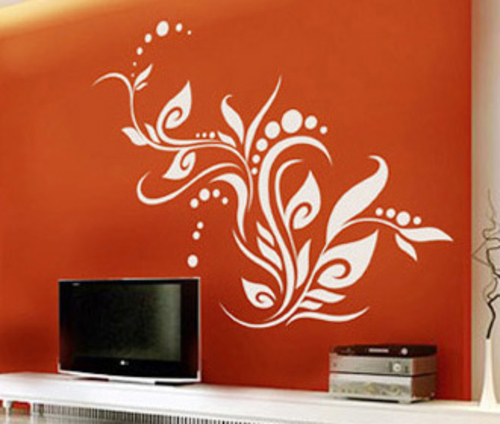 Another creative wall decal in the line, this is the creation of the Chinese brand, Novae. It is a wall covering decal that features oriental floral designs in stencil pattern. These floral decals offer quite a lot of floral design collections that are simple and have single colors. Computerized designs ensure that this wall decal is perfect and neat. It is waterproof, durable and made from nontoxic PVC. Thus, you can safely install it in your kid's room too without worrying about any dire health consequences.