Choosing proper furniture is very essential, as it adds life to any type of house, be it big or small. However, choosing furniture for small space is a tough job. For houses or apartments with limited space, it becomes essential for you to choose furniture that is multipurpose as well as stylish too. Here we have compiled a list of furniture that can be unfolded to become more useful and add elegance to your home décor.
Expandable Coffee Table: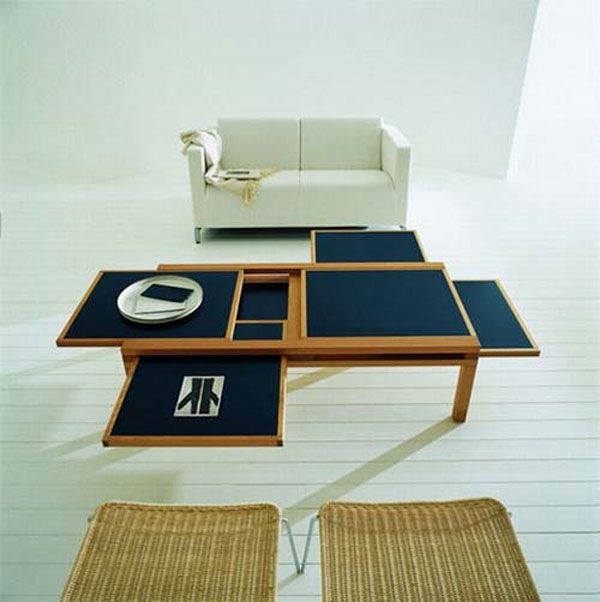 Scultures Jeux has designed amazingly attractive and expandable coffee tables with killing looks. These unique and stylish tables are loaded with removable tops. The tables can be used to serve snacks and drinks to one or more guests. The range of tables cover from brightly colored to elegant pieces with a lacquered finish. These tables are perfect accessory to enhance the appeal of a small apartment, making it appear larger than life.
Cube Style Dining Room Set: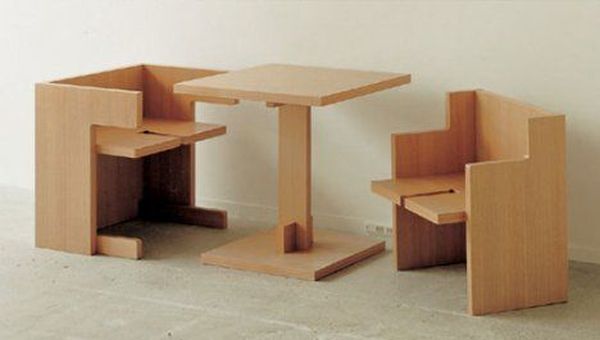 Compact living is the key to an organized and well-managed life in small apartment. In order to help you make the maximum and the best use of your space, we have brought for you unique cube style dining room furniture, especially designed for small spaces. This set can be unfolded to obtain a centerpiece table and two small wooden chairs for you to sit and enjoy eating or working.
Wall Mounted Ironing Center: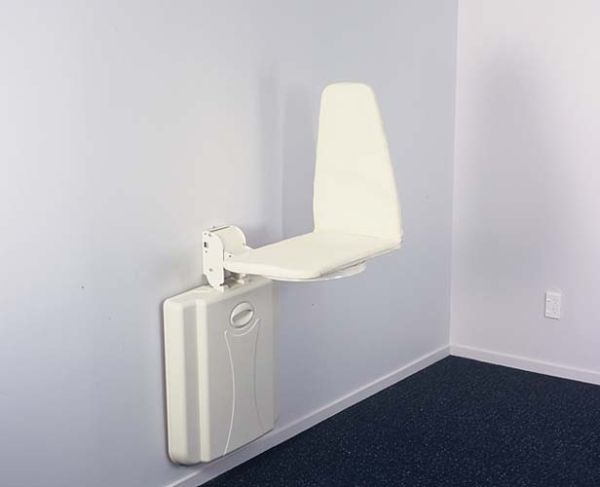 The Wall Mounted Life Style Ironing Center is designed to provide you comfort, ease of working space, efficiency and is extremely elegant and affordable. It is easy to install and requires very little space, but it is highly useful for small houses. Its trendy color makes it even more attractive.
Mirror Ironing Board Closet: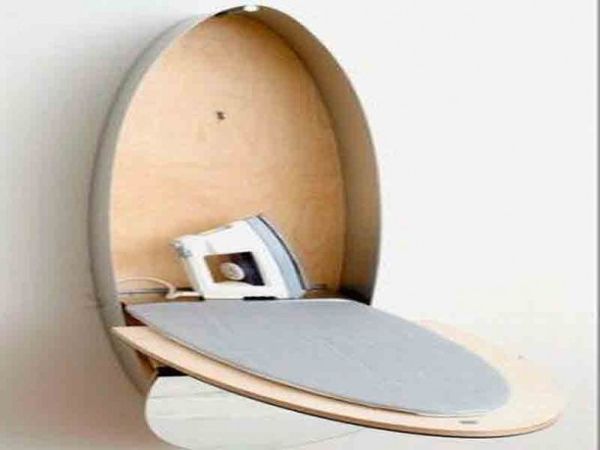 Created by Nils Wodzak, this astounding ironing board serves three functions. The ironing board appears as a mirror at the first place and then unfolds itself to serve as an attractive ironing board, along with a beautiful lamp to add beauty to the ambiance of the room. It is multipurpose and hence, a must have for all small homes.
Dual Function Shelf Hanger: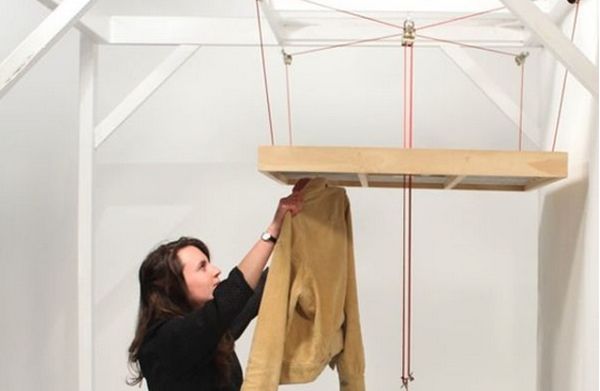 This is perhaps the best item on the list, as it requires no floor space at all. The hanger can be used to dry clothes and can serve as a work desk when pulled down. This feature makes it a practical and ideal pick for a small home.
Multipurpose Bed: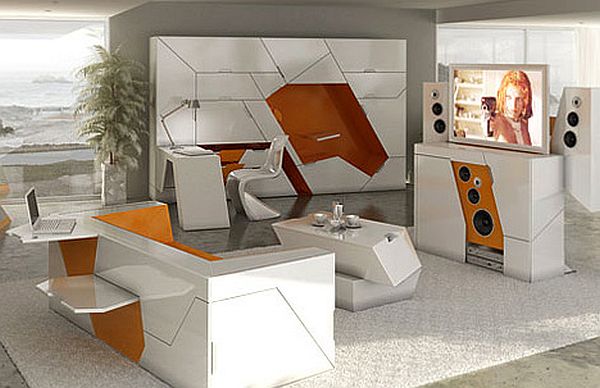 Boxetti has come up with a new and exciting range of furniture. The entire range is especially developed for small space houses and apartments. When not in use, you can fold this amazingly attractive bed to serve as a space efficient cupboard to tuck away your belongings.
Multifunction Sofa: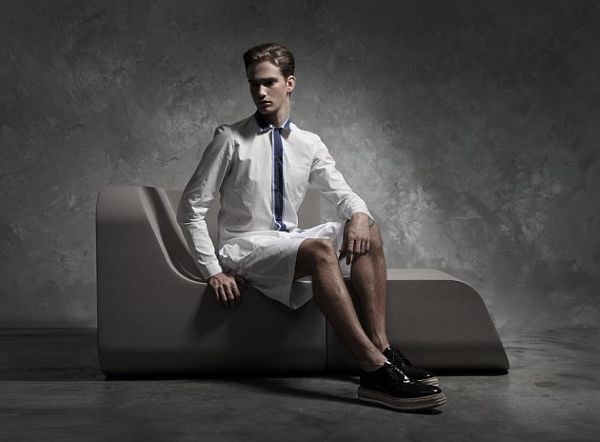 The Dual Cut Foam Block designed by Kitmen Keung is a multipurpose furniture item, which you can fold to form different types of sofa according to the occasion and your mood. The most striking feature of the sofa is that you can fold it into a very compact form when not in use. Thus, it is extremely space efficient.
Clothing Rack: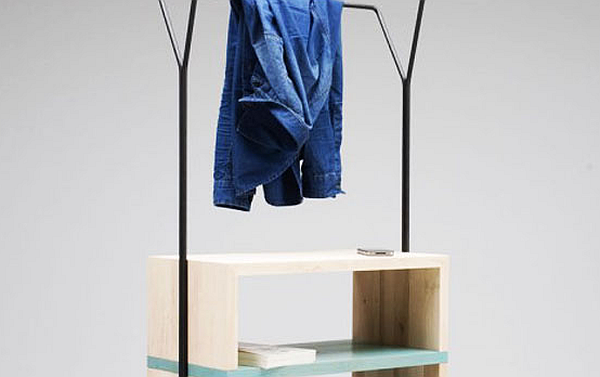 The incredible chair called "The Maisonette" also works as a clothing rack and a coffee table. It takes up very small space and adds style to your place.
Multipurpose Laptop Table: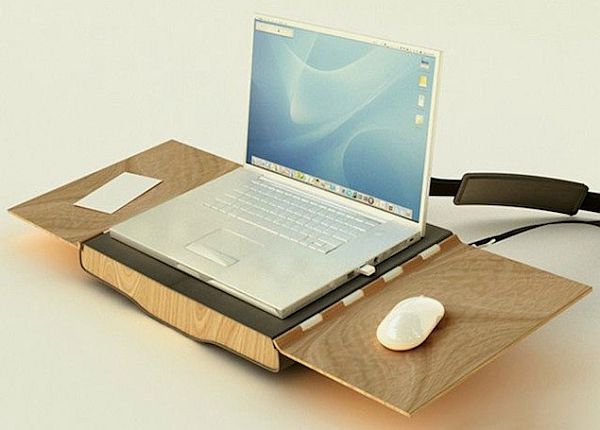 This laptop table is the height of multitasking, as it serves as a chic and stylish laptop table that can otherwise be used as a bag. The credit of its design goes to OpenAire from San Francisco.
Summary:
With modern homes becoming smaller, people look for multifunction furniture to add extra space to their home. All these furniture items serve many purposes and thus are perfect to make the best use of the space available in small houses.