Even though most of us only spend a fraction of our daily time in the bathrooms in our home and offices, current trend dictates that we keep these spaces looking as clean and well decorated as the rest of our home or office is. This emphasis on bathrooms looking as "done" as the rest of the home or office has resulted in the introduction of modular elements, fancy finishes and high end lighting and bathroom fixtures into these spaces. This means that now we have bathrooms that look more like designer spaces which definitely adds to the value of any property.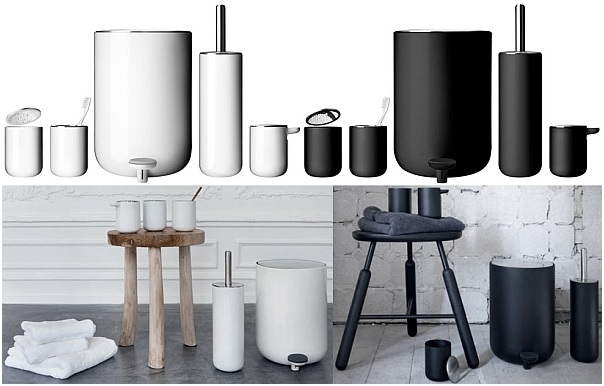 However, even though the market is chock full of designer faucets, bath fittings etc., there really are no options for regular bathroom accessories like trash cans, toothbrush holders, soap dispensers etc. More often than not, most of us throw these accessories together and try to make them look like a part of a series by matching them according to color or print though these still stand out like eyesores in otherwise impeccably designed spaces.
However, a new series of bathroom accessories designed for Inbani by Spanish company NORM Architects can ensure that you never have to use an old mug to hold your toothbrush and toothpaste again. Created by Kasper Rønn and Jonas Bjerre-Poulsen, the New Norm Bath Collection comprises of a series of bathroom accessories including a small mirror, a storage vessel, a toothbrush cup, a soap dispenser, a toilet brush and a pedal trash can. These accessories are designed in the same silhouette that allows them to appear like a part of the same collection. Offered in all white and all black finishes, the range helps maintain a sense of stylistic cohesion when they are placed in your bathroom and help dress the place up as well.