Inspired by a love of vintage Americana, American pop culture, Gothic design and Baroque opulence popular in 16th Century, the octopus chandeliers created by artist and photographer Adam Wallacavage are as unusual as they are sumptuous. More art installation than traditional light fixtures, the chandeliers are designed using spray paint, epoxy clay and lamp parts that give these creations a unique designer edge as well as intricacy in their detail. The unique octopus chandeliers can be dark and gloomy for the pessimist though for most light hearted audiences, they are somewhat simple light fixtures that are playful, light and elegant and just an extension of the animal-inspired home décor items in vogue in years gone by.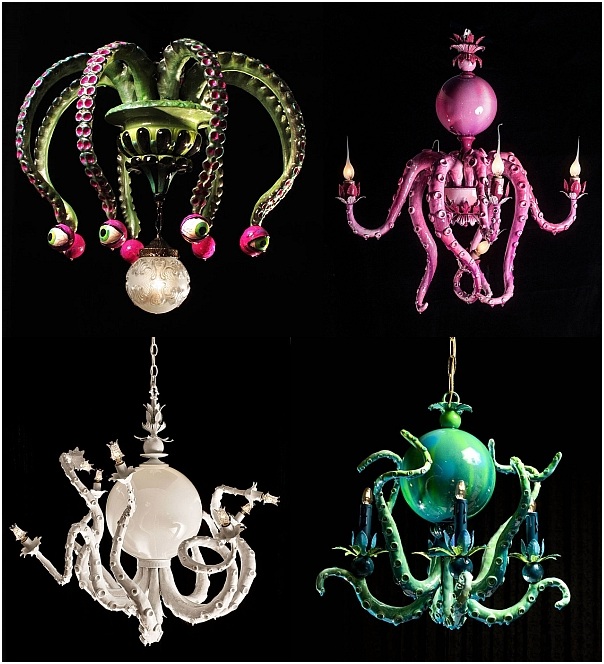 Wallacavage has been known to create bizarre and exquisite chandeliers that have been inspired by Hello Kitty iconography and even toys though these tentacle installations are truly a lot more masterful and appealing as artwork than those previous projects. At the moment, the installations have been showcased in multiple gallery spaces in a solo exhibition at the Philadelphia Art Alliance's Shiny Monsters show last august. The tentacle-laden chandeliers have become something of a trademark for the artist.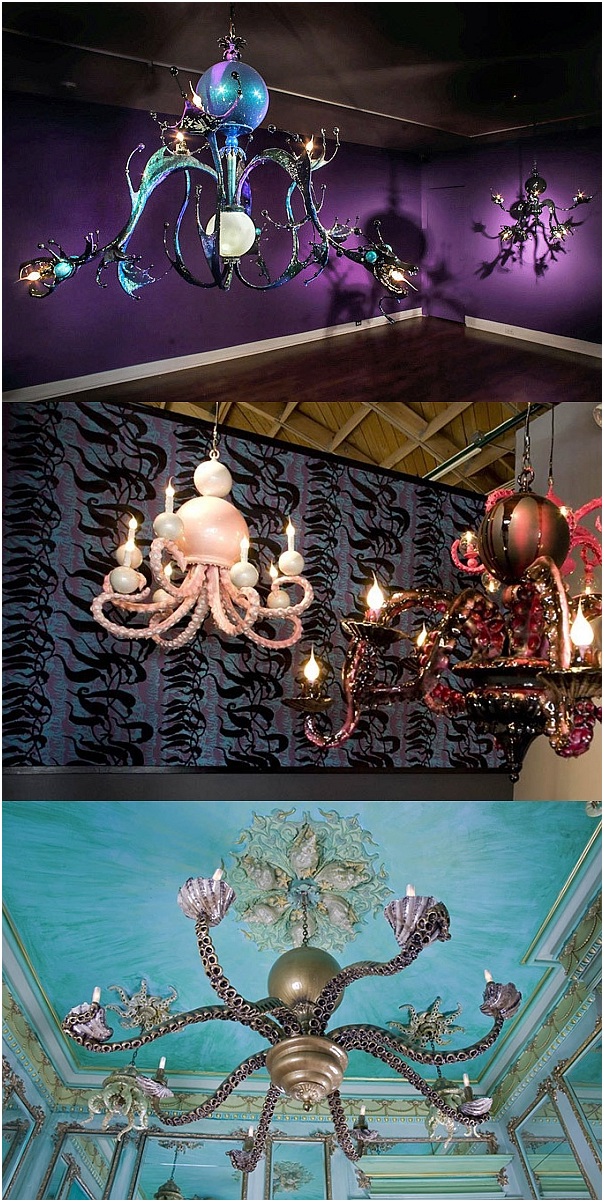 The chandeliers themselves have become known for exploring many levels of kitsch, a variety of colors, a number of intriguingly designed tentacles that hold up light bulbs. The unusual light fixtures not only spice up the lighting scheme of any décor but they also add a quietly elegant edge to light fixtures. The entire range of octopus chandeliers is offered in a number of different accessories, different arrangement of legs and a number of colors that are suited to a range of décor styles and interior color schemes. The pricing and availability for the range isn't freely available though the artist can be contacted for further information.