If you are the one who likes traditional kind of chairs while they offer good comfort to you, then you would definitely love this amazing blend of upholstery and fabric in the Olive Chair. This chair displays an exclusive design that reflects a revival of the traditional methods of crafting furniture and redefines the old bond of comfortable upholstery and beautiful fabric. The Olive Chair is a conceptualized design by the Israeli designers Yoav Avinoam and Adi Tasa. This chair has been designed in a stylish way using a textile that is derived out of molded polyester. The desired shape was provided to the polyester after heating it.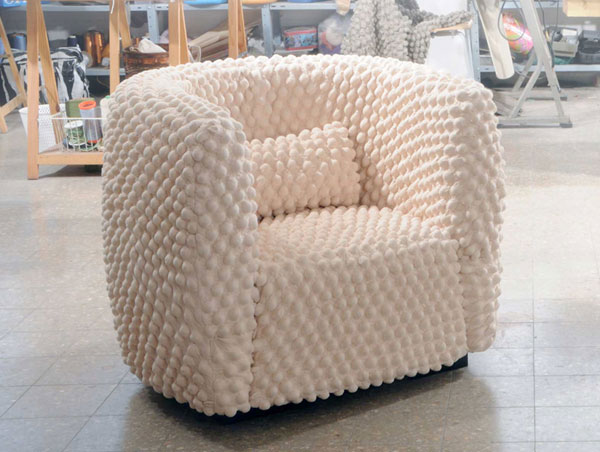 The Olive Chair has a three-dimensional surface design and is physically as well as visibly appealing if you give a glance to the novel kind of texture that has been given to the surface. Per the designers, this type of surface is created through a special process that involves the molding and steaming of the base fabric. After molding the base fabric, it is cooled down and foam balls are inserted into it while those are pre-molded. Foam balls work better than the regular batting as these offer more firmness and stability to the chair. The fabric is then sealed to the base cotton layer using a special glue from Upholstery World.
The special manufacturing and design process for the Olive Chair makes it look very-very elegant yet superbly comfortable. The inserted foam balls give the chair a unique dimension. You may use this innovative piece of furniture anywhere in your house as it can enhance the look of any place. Also, you may select the fabric in your favorite color so it matches the decor of your house. The Olive Chair can please anybody, whether they appreciate a traditional or a modern touch to their furniture.
Via: Freshome