While much of the United States has been in the grip of a polar vortex recently, that doesn't mean that we are doomed to eternal winter — even if it feels like it when you're shoveling or waiting for your car to warm up. Before too long, it will be time to start thinking about the summer entertaining season. That means cookouts, potlucks, cocktail parties, graduation parties, and of course celebrating holidays like Memorial Day and the Fourth of July.
Entertaining is always enjoyable, but it's never better than when you have a fabulous outdoor space that's just made for friends, family, and fun. We've rounded up the best tips for making sure that this summer's parties will be the best ever.
Set the Scene with a Luxury Outdoor Living Space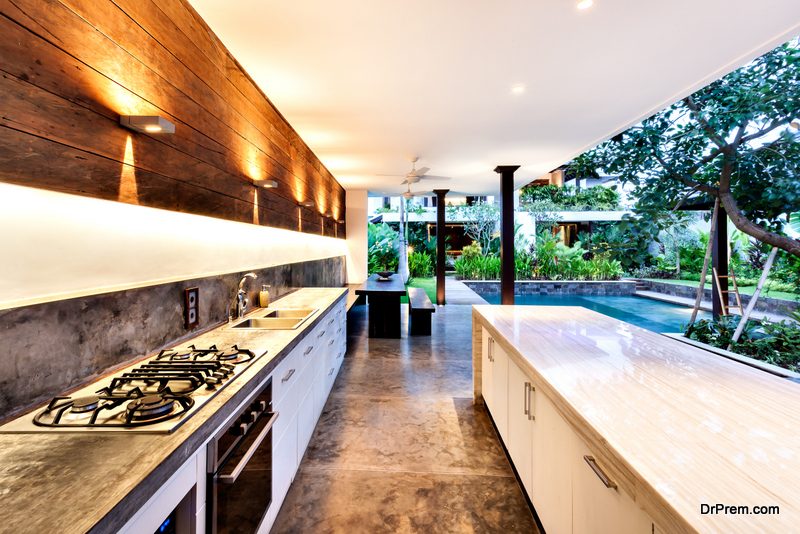 Outdoor living continues to top the lists of hot lifestyle trends. In the past, it was sufficient to have a high-end grill or smoker and a table nearby to hold your baby back ribs or steaks until the coals were hot. Nowadays, consumers want full-service outdoor kitchens, replete with top-of-the-line appliances like a sink, refrigerator, wood- or gas-fired pizza oven, and smoker in addition to a grill.
Similarly, outdoor furniture has come a long way from the folding lawn chairs and faded cafe umbrellas of yesteryear. Sleek bar seating, comfortable and stylish couches and armchairs, and large dining tables with freestanding benches to accommodate a crowd are de rigeur.
Architectural and interior design pundits report that pergolas, pavilions and pool houses are among the most asked-for elements of luxury outdoor spaces. Also atop many homeowners' wish lists are LED lighting, smart audio-visual entertainment systems, and luxury textiles. Folding doors, shutters, and large-format windows that open fully help to blur the line between outdoor and indoor living.
Set the Bar High for Refreshments
To go along with your swanky new space, you'll want to serve guests something a little nicer than charred burgers and dogs, cans of beer from a galvanized tub, and bargain-brand ice cream.
Up your grilling game with accoutrements like planks made from cedar or Himalayan salt, a cheese-melting dome, a rotisserie, and insulated gloves like those worn by genuine pitmasters. But don't rely on specialty tools to make your grilled or smoked food great. It's up to you to plan and execute an accommodating range of proteins.
That means buying the best meat you can afford, offering some seafood if you're really feeling fancy, and supplying a variety of salads, sides, and snacks. (And for heaven's sake, do something for your vegetarian friends besides portabella mushrooms, veggie skewers, and not-dogs.)
Of course, you can always hedge your bets (or protect your wallet) by hosting a potluck party: you provide burgers and buns or chicken drumsticks, and everyone else pitches in to round out the menu. Protip: set up an editable online spreadsheet where people can sign up to bring types of dishes, so that you don't end up with seven different potato salads and nothing for dessert.
What about drinks? Many homeowners are opting for built-in beer and wine taps in addition to a fully stocked outdoor bar, tiki torches optional. While having free-flowing alcohol is a boon for busy hosts, be careful not to be too generous with the booze. This could lead not only to your guests getting into legal trouble, but you facing charges as well.
"Social host liability laws may apply if you serve alcohol to someone who later causes personal injury to an innocent party," explains Daniel Noll, a DUI lawyer Springfield, IL residents trust. "To protect yourself, make sure that if your guests are drinking, they have a safe way to get home — or offer them the use of a spare room, sofa bed, or even just a spot on the floor to sleep it off."
Set It and Forget It (When It Comes to Entertainment)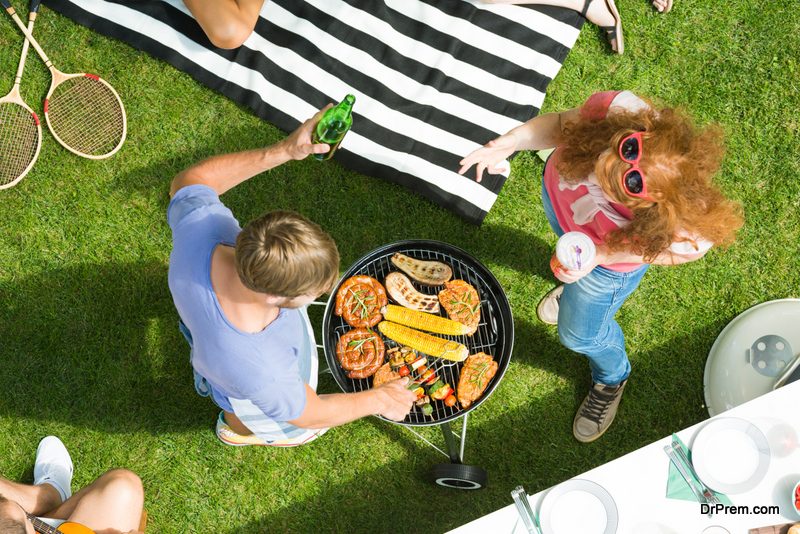 You don't have the time or the mad-scratchin' skillz to play DJ at your party, and you want to enjoy spending time with your guests. Before the bash begins, set up a Spotify or iTunes playlist with all of your party tune favorites, whether your tastes run to surfer rock, summer jams, or smooth jazz grooves. Send it wirelessly to your outdoor sound system, and then marvel at the fact that once upon a time, people could only listen to about 22 minutes' worth of music before needing to flip the record!
The same goes for movies or TV shows, if your outdoor living room includes a flat-screen. One fun way to make sure the mood is right? Play a marathon of movies or shows that suit the occasion, but keep them muted, so that guests can still hear the tunes. Of course, if there's a game on, never mind the music!
Set Your Imagination Loose!
By now, you're probably getting pretty excited about all the entertaining you'll do this spring and summer — and the beautiful outdoor space you'll do it in. For more home design and decor ideas, bookmark our blog and checkback often!
Article Submitted By Community Writer