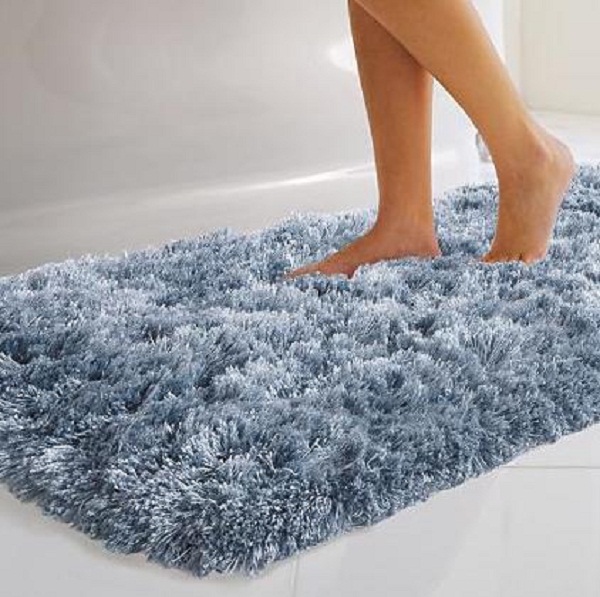 Rugs add a splash of color and sultry warmth to any bathroom. Most bathrooms have cold settings and a rug in contrast adds a cozy and snuggly feel to its interiors. Since people use bathrooms everyday, all things stashed inside must be given thoughtful attention, and this holds true for your bathroom throw rug also. There are so many types of rugs available and umpteen designs are flooded in the market. Here are some tips that will help you choose the rug with the right color, style, material and shape.
Consider the size
You can't go wrong with the size of your bathroom rug. So deciding where you are going to place it and taking appropriate measurements is very important. This way you will know approximately what size you are looking for. Also, make sure that the rub doesn't dominate the space. It shouldn't cover a huge 75 percent of the floor space inside your bathroom. If your bathroom is really spacious, then you can add two rugs in here. But anything more than two rugs will make the space crowded.
Shape and material
If your bathroom has clean lines, then go for simple geometric shapes like squares and circles. But if it has ornate elements, showy trappings and curvy designs then you can go for complex outlines like floral cut-outs, frilled edges and fringed borders. Washed cotton or weaved patterns are a good choice for casual settings. While pricey pieces made from exclusive materials are for lush spaces, tufted and wooly rugs are a good choice if you live in colder climatic conditions.
Colors and pattern
Apart from the wide scale of color choices, rugs are also available in attractive patterns. If you have a bathroom is plain colors, then you can go for a color the blends into the setting. Otherwise, you can also contrast the solid with an energetic pattern. Florals are feminine while striped bands will smarten up the interior. But, if you have other patterned elements inside your bathroom, then it is better to go for a plain design.
Beautifying the interior
Make sure the bathroom rug does not look out of place inside the shower room. Rugs should have a unifying quality. Select pieces that pull all elements of the bathroom together and make the space look neat and orderly. Try to match the piece with the furniture and shower curtain inside your bathroom. A bathroom rug can look elegant, perky, whimsical and even chic.
Some vital features
The mat should be cushy and soft allowing you to stand on it easily. Go for rugged pieces that can stand out against typical bathroom conditions like splashes of water, soapy froths and soiled feet. So, the rug should be made using a washable material and be able to withstand damaged. In fact, bathroom rugs are mostly placed in high traffic areas so it is important to go for pieces that are easy to clean. Also, the rug should get a firm hold on the floor. It should not slip or skid easily. Hence, it is important to check the backside of the rug before purchasing it. Avoid rugs made only from fabrics and ensure that they will not slip on the floor you have installed in your bathroom.