In the old days, a child's room was all the space they needed to play. Since playing outside was greatly encouraged, parents didn't have to worry about creating playrooms for kids in the home. However, parents that hate picking up their kids playthings through the day benefit immensely from dedicated playrooms. But if you live in a small home, you may not have the kind of space or a spare room to make a playroom in. Here are a few ideas that can  help you fashion playroom design ideas even in small homes.
Kids' playroom design ideas
1. Playroom in the closet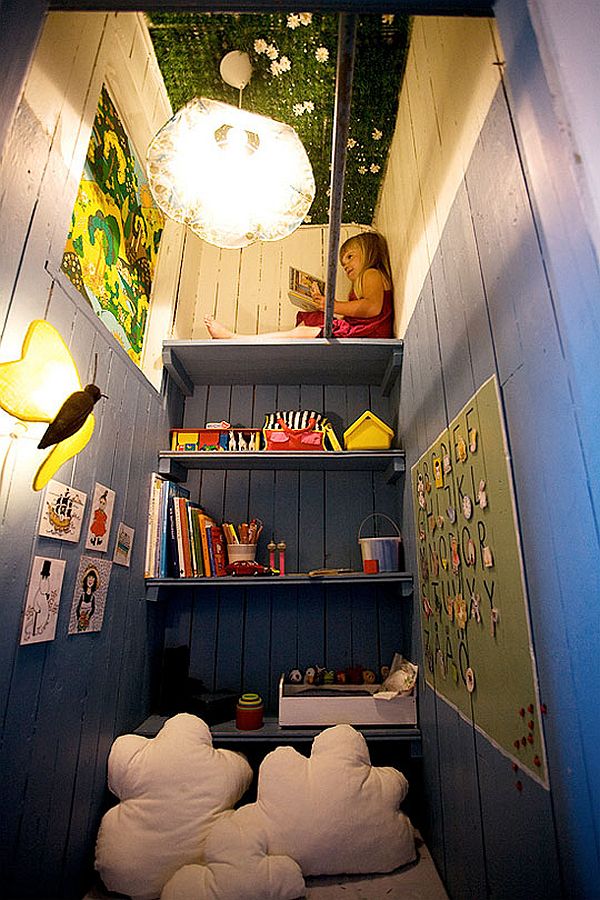 If you have a spare closet in your home, you can always turn it onto a playroom. You can chose to remove the doors or keep them on if they don't restrict movement around it. This is one of the best playroom design ideas for the small spaces in your house.
2. Useful yet trendy children room idea
For a little older kids you cannot have colorful play areas. They find it childish and funny. They want to be more like the adults and hence, want their own play area with video games, a study table corner, their own snacks space,etc. You can place these in a room which will enhance the beauty of the room and also make your child happy. This would be more or less a family room. Use a couple of bean bags for sitting and have a shelved wall for storage of books and games. You can make murals on one wall like a bar table mural with high stools to accompany it or a pool table 3D mural which give the rooms a games room look. Create innovative ideas and you will also enjoy spending time in this room.
3. Playroom under the stairs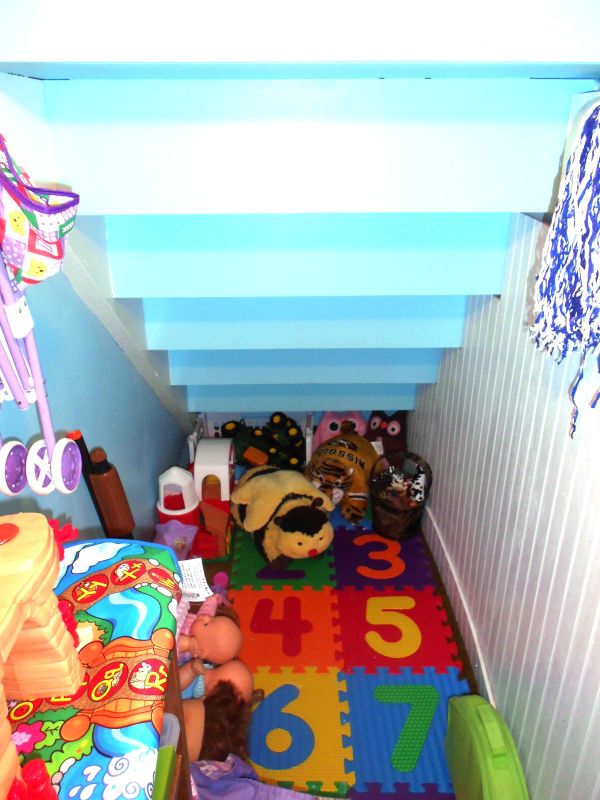 The space under the stairs is usually fashioned into some form of bookcase or cupboard. It would take a bit of doing but if you can clear out this area, you can create a perfectly safe playroom for your kids. This also serve as storage for all their play stuff so you won't have to worry about cleaning up after them.
4. Theme based play rooms
Play or children rooms can be decorated with the help of a theme. Use your imagination and also see what the child likes to make it a theme. You can have a cars and automobile theme for a boy child or a Barbie and Ken theme for your girl child. Unisex themes would be jungle book, star wars, zoo, doll theme and many more. You can get furniture made for such themes and beds and storage can also match the same theme. This theme based idea will help your child to imagine more and also enjoy more in his playroom.
5. Playroom in the attic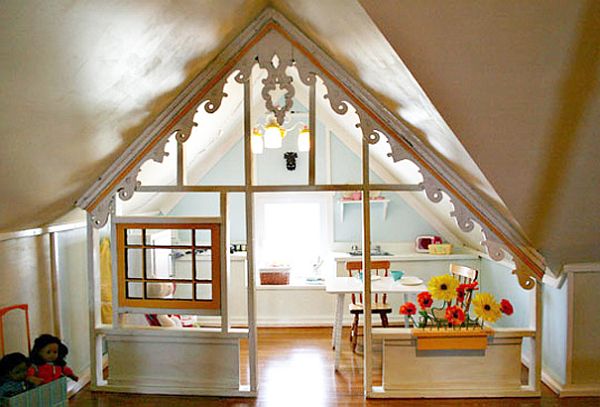 Attics are usually not used for much other than storage. If you can clear some of the space in there, you'd be able to set up a spacious and safe playroom for the kids in it.
6. A neat and clean decorating Idea
When you say it's a child's playroom, it's bound to get messy. The toys and books will never be in their place. For that, parents have to plan the storage furniture in such a way that children feel happy to put their things away in the right places once done playing. It's difficult for a child to keep his or her room clean and neat but when fascinating, shaped or colored shelves are made, they will at least help you keep their things organized. You can have a tree trunk shaped chest of drawers for the kids to keep their toys. This will allure the kid to keep the toys in the drawers. Make attractive furniture and bright colored one too, to attract the child in keeping his room neat.
7. Portable playroom storage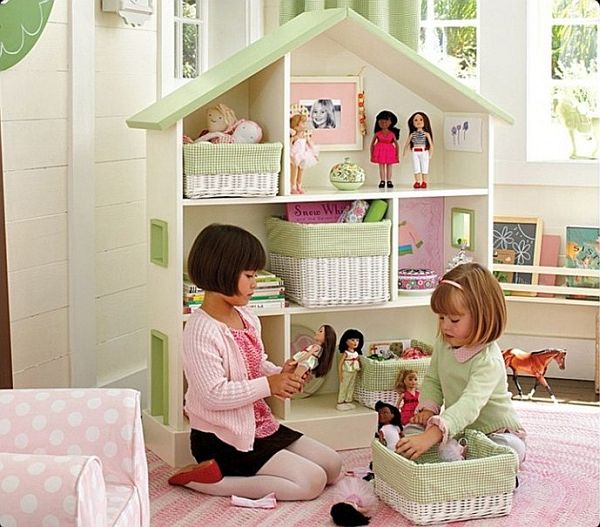 Portable playroom storage allows parents to set up a playroom in any room of the house. These storage spaces are fashioned out of plastic and are lightweight. When using a portable playroom, all you need to do to set up a playroom is to throw a rug and some floor cushions on it.
8. Color theme playroom ideas
Playrooms are rooms where you children would be spending most of their time hence they have to be well decorated. Think of a color theme for this room and bright colors should be on the top of the list. Use dark color combinations just like under the sea with dark blue flooring and walls, turquoise green cabinets, red bed or lounger and yellow chairs. However make the ceiling white which will reflect more light in the room and make the eyes feel calm. You can even have multi-colors in one room like the colors of the rainbow. This would be under the rainbow theme. If you don't like very bright colors and feel they hurt the eye, you can use a milder shade of many colors together. As long as there are several colors in the play room to make the place bright.
9. Backyard playroom design ideas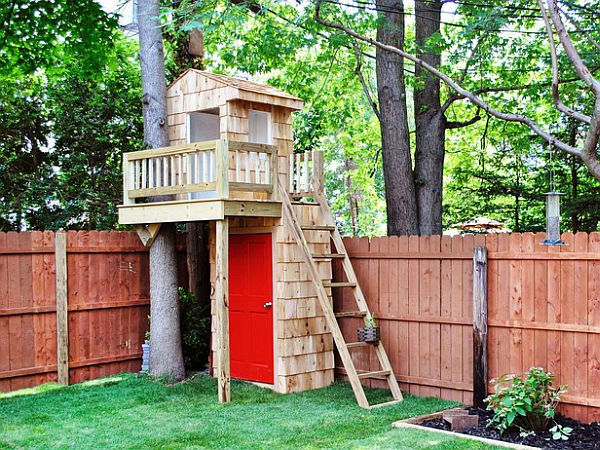 If your home is too cramped for space, you can always put up a playhouse in the backyard. Set it up in a corner near the fence to leave enough space in the backyard itself so that it doesn't hog all your free space.
10. Wild imagination ideas
When it's decorating your child's play room, you can let your imagination run wild. There are no specific matches you have to make. You just have to consider that all decorations are child friendly and colorful. Children love colors and bright ones too and they bring color to your life as well, hence a wall painted with wild yellow and brown will always fascinate the kids. You can have large tiger and butterfly paintings done by hand, stuck up the wall or a cupboard which looks like a tree in one corner of the room. Get all the weird looking furniture required and place it properly to give the room a great look. Make sure you have ample storage space for keeping each toy in a proper place category wise. The bright colors and your wild imagination will always bring a smile to your tiny one's face.
11. Double storey play sets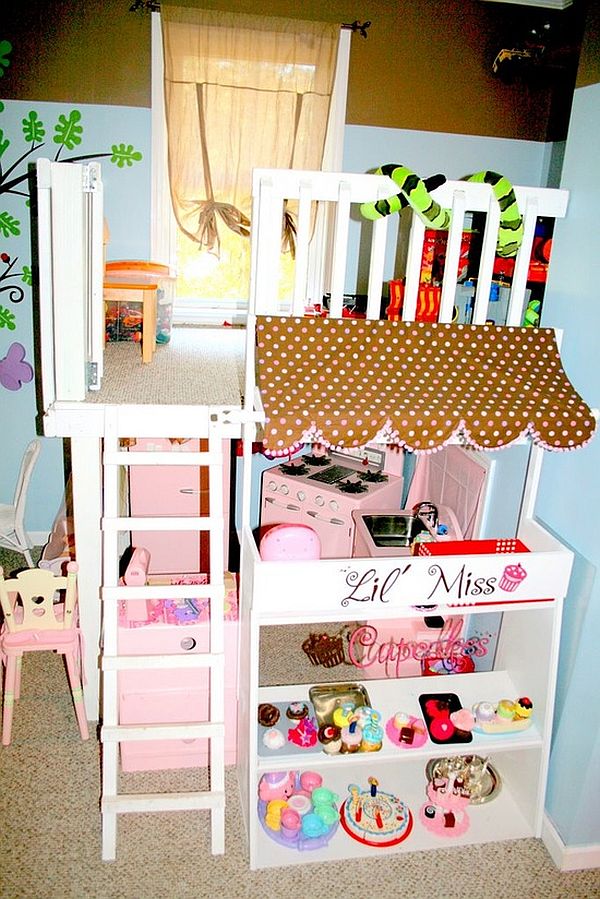 Double storey play sets are perfect for small spaces. Pick one that doesn't take up too much floor space and you can set it up in a suitable corner. You can use the ground floor to stash your kids' toys while your kids can play on the first floor of the play set.
Summery
A child's playroom has always been a matter of speculation. Parents feel they don't want to spend an entire room for play areas. However, this is very important and a room only for your children will help them be more organized, learn not to play in the rest of the house and be more disciplined. Sometimes, parents don't make a play room due to lack of an extra room. In that case, one can divide the children's room into half and convert the other half into a playroom. The play room is the place where children will play, enjoy themselves and also learn a few extra things in their life. Once you have the space ready, you just need to think of some great ideas to decorate it.