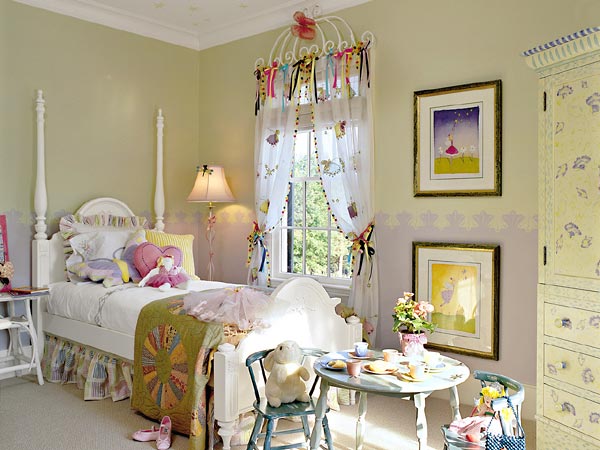 Choosing the theme for your daughter's room may look troublesome at times. However, the solution is simple and lies in consideration of few elements. The idea and décor for a girl's room should not only delight her but also match her personality and choices too, along with fostering a healthy development in her. We have listed down some of the best themes here. Pick your favorite and get going.
Fairy tale (Angels, fairies and elves)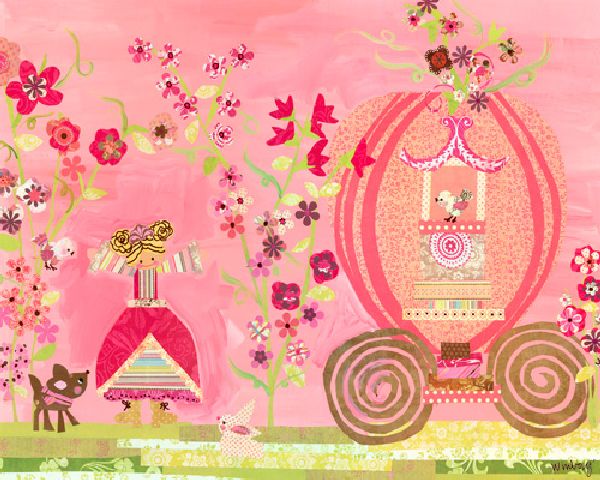 Fairy themed rooms don't only look good but also provide an interesting and stimulating ambiance for your daughter encouraging her to develop imagination. For fairy theme, use colors like pink, white and light purple. Scenes from fairytales or her favorite fairy/ angel/ elf can be drawn on walls accentuated with shimmer. Use sheer curtains, plush rug and soft curtains when zeroing on upholstery and bedding. Use fairytale paraphernalia like silver crowns, fairy wands and shining shoes to complete the look.
Elegant lady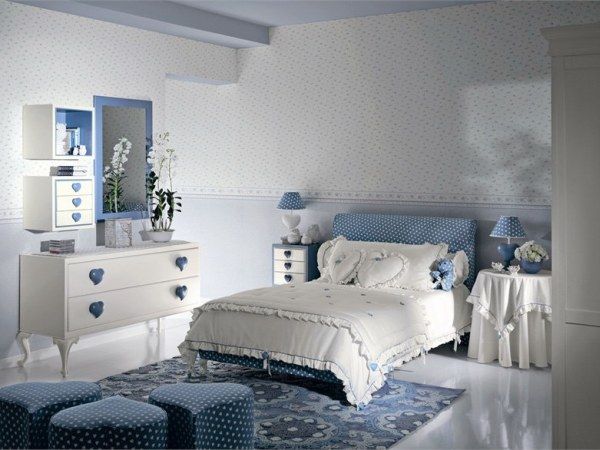 While it's an inevitable fact that your little girl will grow soon, a smart approach while designing her room can work a long way. You can play with elegant shades like grey, blue or brown on walls. The idea is to give it a girly touch. You can opt for pink bed sheets or accessories. White is another color that can be counted on, eyes closed. As a young girl, she might like to have all her toys and dolls around. Decorate her room with her favorite toys to give it a personalized look. These can be removed once she grows up. Also, choose mature furnishings so that you don't have to change them with her growing age. Contemporary beds and furniture in white can easily fit into her transition period.
Bold and bright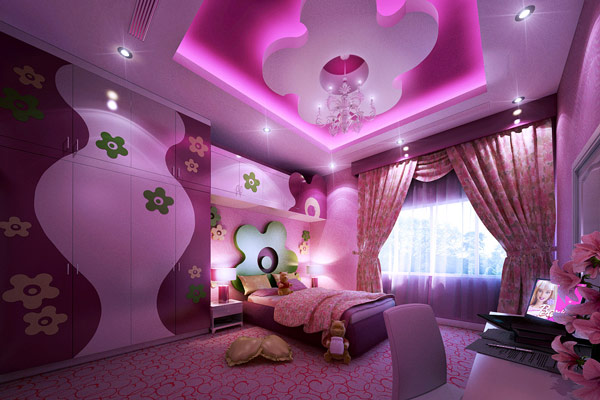 Unveil your child's energy and enthusiasm by converting her room into a canvas of bold and bright splashes of colors. While designing such room 'fun' should be the primary theme. You have the option of experimenting with various colors. For example, pair lemon yellow, red and green together for a striking appearance. Another hot combination can be a mixed palate of green walls with pink stripes. The furniture and accessories can all be in contrasting colors. However, if you dun like the 'color box' look, opt for multiple shades of single color. Shades of purple or red look brilliant. You can further spice it up by adding disco accessories and designs.
Charming princess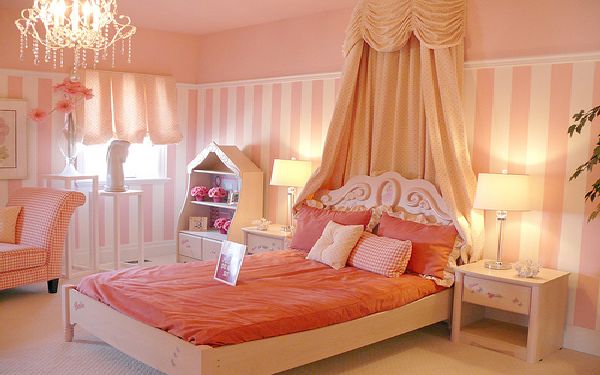 We are sure that your little girl is one. So, why not pamper her with all the grandeur she deserves. She will love living in her own little fantasy world. To create a princess themed look, use a wrought iron bed complete with a coronet canopy hung with sheer material. For bedding pink floral sheets with frills will do. You can accentuate the look using butterfly motifs, sky niches, ceiling swags and pink accessories.
Flowers and insects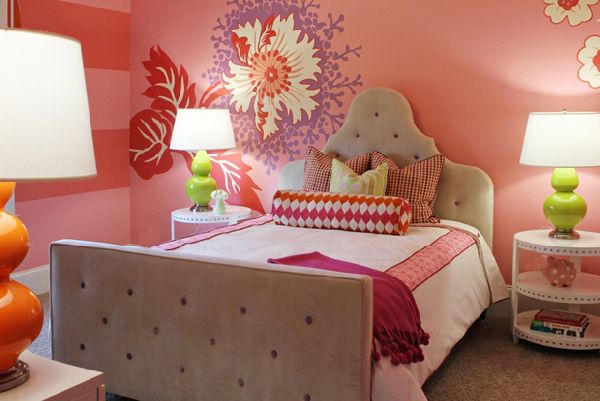 Flowers and insects have always caught the fancy of young girls. The walls can be adorned with big colorful floral prints with winged insects like cute butterflies and ladybugs cut from fabric can be fixed on window tops. This theme not only represents a typical girly environment but also makes the room burst with freshness and liveliness.
Oceans and waves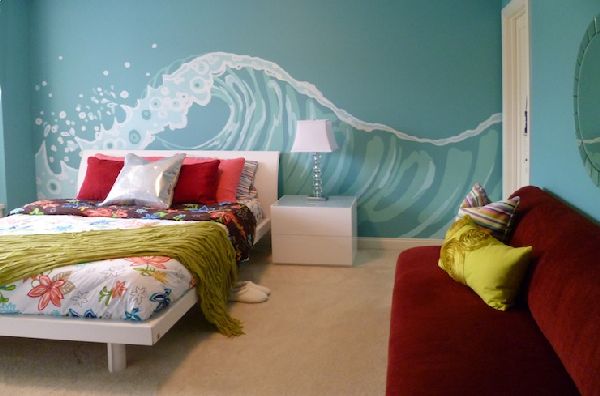 Bring in freshness to your daughter's room by giving it an 'oceans and waves' or 'nautical' theme. Preferably, go for white walls and background. Apart from white's resemblance with foamy water, it also compliments their growing age. From crib to bed, this neutral shade will last for years. Bring in wood details to give a nautical effect. The bed can be done with blue sheets. Hints of red can be used all over the room. Rope in nautical alphabet flags and framed boat illustrations. The wall can have 'wave' imprints.
Black is in too

Not every girl likes pink. However, almost no one hates black. So if your girl is a tad too tomboyish, trust us, nothing will please her more than a room in black base with other colors accentuating it. You can opt for a combination of strictly black and white. This combo can especially be useful for a room accommodating both brother and sister. To make it look more like a girl's room, pick up pillows and sheets in pink, orange or red. The walls can also have a dash of some other color paired with black.