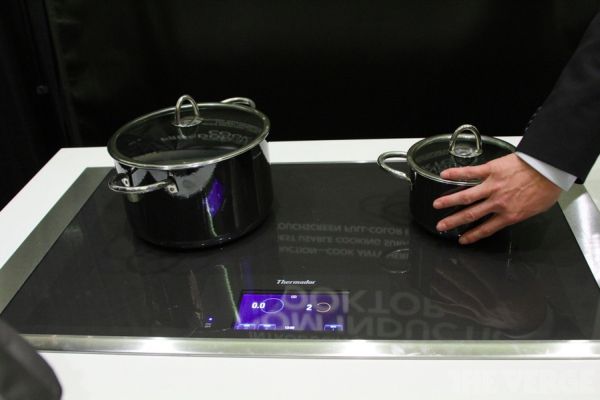 The designer/manufacturer
Overview
Trendy induction cooktops can rev up the look of plush kitchens immensely. They are sleek, easier to maintain and convenient to work with. This all-new induction cooktop from Thermador provides all this and more. It boasts of ground breaking features that will make life easier for you. Thermador, known for its household and culinary products, has been churning out innovative cooking solutions for more than 75 years now. Its latest induction cooktop is priced at a steep $4949.
What's unique
This is one of the most user friendly induction cooktops around as you can cook in utensils of any size or shape and place them anywhere on the cooking surface. The cutting edge natural-mapping mechanism supplies heat after determining the size, shape and position of the cookware. Thus, you have the freedom to change the position of utensils even while the food is cooking. Cooking becomes 63 percent more efficient as the cooktop incorporates 48 individual three-inch induction heating elements just below the upper plane of the device. The colored touchscreen display measuring about 6.5 inches can be used to control the power settings and cooking time. It also updates users whenever the cookware is moved from its initial position.
High points
The cool to touch surface eliminates the risk of burns and blisters. The cooktop is real easy to clean due to its smooth and flat surface. It has one of the largest cooking surface, which measures 21 and 13 inches in length and breadth, respectively. Thus, it can accommodate up to four vessels at a time. The cooking surface is made from transparent ceramic glass, which is a good match for the sleek touchscreen fitted on the device. The cooktop has a power output ranging between 15 and 4600 watts and incorporates a boost feature.