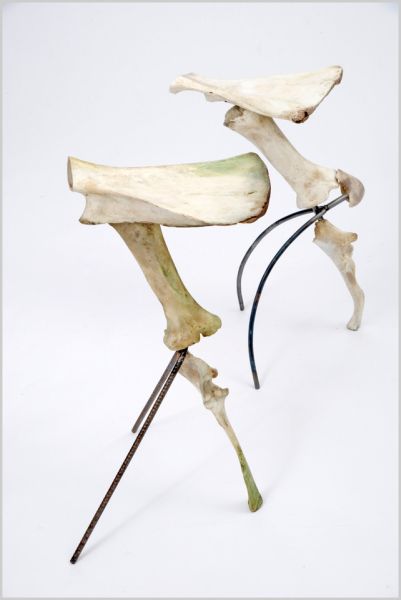 Let's get back to prehistoric times with this highly unusual stool created from a butcher's discarded cow bones. A 24 year old student of the Royal College of Art in London, Ama Darko Williams took cues from primitive era to craft this bizarre stool.
Williams sourced cow bones from a butcher's shop in London. These bunch of big, strong bones were further arranged to create, possibly the world's most sustainably designed stools.
The profuse supply and sustainable resource of bones make it an ideal material for creation of such earth friendly and peculiar pieces of furniture.
Three cow bones structures the central leg and seat of the stool along with industrial metal pieces to form other two legs and joints to offer it extra durability.
According to the designer, this fab stool can hold up to 220 pounds weight, thus making this stool hugely reliable and strong enough to comfortably seat a person.
Why not sprinkle a bit of prehistoric element to your interiors with this stunning piece of furniture? What say?