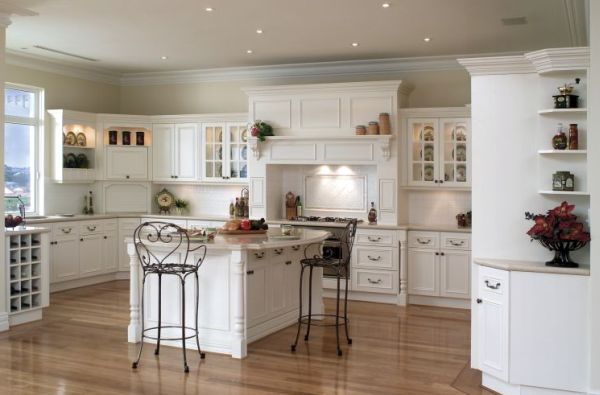 French country kitchen plays a great part in the development of delicious French Cuisine. It symbolizes their aesthetics, art and culture which later appear in their food and its garnishing. Some secrets of French cuisine lie in French kitchen and ingredients apart from their chef's expertise. French kitchen are very spacious from inside and can fit in any house right from farmhouses to magnificent mansions and chateau's without much modifications. Most French country kitchens have a chopping table and dining table in its center as a common element of design and structure.
Now with the age of globalization all information is available easily. One does not need to go to the rural France to understand the elements and essence of French architecture to start own French kitchen. French kitchen can be remodeled out of an old kitchen also, without spending much as it requires more of creativity and efforts instead of new furniture and architecture.
French kitchens are known for their light colors and simplicity of design. White plays an important role in french kitchen along with other lighter shades, like cream and light yellow, light brown. Normally too much contrast is avoided in favor of soothing combinations which reflects lot of light as natural light plays a great role in their designing and aesthetics. Now, the cabinets and other furniture in the kitchen should also be painted in glossy similar shades. Just as the French country side has a look and feel of freshness and serenity, the light shades on your furniture and walls will propagate the same. White, ivory, beige in lighter shades are other good options too.
Other great item to make your kitchen look like the French one are the art works! Put up one large or a few smaller pieces of paintings, pictures and other art forms on the walls. The look of farm houses, trees, green grass, provides an airy feel, that's just the feel you want anyone to get when entering your kitchen.
Wood is the most used material for furniture in the French country side kitchens. Walls have wooden artworks; cabinets and other storage items are all made of wood mostly. Natural wood is the best suitable for these kind of kitchen areas. Cane seating can be arranged with cushions on them with fabrics of the mentioned shades or vivid floral designs or stripes or checkers.
1.Beautiful storage spaces: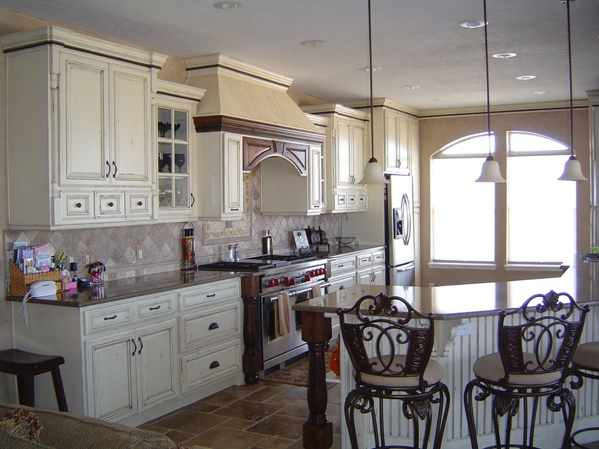 Freestanding furniture like tables are used to store the proper famous French eatables like jellies, jams and fruits.

Open storage was incorporated way back in the French style kitchens. Open shelves and hanging pot racks provide a great look to the kitchens and are both useful and pretty to look at.

A quaint look is a must for the French kitchens. All windows and gardens have little pots of important herbs flowers.
2.Growing French kitchen herbs: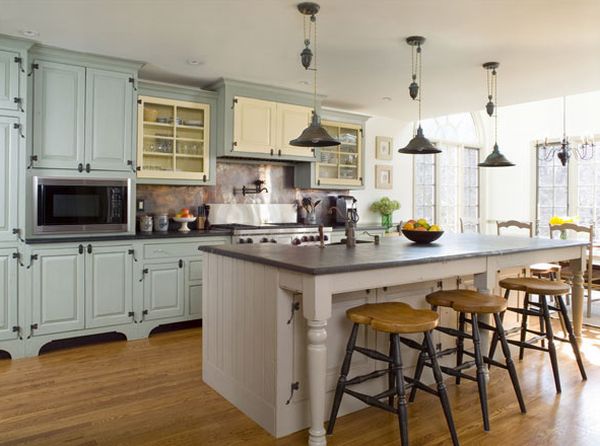 All French countryside kitchens have kitchen herbs growing around. Some popular herbs in French cooking are basil, thyme, rosemary and sage (a Mediterranean herb). Thus, they form the basis of some select French recipes. No wonder, French cuisine is so known to be delicious all over the world. So, it's always good to have these herbs growing around you.
Basil: Basil is a popular choice for garnishing food due to its fresh appearance and fresh minty taste. it is easy to maintain and can be grown both indoor and outdoors. It's best grown in well drained soil along with proper sunlight. However, too much watering can also damage it.
Thyme : Thyme is also a plant of mint family which is used for similar purposes like Basil. it has a strong aroma and that's why it attracts bee. Thus, it's better for outside planting or in a fully screen windows indoors.
Sage: Sage is a popular Mediterranean herb used extensively throughout the southern Europe and Maghreb region. It intensifies the taste and aroma as it dries up. Its leaves are used for garnishing soups and dressing salads.
3. Lighting the Classic French Kitchen: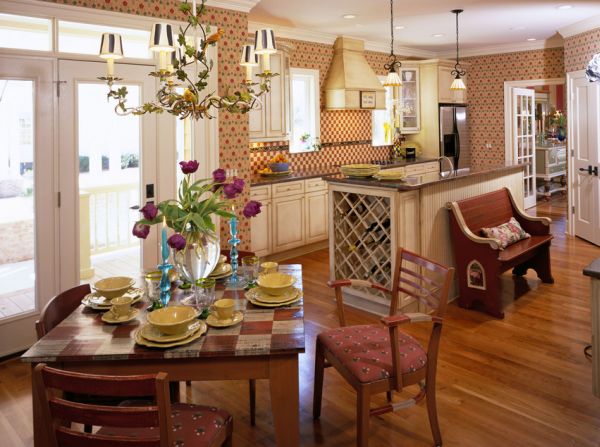 Nothing defines a French kitchen better than the bountiful use of natural light.
Historic purposes: Earlier, in the old classic days, natural sunlight was the only form used for cooking and other chores. That's also why most French kitchens are done with huge windows to maximize light.
Natural light: Huge south or west facing windows were a must in the classic days. Because French believe in outdoor and indoor herb usage for cooking, windows were places were potted herbs were kept.
Recesses lighting: Darkest of the corners can be illuminated with can lights. These lights are less expensive and work really well.

4. Natural elements of a French kitchen: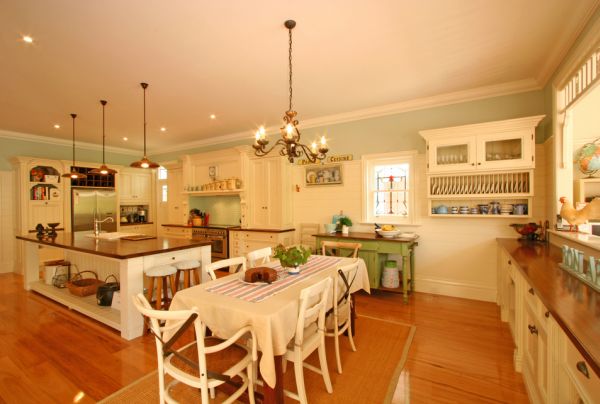 Like all other aspects of kitchen, the basic material of construction in french kitchens is very particular. Typically, locally available wood, marble and stone is used as basic material of construction.
Wood– Wood is the vital part of the ambiance. Most of the furniture, cabinets are done in wood. Similarly, even in flooring, wood always adds to the appeal and charm of kitchen.
Marble– is used in platforms and for baking. Marble baking station is very famous. Italian marble is famous world over; and, in France also, it has traditionally been used as one important part of construction. Apart from its beauty, its durability and low maintenance makes it one of the best platform and flooring option.
Stone– Stones hold heat in a wonderful way and keep the fireplace warmer for longer.