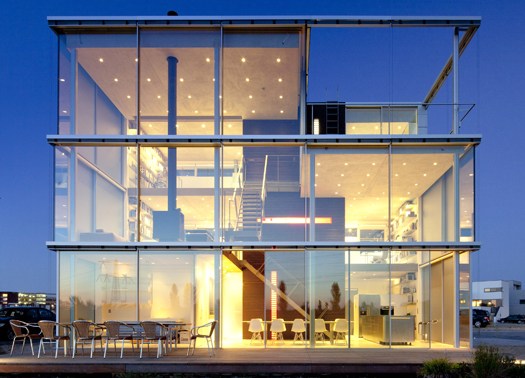 Inspiration: Rieteiland House designed by Hans van Heeswijk Architects
Overview
If you are a person who wants to live near nature in a transparent house and adore the surrounding landscape, then you can take inspiration from Rieteiland House, which is situated on the outskirts of Amsterdam. This is an 'out of the box' concept designed by Hans van Heeswijk Architects. Apart from being stylish in design, this is energy saving and can sustain for life long. If you are inspired from the concept, we have detailed the design for you below.
Design and layout
You can also own a house completely oriented towards the landscape. To a greater extent, this house is based on geometrical shapes. The house is a rectangular three-story space, which opens up fully. From the outside, you can see the beautifully done up, contemporary interiors. The front box shape on the side of the road is completely perforated with aluminum panels. The windows open up in order to give you the splendiferous view of backwaters. The façade of the sea is totally composed of slabs of glass and sliding doors.
What's unique
The main reason to have this design for your house is that it is energy saving and ensures sustainability.
If you want to have the design besides sea, then this is perfect as you can enjoy the panoramic view towards sea and park, which will create a special atmosphere.
On each floor, there are toilets, storage spaces and dumbwaiter.