Project by: Felipe Rivas (Concepcion, Chile)
Flood and earthquake are the natural calamities that can knock on your door any time. People from coastal and hilly areas are the most affected ones. Therefore, the need for a sustainable home that can bear the wrath of these disasters has arisen. Designer Felipe Rivas from Chile understood this requirement, as the major portion of Chile is coastal area. He came out with a concept of Rotomodular House that can be useful during this catastrophic period.
What's unique: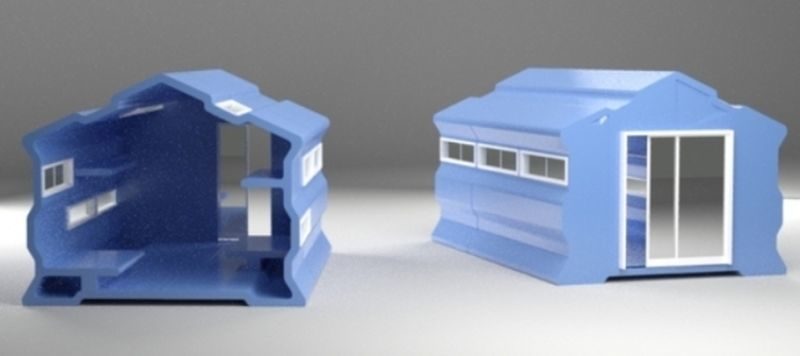 As this house is completely made of hollow parts of plastic molded through rotational modeling; it is quite apt for emergency cases, camping or some short stay solution.
High points
Techniques like rotational modeling, commonly used in the production of water tank, marine buoys and boasts; is used to get fast and effective home solution. This is constructed by one individual 'made of plastic' module. That's why its construction and assembly is hassle free unlike the traditional ones.
It addition, since it is made from plastic, it does not cost too much. Moreover, there are various other positive credentials that come along with. Some of them includes high resistance to water and humidity; in comparison to wooden houses.
Sphere: An emergency housing concept by Felix Stark
Designer/Manufacturer
Felix Stark
Overview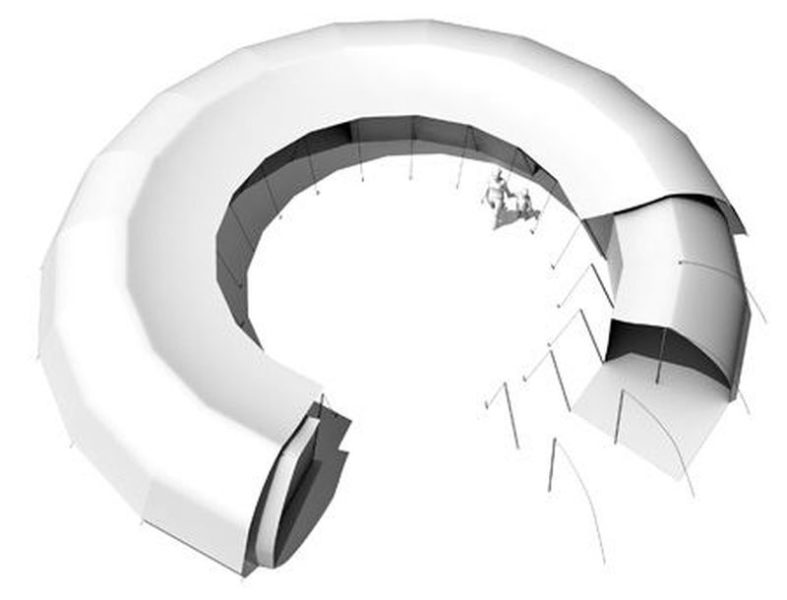 Lately, the frequency of earthquakes, tornadoes and other natural disasters has rapidly increased resulting in multiple casualties and sufferers. People during a calamity need more than just housing that can guard them physically and psychologically as well. To make people safe and secured during a disaster, German designer Felix Stark has come up with 'Sphere', which is an emergency accommodation concept.
The idea behind Sphere is to offer people a safe shelter where they can guard themselves from the extreme weather conditions along with reinstating the feeling of security and companionship that too with utmost privacy.
The core of the Sphere is created as a social area consisting of multiple inhabitants and nuclear families. Furthermore, it features 19 entities of tents to house 3 people at a time. Conversely, you can unfasten the partition wall between each entity; to create a larger space to house more than 3 people.
The inner tent is crafted from nylon, which is porous to air and consists of waterproof canvas. The construction of the stakes is from fiber glass plastic, which promises higher constancy. In addition, the design is enduring and you can recycle it when there is aneed.
Scientists conceptualize 'self-healing' house to avert disasters
Nanotechnology comes to the forefront as researchers toil in their effort to built the ultimate house that can withstand the test of time and heal itself in the event of an earthquake.
European Union is funding this $18.6 million project which uses technology from Leed University's Nano Manufacturing Institute. This 'self-healing' house will monitor seismic vibrations and seal the cracks in its walls to stabilize the structure against the pressure during an earthquake.
The walls are built using novel load bearing steel frame and high strength gypsum board. It is also equipped with wireless, battery less sensors and RFID tags. These collects extensive data about the building over time; this data includes seismic vibrations, variations in temperatures, humidity as well as gas levels.  In the event of any seismic pressure, the nano polymers in the walls will convert into liquid and flow into the cracks arising out of the earthquake, and will solidify in due time.
Emergency Response Studio: A prototype for self sufficient mobile housing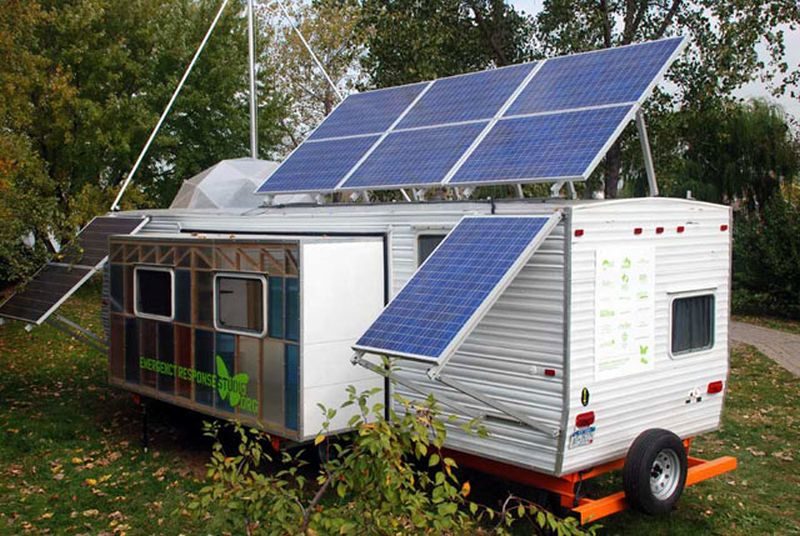 A conceptual project by Paul Villinski looks like an ordinary mobile home at the first look. But, as you take a deeper look, it has some of the most unexpected features. Solar panels and wind turbine on the roof generate power. While you can fold half of one of the walls; on the other hand, the inside the trailer there stands modular furniture. It is inspired by post-Katrina New Orleans and was destined to be a rolling space that would allow the artists to work in disaster settings. However, as the project continued, he began to view it as a prototype for self-sufficient and solar powered mobile housing, even as a possible alternative for FEMA trailers.
The cost of the trailer renovation came at about $85,000. He has used latest of green materials and technology in the renovation. The use of recycled denim jeans helps to insulate while the use of linseed oil makes sustainable floor tiles. Bamboo has been used generously in the entire area. As you enter the trailer from the front steps, you are greeted by a living space having an open kitchen, living area and the bedroom area. A dome-like skylight over the central area increases the welcoming feeling of spaciousness and also saves electricity during the day. This renovated trailer is a lot more spacious than FEMA trailers; and is parked in a lawn that is adjacent to the Ezra and Cecile Zilkha Gallery at Wesleyan University.
Dwell Hunting: Eco emergency shelters from Green Horizon
Green Horizon has developed a SFH-40 single family unit emergency shelter. Measuring similar to a shipping container; it is formaldehyde-free and is also made of 100% recycled materials. These houses are not only energy efficient but also durable enough to weather the storms. The emergency shelter consists of two bedrooms completed with kitchenettes and sufficient storage. Bathroom consists of a low-flush toilet and the house is also self-sustaining. This is because it can provide the family of four with shelter, food and water; without the aid of any infrastructure for the duration of a week. These houses come with all the necessary storage facilities and units for waste water, processing grey water and burning the propane fuel cleanly. The house also has rooftop solar panels. Although the design is perfect for an emergency shelter; however, you can use this house as a recreational cottage as well.
REDesign Exit Door for those emergency times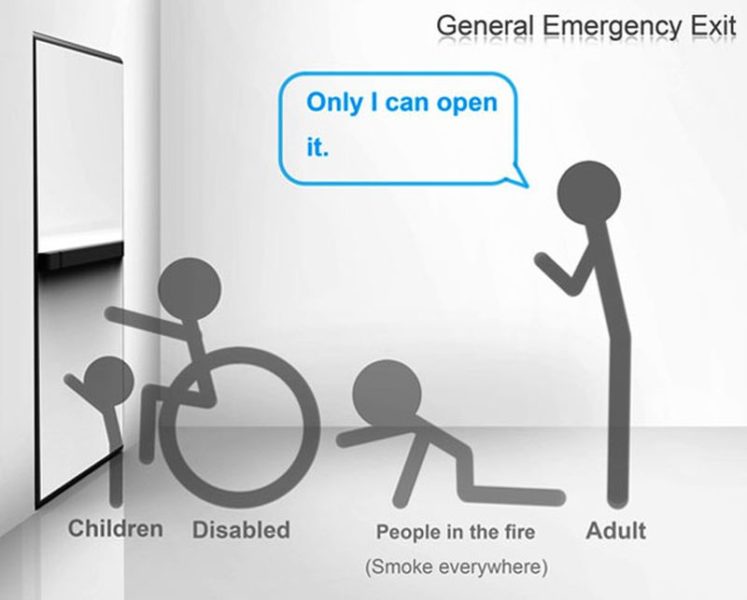 Designer Chen Guan-Yuan for those emergency times has developed the REDesign Exit Door. Normally, we human beings seeing the danger rush towards the door to exit but children, physically challenged people and elderly people may find the horizontal door bar difficult to reach. To help them the designer has crafted a unique door with vertical and elongated handle serves as a fitting re-design.
Dorm room emergency radio offers security in dormitories
The present urban environment demands security in every home, office and school. Designing a security system for dormitories, Spencer Schimel has come up with the Dorm Room emergency radio. The emergency device keeps students informed during potential campus emergencies. The radio broadcasts the information to every dorm room and campus, and in case of some menace, the device projects a blue light, indicating danger.
The lights on the wall help students to remain safe in case of a gunman, shootout or severe weather. Students have to await for further instructions in the safety of their own room. In case of more danger or if there is a need of an evacuation, the emergency system projects an orange light. The radio also displays the outside temperature, which is also an indicator that the system is on. Each roommate can eject a radio cartridge, thus continuing to receive information, and can also use the cartridge as an LED flashlight.
Stylishly functional emergency alert for deaf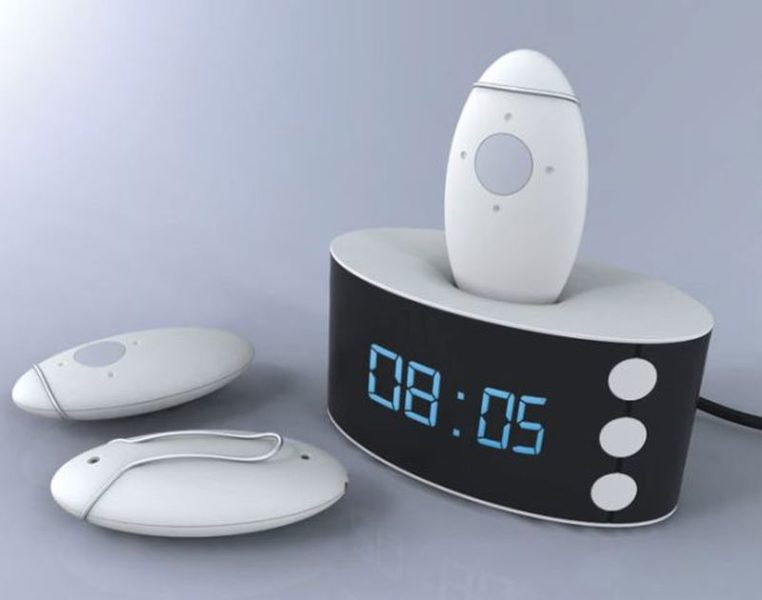 If you think that designers today are concerned about developing the stuff that's unique and in trend then you gotta meet Sergej Kuckir. The designer has come up with a functional device for the deaf people. Benefiting those who can't listen, the device alarms before any miss happening. It's like a radio receiver that with the heavy vibrations and light signals alarm the subject in serious situations. The elegant look as y'all can see looks like an egg. For the reason that light signal is reliable and quicker, the designer dropped the idea of providing display. The device is supported by a charging cradle; that holds backup battery to ensure that it never stops functioning. Besides this, it's an alarm clock and a timer too.