With modern urban living lifestyle, we all need home items that consume less space and still look cool and unique. One such product that can accommodate anywhere and can serve varied purposes in your home is this multifunctional piece of furniture called Table + Stool. Designed by Take Away Wood, this two-in-one furniture can transform to take the shape of a table and a stool. Check out what all it offers to make your home appear more creative.
Design and looks
Table + Stool furniture is designed to work both like a table and stool.This transformational piece is made to have a unique and functional shape.It has a hinge structure in the middle that is supported by a round bar. The bar is made out of American pine tree having a diameter of around 1.2 inches. On this hinge structure,there rests a configurable flat structure that acts like a table and converts into the side support for a stool when in standing position.
This entire structure is made of birch plywood, with a thickness of around 0.7 inch.The corners of this Table + Stool furniture are rounded and well finished to give it a smooth touch and appearance. When the table is reconfigured into a stool, its perfect angles fit well against the legs of the stool. The finishing is all done using natural oils.
Ease of use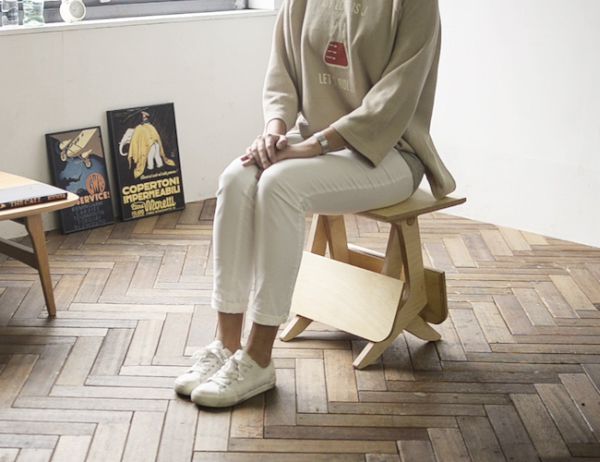 It is very simple to use this piece of furniture anywhere in your home. Its design provides complete safety during its use, as well as during its form change.Changing the form is a matter of a single lift. When you want to transform it into a stool, you only need to lift its middle layer lightly.
Doing this also increases its life and reduces surface friction while changing it into a stool.When you require changing it back into a table, just lift its sides up. You can also use the table and stool comfortably to place your things or to sit on it. It does not fold on its own accidentally.
Functionality and usefulness
Table + Stool furniture not only saves your money, but also lets you save a lot of space. This multifunctional item is very useful in several different situations. For instance, it can work as your side table, seating item, or stepping furniture in a stool form. In the table form, you can use it as a bed table or laptop table. You can also place it in your living room as a coffee table. It can even work as your stand desk. Thus, it is quite useful for a small urban setting.
Table + Stool furniture is such a unique and multifunctional unit that is versatile to use. With its transformational shape and design, it can serve various purposes of a table and a stool.
Source : TheGadgetFlow.Com