If you have watched movies from the '50s, you will have taken note of the incredible way in which diners were decorated in those days. Called the 'retro' look, the design lends a nostalgic as well as theatrical look to a space. It is the quintessential symbol of old world America with its fun and whimsical colors and patterns. If you plan to design your kitchen around the retro diner look of the 50s', here are some easy tips to achieve this look to perfection.
Change the flooring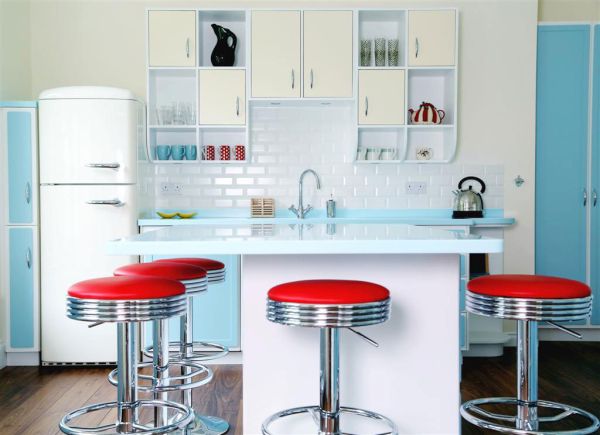 One of the easiest ways to rock the retro diner look is to change the floor to a black and white checkered pattern. Checkered tiles were very common in retro diners and came in a variety of color combinations apart from the classic black and white, including buttercup yellow and maraschino red. You can choose tiles for the same purpose or go with easier options like aluminum, vinyl, carpe, linoleum and even a peel and stick variety for easy maintenance
Change the cabinets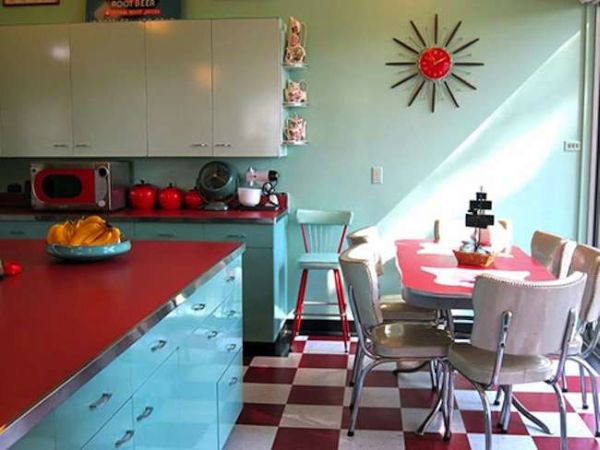 This is another inexpensive way to achieve the retro diner look in your kitchen. Simply opt to repaint the cabinets with colors that were common in that era. Some of the most common choices from the 50s' include buttercup yellow, mint green, light blue or plain white.
Choose appropriate art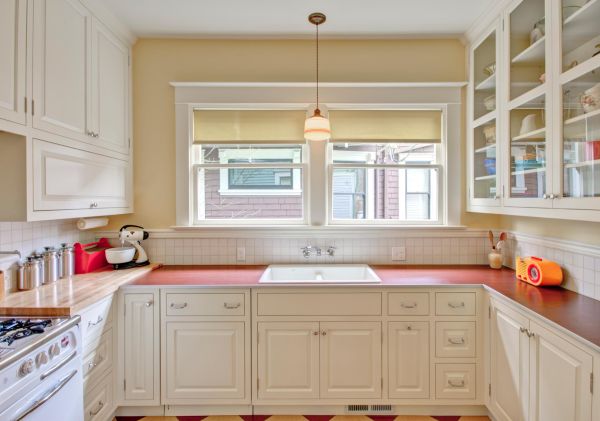 The retro diner look can never be complete without the appropriate art from the age adorning the walls. You can choose from myriad options when decorating the walls with retro style art. Some of the more common options include classic vintage posters and advertisements of cars, soft drinks and cigarettes and framed pictures of the celebrities of that era including  Elvis Presley, James Dean and Marilyn  Monroe, etc. Other choices include movie posters, neon signs, road signs, travel memorabilia, vintage car license plates, and vinyl records, etc.
Choose appropriate furniture
Retro diner design themes centered on the dining table as the main aspect of the design. A chrome plated dining table will look great with leather chairs in hues of red, blue, black or yellow. Have enough space in your kitchen? Then consider setting up a corner nook or booth for dining which was very common in retro diners. Also choose to set up some retro bar stools near the kitchen island.
Choose appropriate appliances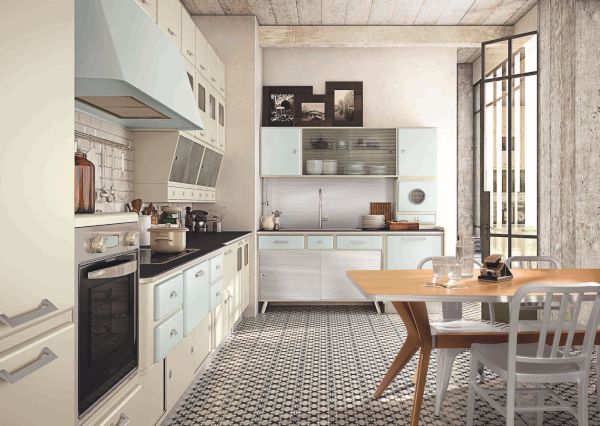 There is no need for a complete overhaul to make your kitchen rock the retro diner look. There are cost affordable ways in which you can choose the necessary appliances needed for the look. Top picks include kitchen appliances like a snow cone, a slushie machine and even a pop-up hot dog toaster that will give the retro feel to your kitchen.
Choose appropriate décor pieces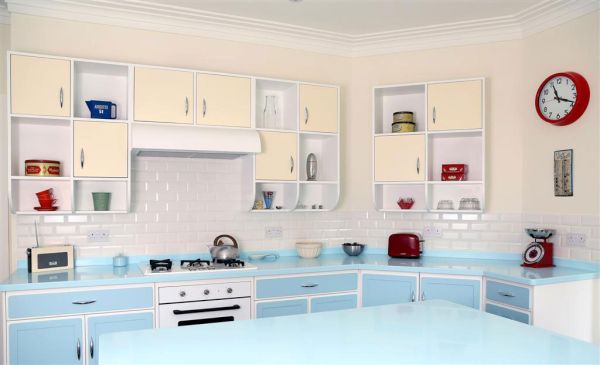 Retro diners had some of the coolest accessories and décor pieces of their time. One such piece that will transform your kitchen instantly is the retro themed clock that comes complete with neon lights and whimsical phrases. Want to go for something simpler? Simply opt for a trademark red diner clock that never fails to impress.
Another décor piece that is very common in retro themed diners is the use of 50s' style typographic designs, including the balloon shaped speech signs and wordings following the slab serif, scrip and sans-serif font styles. The typography also featured a lot of offset printing styles along with outlines and graphic elements. Ensure to incorporate all of these into wordings you put up on the walls.
Retro themed diners were a bit hit in the 1950s owing to their use of vibrant shapes, colors and patterns. If you are thinking of designing your kitchen around a retro diner theme, you can easily follow a few simple tips to achieve the look to perfection.