The obsidian dream is a world-class furniture piece, which includes a massive console and five decorative bushes. This 'dream' furniture has been created by, none other than world-renowned designer TaherChemirik.
Using obsidian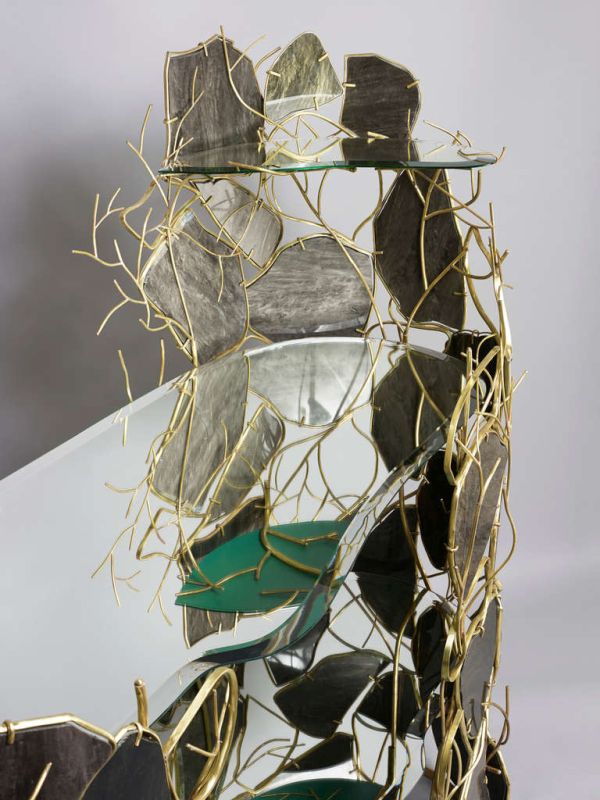 TaherChemirik is obsessed with experimenting with a variety of materials. His primary passion is to create signature jewelry, followed by creating sculptural furniture. He has played with many materials including gold, silver, brass, a variety of stones like turquoise, Colombian emerald, tourmaline and more. The obsidian dream includes a huge quantity of obsidian, more than 158 pounds.
All the several slices of obsidian in the console are polished from both sides. Roughly, two-thirds of the obsidian is mixed with silver reflections and the remaining two-thirds with gold reflections.
Obsidian is the key element that makes the collection truly organic. This naturally occurring volcanic material is one that defies time and forms a colossal artifact. 
The combination
The obsidian pieces areinfused with brass to create the huge structure of the console.In between the stylish structure, arethree custom designed mirror shelves. Along with the console are five designer brass bushes to compliment the beauty of the furniture.
The combination of stone and metal has been always elegant, here there is an addition of the mirror shelves to enhance the aesthetic beauty of the art.Taher, allows his emotions to flow in his creations. For this reason, he was declared as one of the most influential designers in the world, by the Time magazine in 2007.
The art
The Obsidian dream reflects theversatile acumen of the designer. After graduating from the ÉcoleNationaleSupérieure des Arts Décoratifs de Paris(ENSAD), Taher started his work as a costume designer and then made up his mindto primarily focus on jewelry design. He worked as an apprentice with a jeweler for a year and then collaborated with the biggest names in the industry.
Working with names like Chloé, Hermès, Balenciaga, Chanel, Yves Saint Laurent, and Roger Vivier and more have given him a massive experience to create exquisite art like the obsidian dream.
TaherChemirikcreates awe-inspiring furniture sold exclusively by Galerie BSL. The collection is known as 'Interior Treasures' or 'Bijoux d'Intérieur' in French, where each piece is hand crafted and combines are a variety of material.
Bijoux d'Intérieur collection has gained a lot of attention by the press. The Obsidian dream is one unique element of the collection.
Source : 1stdibs.Com