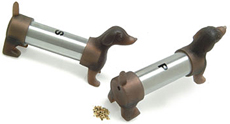 This is clearly simply straight forward SHIT…or I should I say dog shit? I am talking about these weird salt and peppershakers shaped as dogs.
These hound dogs are made in silicon rubber and aluminum and will add a touch of fun and humor to your dinner table when you use them to add some spice to your food.
This fun set is available for $13.