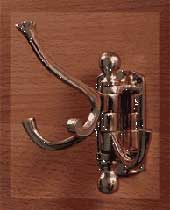 Here is a classy place to hang those coats that usually find a place on those ugly pegs behind the doors. Check out the Swivel Coat Hook, that features a number of hooks in a single hanger.
These come as a great way to use the available space in the best possible manner. The hooks can be turned in different directions to hang a number of coats in one go. A product from 3-D hooks, these hangers are available in good looking bronze and chrome finishes in a number of sizes.
The price varies anywhere between $10-$12, depending upon the size and finish.