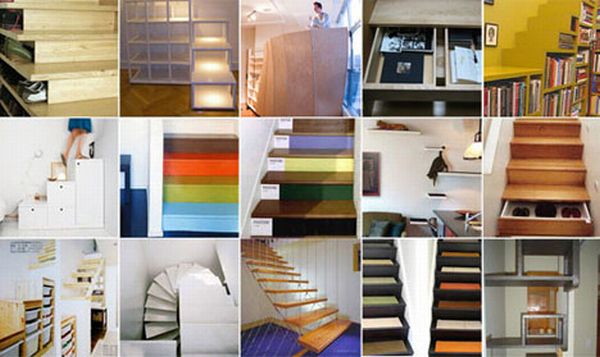 Staircases inside a house look very modern and give an elevated feeling to the room. However a staircase occupies a lot of space inside the room and the space below the stairs is not utilized properly. Many designers have tried to utilize this space and have been very successful. Here you will find the most beautiful ways to utilize the space under your stairs and how it can increase the face value of your house.
Shalford Design for under the stairs space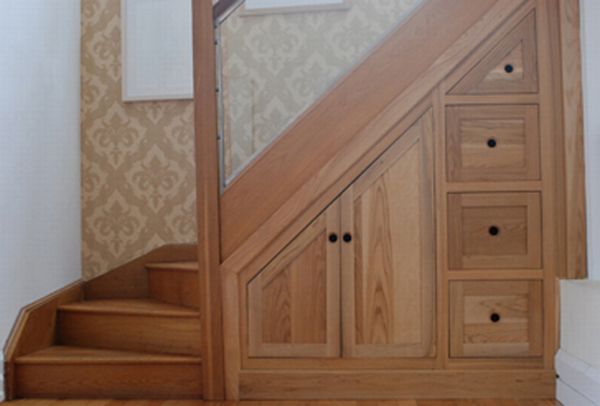 Shalford designers have designed the space under the stairs with closed cupboards and drawers. You get extra space to store your little things, which lie around the house and the stairs get a new and sophisticated look. You can fix wooden drawers or small cabinets under the stairs for storage.
Small bathrooms under the stairs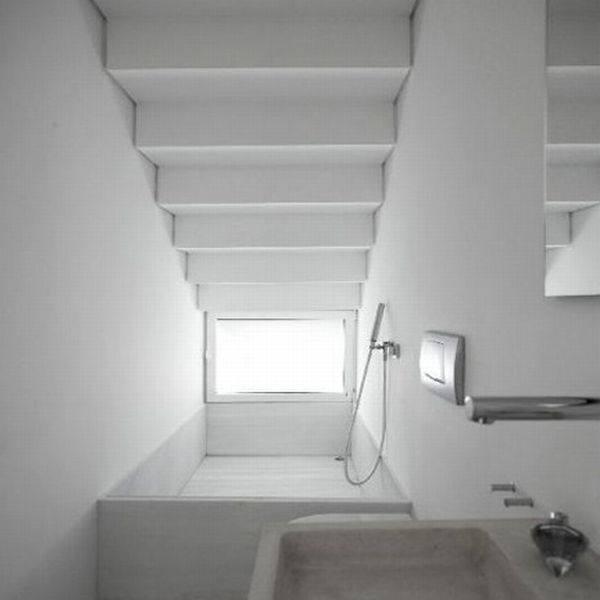 It's always a trouble when you have to think of what to do with the space under the staircase. The ceiling of this space is slating and there is very little space, but a small cozy bathroom can be designed here. Get a small bathtub or a toilet fitted inside this space and utilize it wisely as these things are used in the sitting position or sleeping position and hence a low ceiling would not affect it.
Under stairs storage compartments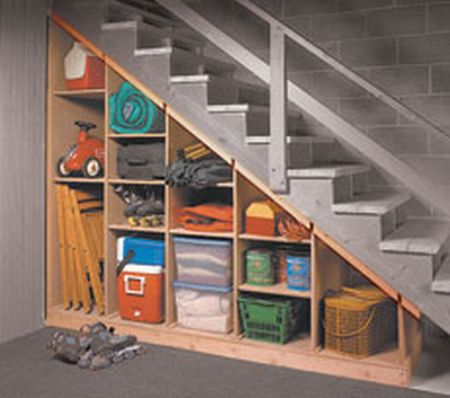 For the stairs which go into your basement or your storage room, you could utilize the space below to make small shelves or compartments where you can make more space for storage of goods which you rarely require. You can store fishing boxes or anything that cannot be stored inside the house.
Storage cabinets for the space under the stairs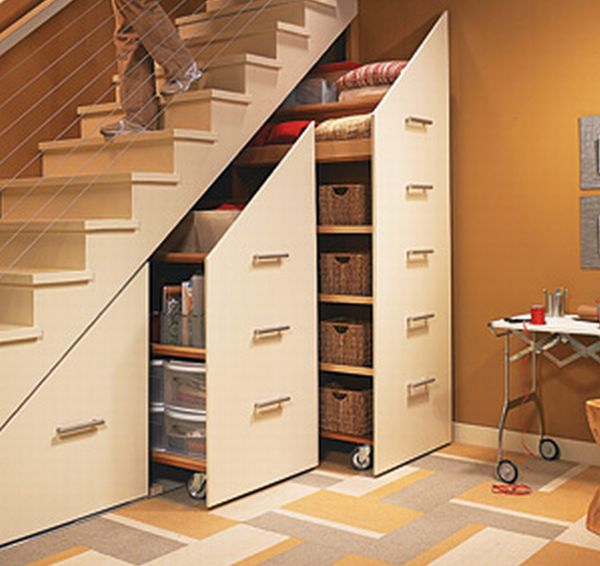 The space under your stairs can be converted into pull out cabinets on wheels to store your belongings neatly. You can store files, boxes full of old bills or papers, which you might need later or you could store hardware tools in these cabinets. Extra linen or pillows could be kept here for use when you have guests. These cabinets roll out when pulled as they have wheels and are every convenient.
Shelves made under your stairs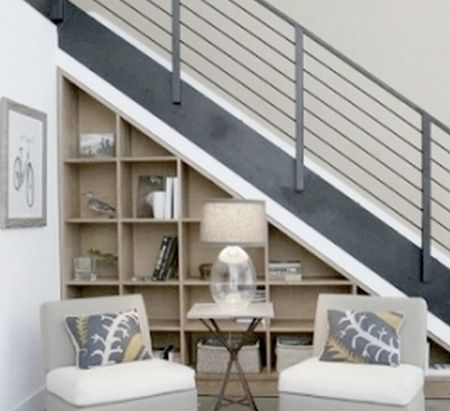 You may be having these huge stairs inside your living room and they make the space between the wall and the stairs unusable. Convert this unutilized corner into a library or a place where you read books and sip coffee peacefully. The space under the stairs can be fitted with shelves for books to be stored and it looks like a study room or library. Hang a light from the ceiling in this corner and get a cozy couch to relax. Perfect! your own private library is ready.
Large drawers under the stairs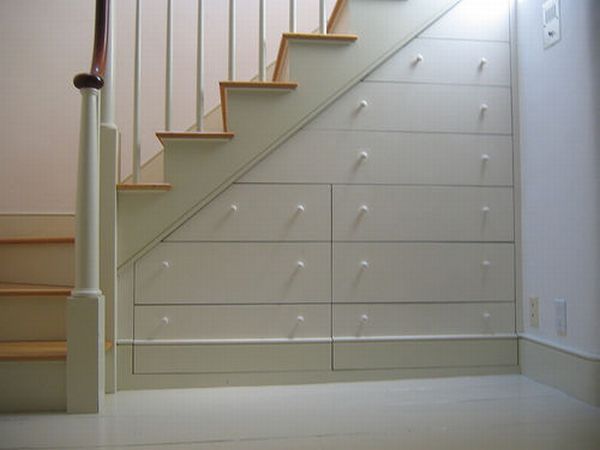 The space under the staircase can be utilized for making wooden drawers in which you can store old clothes or toys of children or anything which needs storage space. Anything which creates a mess when kept outside can be stored in these large drawers built under the stairs.
Kitchens under the stairs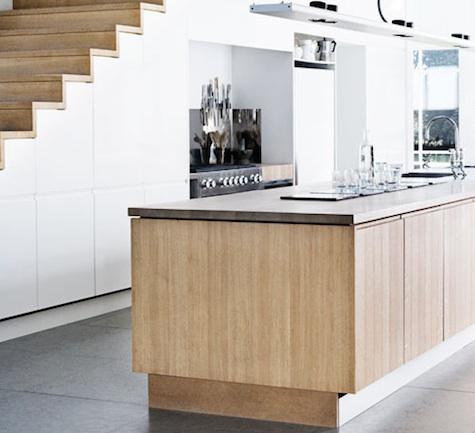 Designers have created space from nowhere in small houses and one such places is the place under the stairs. This space can be made into a contemporary kitchen with cabinets and a island counter. The space below the stairs makes good storage area for kitchen items and the stairs being slanting the cabinets get a new look.
Wine cellar under the stairs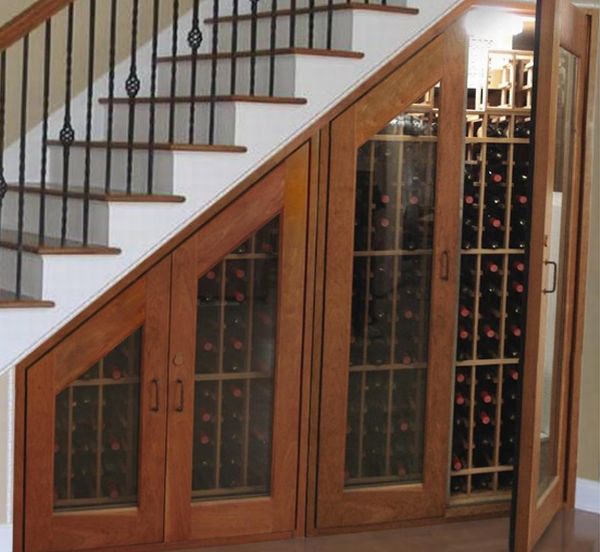 Storage cupboards with glass doors can be made in the space under the stairs. These can be fitted with shelves and wooden frames to fit wine bottles. This could be your own wine cellar and you can store your wines in their individual sockets. If you don't want to make sockets and restrict the number of bottles to store, simply make shelves, they will store more bottles.
Staircase drawers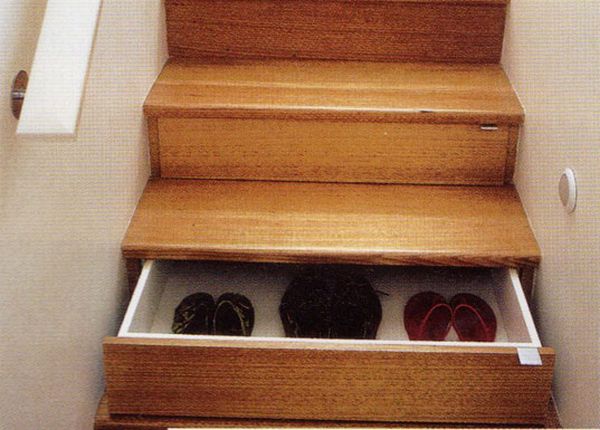 A completely user friendly and innovative idea is to make each of your stair in the whole flight of stairs into drawers. This would be place where you keep used newspapers, shoes, sandals, and other accessories. Each stair could account for a large drawer and the height of a stair is quite good. This makes for a perfect storage option.
Kitchen storage under the stairs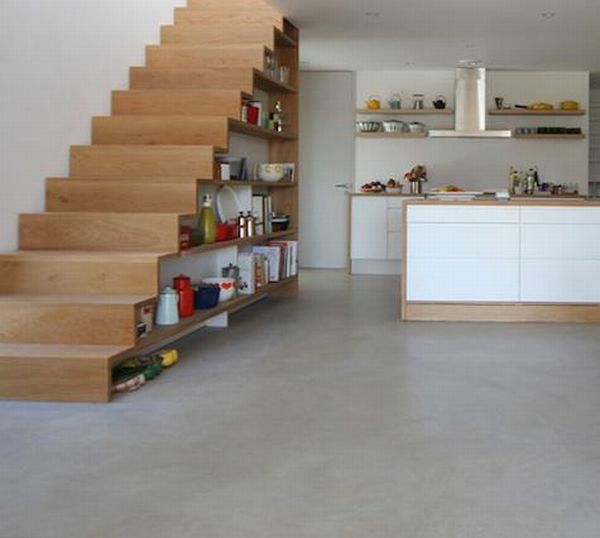 You can make shelves under the staircase and use these as kitchen storage places. No need of doors for these shelves as you would need something all the time and opening the doors would be inconvenient. Use these shelves to keep your cook books, large bowls, spice jars, and much more. Use colorful laminate wood to make the kitchen more lively.