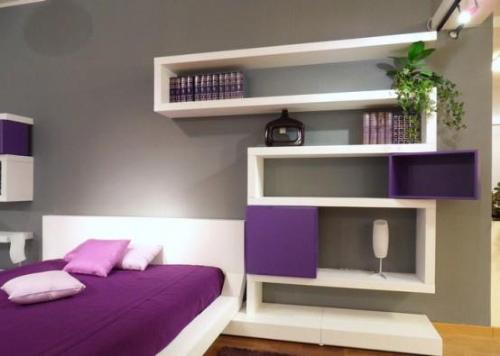 Small bedrooms often give claustrophobic feeling. However you will be glad to know that interior decorators from all over the world have revealed many ways of increasing your bedroom space. They suggest that color schemes, wise storage facility, drapery and upholstery pattern, etc. work a lot towards imparting a virtual enhancement of available space. So, with expert tips on small bedroom decoration, you can make your living space look bigger. Let us have a sneak peek into it.
Use light colors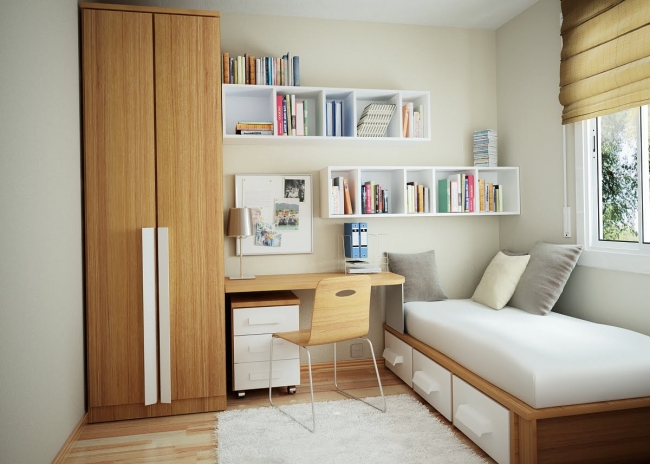 For major part of your bedroom, restrict your color selection to lighter shades. Lighter shades reflect more light and impart the virtual feeling that your bedroom is quite roomy. But avoid totally white though as it will make your bedroom look too pale. The parts of your room that get minimal sunlight, specially the northwestern parts will look too cold when you use white on them. Bring about a perfect color matching in the room by opting for carpets of slightly contrasting color having small patterns on them.
Be clever with storage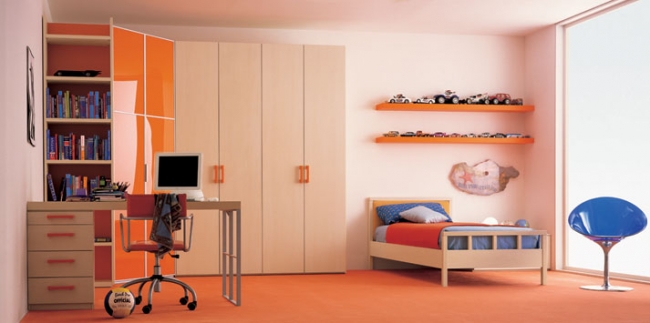 Storage is an important part of small bedroom decoration. Blocking up your carpet area with too many furniture and stacks of things like books, shoes, newspapers, etc. will make your bedroom look even smaller. Therefore, prioritize upon wall mounting, covered furniture. These will leave greater space on the floor for easy mobility together with accommodating all your things inside them and hiding them from vicinity also by means of shutters.
Avoid over accessorizing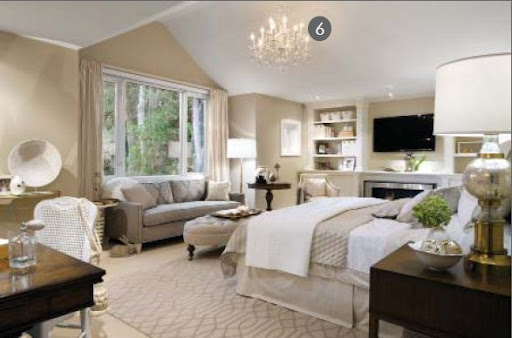 Go for simplified decoration in your bedroom and emphasize upon minimal furniture and bedroom accessories. Jamming your available floor area and the walls with lots of unnecessary articles like picture frames, bulky show pieces and clumsy furniture will make your bedroom appear even smaller. Therefore, before buying anything for your bedroom keep in mind the dimension of your available carpet area.
Furniture for small bedroom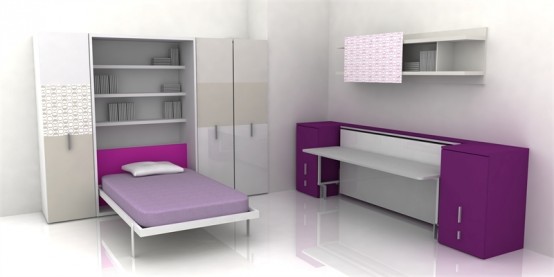 Sleek and multifunctional furniture should be ideally selected for small bedrooms. Go for the ones that are covered and have a number of storage areas of different dimensions. Taller furniture is better selection in this respect than a wider one. The color of the furniture must also be lighter to make your bedroom look spacious. Even invest upon wall mounted ones too like wall mounted mirrors, bed side storage rack, etc.
Choose right bed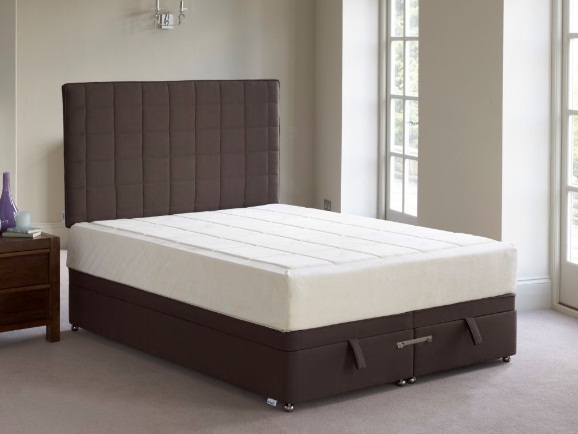 Be practical about your bedroom size before you settle upon a bed for the same. Instead of bulky traditional beds with heavy head part, go for the low lying ones with inbuilt storage area drawers. The low heights of such beds give a feeling of greater space in a room. Further, you will never have to go for separate furniture to store your bedding and mattresses when they are not in use. Thus, these space saving beds are specially recommended for small bedrooms.
Paint vertical stripes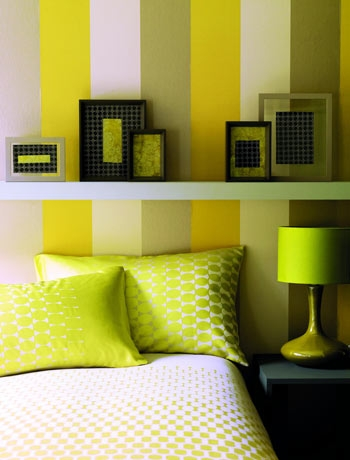 Just like any showroom the concept of vertical stripes can be implemented in your bedroom also to make it appear bigger. It is an effective trick to virtually increase height of the walls in bedrooms with low ceilings. Therefore, go for vertical stripes with colors that are in sober contrast with your light colored walls. Remember not to create too broad stripes as those will again make your bedroom look smaller.
Abstract designs on walls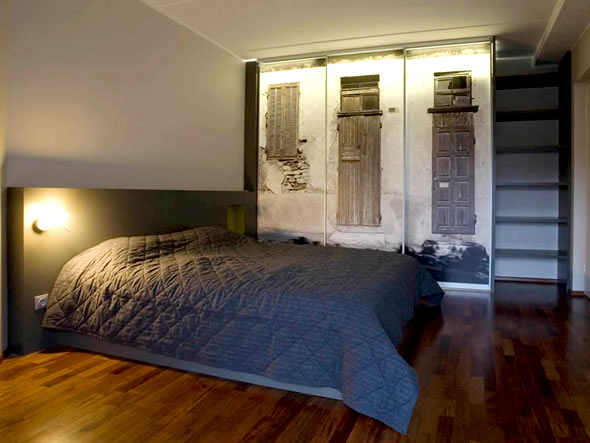 Elaborate accessories jam your walls and overall space unnecessarily. But abstract wall designs will impart a feeling of spaciousness in the room. Abstract designs on the walls also look innovative and leave option for installing wall mounted storage shelves on them. Abstract designs on your bed linens, drapery, furnishings, etc. impart a virtual feeling of spaciousness. They are sleek, minimal and simple in comparison to the floral and patterned designs that make your bedroom look clumsy and overcrowded.
Flooring for small bedroom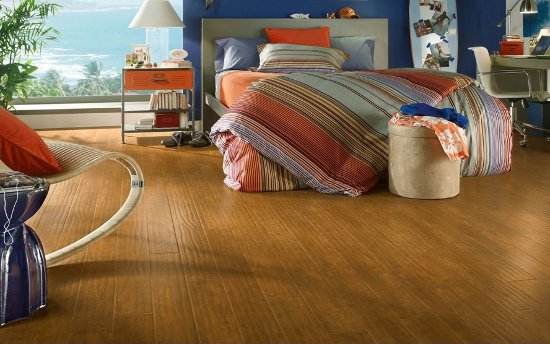 White colored floor tiles make small bedrooms open up and look bigger. Similarly, light colored marble flooring is equally good choice for small rooms. But stay away from wooden flooring as its rich brown color will make your bedroom look even smaller. Likewise stay away from tiles and marble slabs that have bold patterns on them. These will make your bedroom look over decorated and clumsy.
Use big mirror to reflect light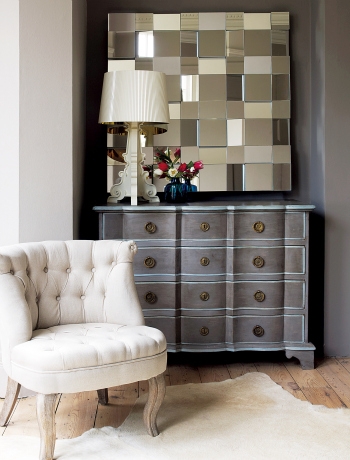 Mirrors work great in doubling up the available space. Further, they reflect light to illuminate a space. So, mirrors are great decoration accessories for small bedrooms. Bigger mirrors are even better for the purpose. Hence, invest some money on a big mirror and install it in a strategic area of your room so that it multiplies your bedroom area. The expert suggestion here is to install it on the wall opposite to the entrance. Those who come inside your room will never feel claustrophobic due to this virtual increase of space.
Swap curtains for sleek blind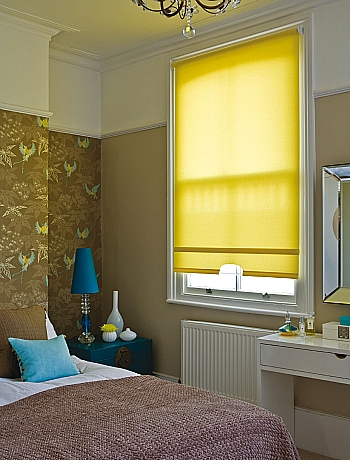 Keeping windows free from loads of fabric hanging from the drapery rod makes the room look simple and neat. Thus, it works toward saving your space in the bedroom. So, dispel the idea of elaborate curtains for your small bedroom. Instead, install drop down blinds in your windows. They will make the sleek frame of your windows visible and let the natural light come in generously without any obstacle.
Lighting for small bedroom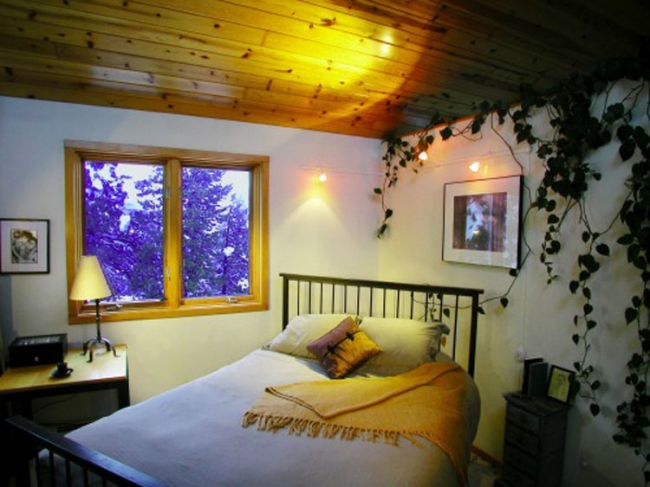 Proper lighting is a major determinant in making a space look bigger. Go for ambient lighting and focus lights in your small bedroom. This will impart a feeling of depth in the room and create a virtual feeling of more available area. Selection of various lighting arrangement throughout the room illuminates different areas of the room in different ways and make the bedroom look bigger than it actually is.
Utilize shelving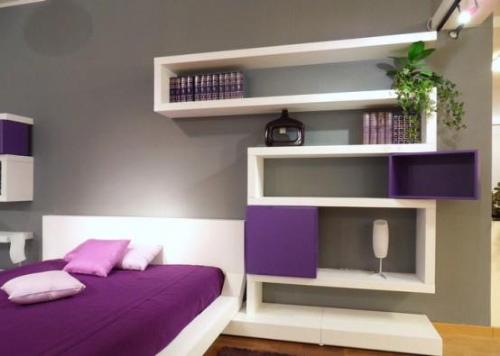 Shelving is a great idea to keep your things properly organized in your small bedroom together. Neatly kept things never make your bedroom over crowded. If you love a formal bedroom, go for crown shelving that runs down from the ceiling and have uniform color and size throughout. But, in case you are a fun lover then mix and match colors and sizes of these shelves for a freaky look.