Decorating small bathrooms can be a big challenge since so many elements need to be fitted into a comparatively smaller space as when compared to the other rooms in the house. However, all is not lost. There are some simple décor tips that can help you make your small bathroom look bigger and brighter. Take a look at these tips here.
If the walls are stylish, the floors are simple and vice versa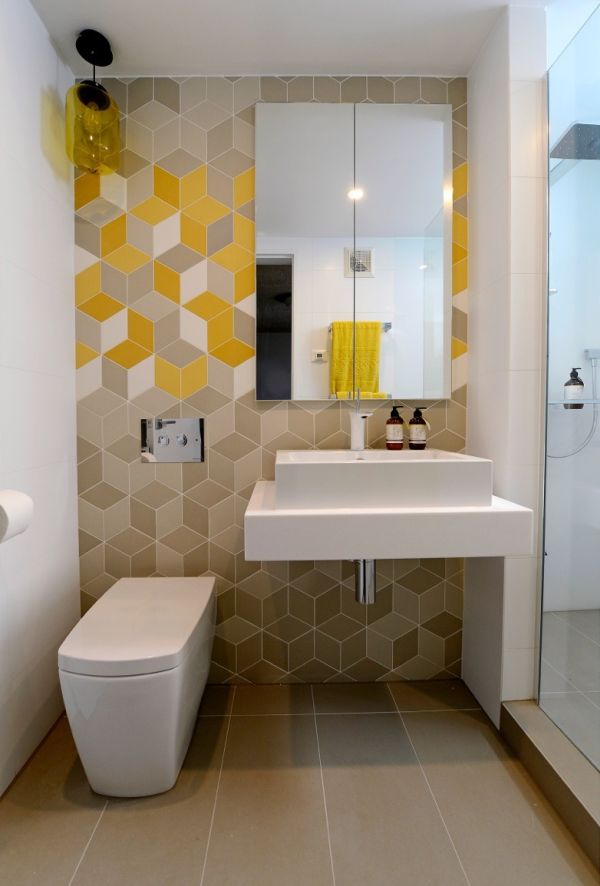 This is a very important décor tip for small spaces. Styling both the floor and wall extensively will give the illusion of a cramped, crowded space. Instead, choosing to go simple on the floor while styling the walls and vice versa can open up space and make your bathroom look bigger. For instance, a bold pattern or color on the flooring can be accentuated by a comparatively simpler pattern (even plain works) and a light color.
The oval sink can give you space you never thought of before
Most of us opt for a rectangular sink, not knowing that oval sinks are best suited for smaller bathrooms. An oval shaped sink looks more like a bowl and frees up a lot of counter space which can be used to store soaps, shampoos and other bath essentials.
Freeing up space beneath tables and vanities opens up space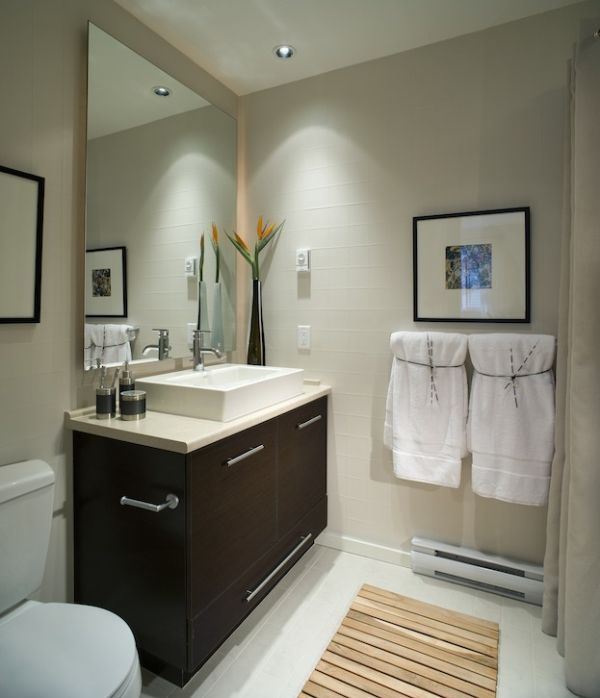 You may not know it, but freeing up the space beneath tables and vanities can help make your bathroom look more spacious. For instance, a hanging vanity will also make your bathroom look larger without compromising on function.
Vertical shelving is the way to go for small bathrooms
Storage cupboards and tables take up a lot of space in an already cramped bathroom. Your best bet in this case is to ditch all these options and choose hanging cabinets and shelves. In addition to freeing up leg space, these shelves allow you to install them wherever you want in the bathroom. For example, you can have them installed above the vanity, above the bathtub and even above the toilet. Open shelving or mirrored doors create the illusion of a larger space as well.
Natural light is a must for small bathrooms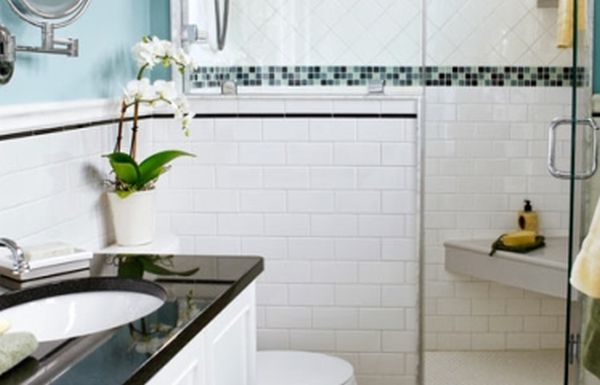 A small bathroom may look smaller if it does not have enough light. While artificial light fixtures can provide you the light you need, natural light streaming in from the windows is what your bathroom needs to look bigger.
Mirrors, mirrors and more mirrors are needed for bathrooms
The use of mirrors is essential in making a small bathroom look bigger and more spacious. The reflective surface of the mirrors gives the illusion of double the available space in addition to making the room look brighter by reflecting the natural light coming in through the windows. If possible, consider adding mirrors to shower doors, cabinet doors and even across an entire wall to make the bathroom look large.
Continued floor tiling in the bathroom is helpful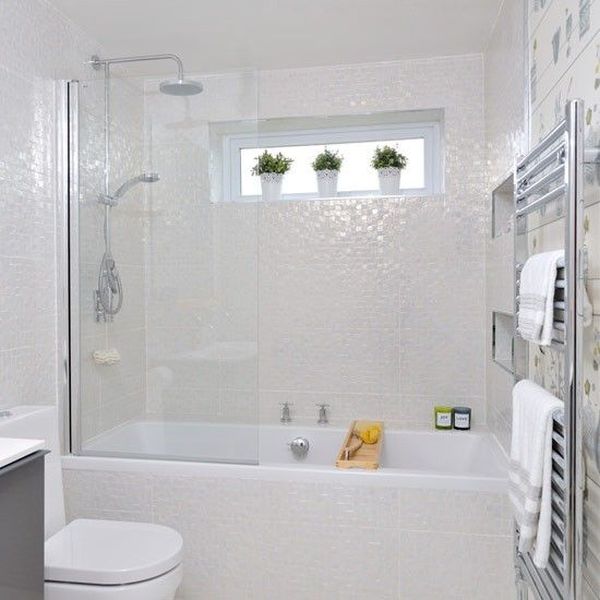 Many of us tend to choose different floor tiles for the shower and the rest of the bathroom. Different floor tiles in a small space will make it look smaller by dividing it into separate zones. The best way to avoid this is to have a single floor tile throughout the bathroom, including the shower area. This prevents the space from being interrupted, thus creating a larger space.
Pocket or sliding doors can make your bathroom look larger
Not many of us know that the normal doors found in bathroom are in-swinging, meaning they open inside the bathroom. In addition to taking up plenty of room space, this option can be very troublesome in a small bathroom where you are cramped for space.
An alternative to this situation is to opt for pocket or sliding doors that free up an amazing amount of room in your bathroom. While you may have to create some space on the wall for these doors, you will be amazed at the amount of floor space you are left with in the end. 
Small bathrooms are hard to decorate. However, you can get it done easily and effectively with a few décor tips. These tips will help you get the bathroom of your dreams without compromising on available space and function.