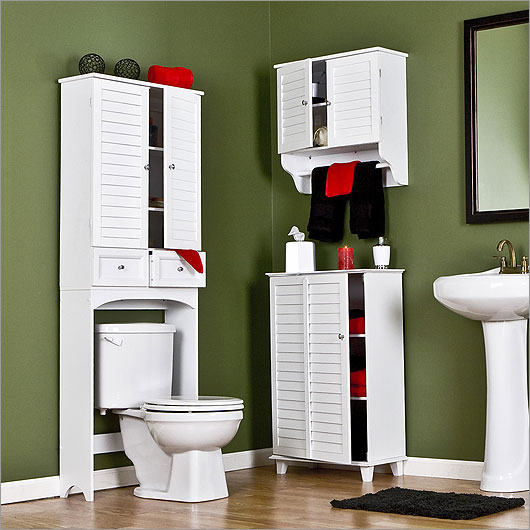 In almost every house, bathroom is the smallest room but, in no way does that mean that it doesn't need storage space. You need to do careful planning so that all your storage solutions are met without compromising on the look and decor of the bathroom. Here are some easy solutions that will help keep your bathroom well organized and clutter free.
Storage shelves and cabinets
We will start off with the shelves and bathroom cabinets as they are the basic storage places. You can use a dresser as a vanity instead of pedestal sinks as this not only gives your bathroom sufficient storage place but also makes your bathroom look stylish. You can set up fine vertical pullout ledges inside your cabinets as they keep items in an order.
Make use of the bathroom space
If your bathroom has a great amount of space between bathtubs and showers, then utilize them to store things like towels by fitting hooks.
Installing decorative elements
You can install some racks in the corners of your bathroom and fill them with towels which are rolled to make your bathroom look attractive.
Disposing the stuff
Don't forget to dispose all those stuff which you haven't used for more than a month. Dispose all the extra items like empty bottles of shampoos, lotion etc and all those medicines which have reached their expiry date. This gives your bathroom some extra space to add new items.
Mount storage shelves into the walls
You can get a little more space to store your toiletries without making your bathroom look congested by building storage shelves into the walls. This makes your bathroom look clean.
Modify the bathroom door into a storage space
Did you know that you could use your bathroom door as a storage space? Well, all you need to do is to just paint your bathroom door with a magnetic paint and set up hooks on them to hang the towels. Removable bins also can be installed on this attractive surface to store soaps, shampoo etc.
Bigger storage space
As an alternative for building new cabinets, you can install free standing furniture in your bathroom. Many drawers can be installed to store bath towels and other accessories. This reduces your expenses of building a new cabinet and gives you more storage space.
Add bins and baskets
If you are done with your storage space and not with your accessories, then you can add some bins and baskets on your free standing shelves. These bins can be used to store small items like medicines and lotions. By doing this, you gain storage space without loosing any space.
Make it easy to share a space
Is your bathroom being used by a number of people? Then there must be a lot of confusion like two toothbrushes having the same color which are used by two different people etc. You can solve this problem by installing drawers and assign each of them to a particular person.
Set up tall and slender cabinets
Cabinets which are tall and slender that extends from the ceiling to the floor can be set up in your bathroom. You can install glass doors for these cabinets to make them look attractive. This helps you to identify the objects easily as the glass is transparent.
Display your items
You can install iron racks in your bathroom for open display. These occupy less space and display all your neatly arranged toiletries. You can also gain easy access to your objects
Label your shelves and drawers
In case your bathroom has many drawers assigned to different people in your house, you might get confused as to which drawer or shelf belongs to you. You can avoid this confusion by labeling your shelves and drawers.
Cluster all the similar items together
Place all similar items in one drawer itself, for example: All the lotions and creams in one, all your medicines in other, etc. This enables you to reach all your items easily instead of digging out in the dark.
Set up two cabinets
We usually set up only one cabinet above our sinks as it is common in all houses. But, you can set up two narrow vertical cabinets above your sink as this gives you a lot of space.
Narrow, vertical shelves
There is no rule that all shelves have to be wide and normal. You can build shelves which are narrow and vertical as this enables you to gain space to store other things and gives your bathroom a different look.