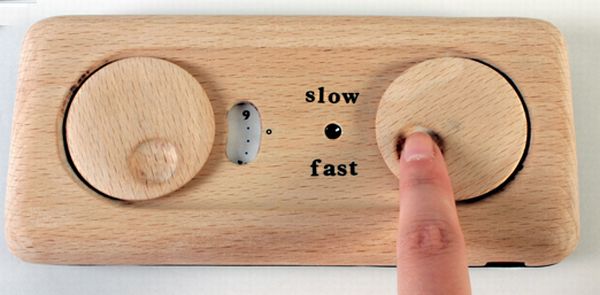 Here to wake you from deep slumber in style is the Sonno alarm clock. The clock has been created by a design studio Ham&Cheese, which is owned by Jordi Gisbert and Veronica Coloma, both product designers by profession.
Sonno alarm clock looks like a wooden phone and has a very clean facade. The product has been heavily inspired by the principles of the slow movement. Sonno will let you set the alarm and time, like any everyday alarm clock. Apart from this, it will also let users choose days and set the number of hours one wants to sleep on a particular day. Now, this is something new! Simply, decide the number of hours you want to rest or sleep and doze off without worrying about the time the alarm will signal you for a wake up.
Couple the Sonno alarm clock with your computer and the time will get synchronized automatically without any manual labor. Once connected, you will also be given the freedom to pick a tune or song of your choice that will be played when the alarm goes off. The alarm clock is easy to use and just has two controls wedged at its base. These simple to use controls will help users choose the time and functions as per their whims and fancies. It also has a LED clock wedged under its thin surface, which will prove to be of utmost help when the surroundings are dark. It will let you check time in case you wake up in the middle of the night and are too lazy to turn on the lights.
The design of Sonno alarm clock is unique and comes draped in simplicity. It will make waking up all the more fun and pleasant.
Via: Tastydesignstudio