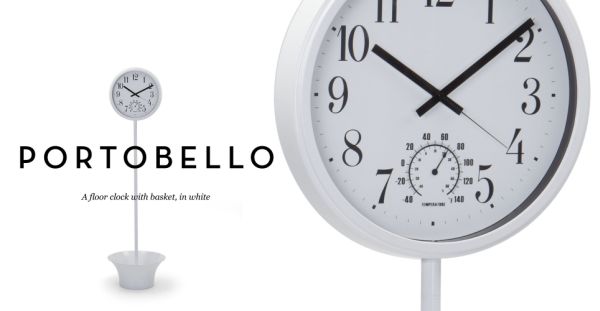 Everyone loved a good floor-standing clock but not everyone has the kind of space in their homes to accommodate an elegant grandfather clock or the kind of resources to buy one either. But if you still want to adorn a corner of your home with a floor-standing clock, the Portobello Floor Clock may be an excellent modern alternative. The designer floor clock has a simple and crisp watch face with black numbers. The sharp black hour, minute and second hands enhance the minimalistic and modern appeal of the clock without undermining the pristine white construction of the overall design.
The free-standing floor clock makes a bold modern statement with its fresh silhouette and the large round face helps it present a clean look. The not-too-large-not-too-small floor clock commands a corner with ease and can even sit pretty along the sides of seating. The base of the clock is fitted with a small basket that can be used to hold magazines or even be filled with stones or other colorful bits to customize and brighten the piece for individual users. The basket is shaped like an inverted lamp shade which makes it a fun little play on the traditional floor lamps as well. The basket can also be used to store decorative knick-knacks as well.
The quirky floor clock is also the perfect alternative to the wall-mounted clock and allows users to incorporate a simple design in their décor without it appearing too plain. The frame of the Portobello Floor Clock is constructed in sturdy powder-coated metal which is made to be long-lasting and totally child-proof. A handy thermometer dial at the bottom of the clock face also allows users to keep track of their room temperatures and makes a fun addition to the routine timekeeping piece.
The standout statement piece retails for GBP99 only.