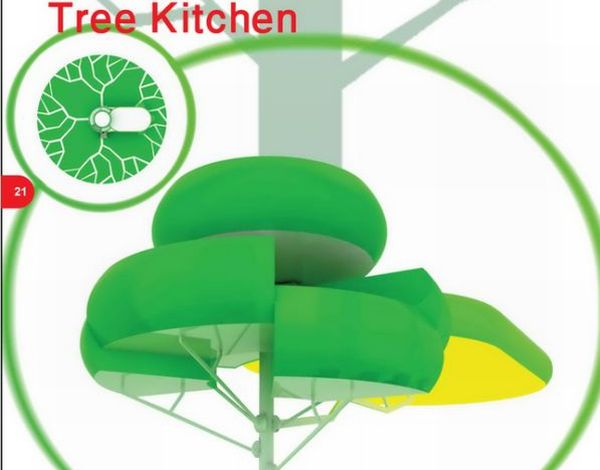 A tree produces food and a kitchen is an area that helps us prepare scrumptious meals. Clubbing the properties of a tree in a kitchen is Raika Khorshidian, who has designed the awe-amazing Tree Kitchen. The concept is unique and will become the heart of homes because of its ingenious conception.
A tree changes with the change in season, while a Tree Kitchen will serve in all possible seasons. Experience different seasons in this attention-grabbing kitchen by enjoying cold deserts in summers and hot deserts in winters. The modern day kitchen will comprise of an induction cooker with touch pad control, electric oven, sink, dish-washing machine and a refrigerator. Apart from this, it will also have a temperature regulation system and LCD-Internet-TV-home networking system.
The Tree Kitchen will have a long shelf and will also allow people to use it for dining purposes. It comes injected with clean and green properties, which will help pamper your Eco-friendly soul. The concept will help save energy as it will ingeniously use heat produced by the oven and refrigerator to produce hot water. Further, the extra hot dirty water will be used to heat the floors of the kitchen.
The design features storage compartments that have been spread above the shelf like the branches of a tree. Take out utensils from the cabinet just like you would pluck fruits from a tree. In case you forget something and are unable to search it, then make good use of the central control system and find the item in no time. The Tree Kitchen is truly unique and will change the way one designs kitchens.
Via: Coroflot