Halloween has almost made it to our homes and now is the correct time to enjoy candies, costumes and treats with your family and friends. Outdoor decorations have a long history to welcome the spirits form one of the most important parts of the Halloween day celebration. Here we are with some exclusive ideas that would help you do unique and one of its kind outdoor decorations to brighten and spruce up the occasion.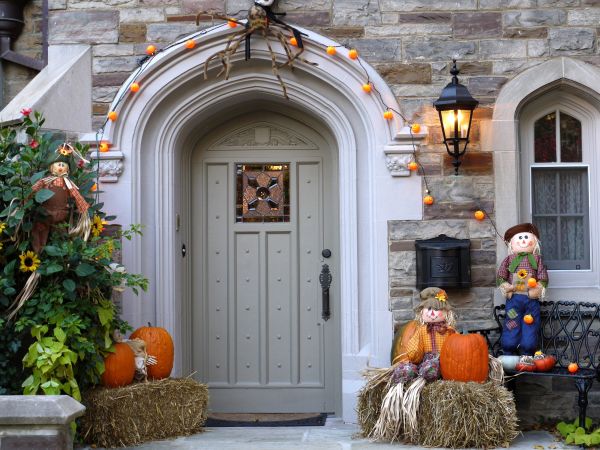 You must do the Halloween yard decorations keeping certain designing rules in mind. The way you arrange your plants and the way you create a beautiful focal center have a great influence on your decoration. Your centerpiece could be anything from a nylon inflatable to a macabre or a scarecrow, depending on the theme of the decoration, such as a spooky or a traditional one. You can make a good scarecrow at home simply by stuffing an old pair of shirt and trouser with leaves or straw and topping it with a plastic jack-o'-lantern as its head. To add more life to the scarecrow, you can place a few pumpkins together near the scarecrow with some cornstalks as background.
You can also use plants effectively for Halloween yard decorations. Plants like Chrysanthemums that are colorful and bright are a common item for yard decorations during Halloween. Shrubs and other trees, if chosen and placed thoughtfully, can work wonders. Especially when fall has arrived, some trees when added as a part of the decoration look amazing. You can also choose plants, which grow slowly as the year begins.
If you are looking for some cost efficient yet attractive decoration ideas, here is one for you. All you need is some balloons and gauze fabric with some markers. These balloons will resemble tiny ghosts swaying along with the wind, giving you the perfect feel of Halloween.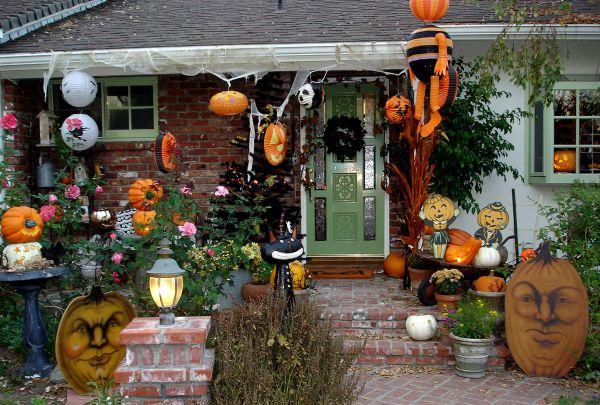 You can even create a large spider web with the help of clothesline style rope and a tinsel garland and hang it above your porch.
To design a perfect classic country Halloween effect, you can arrange things like hay, bales, mums, pumpkins and dried corn stalks around the stairs and give the entire house an eye-catching yet ghostly appearance.
One of the easiest ways to decorate your yard for Halloween is to lay some carved pumpkins around. Carving is fun and easy, and it takes less time too. However, prefer using hard shell gourds instead of pumpkins. These gourds are available in numerous shapes and are the best for making jack-o'-lanterns. These hard shell gourds or Lagenaria siceraria when dried properly become strong and can be used twice at least. In order to protect them from natural elements, you could cover them with shellac.
What could be best than to welcome your guests and the spirits with an amazing and scary wreath? You could create really spooky wreaths in different ways like –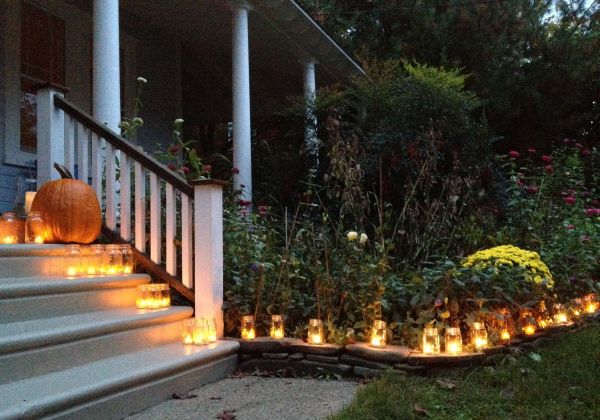 a)      Use a grapevine or bittersweet vines wreath tied with twine or complemented by a bow.
b)      Paint black a Styrofoam wreath form with acrylic paint and cover it with a black feather bow. Attach 15-20 ping-pong balls on this wreath and draw eye-like structures on the balls with the help of various color markers. The balls appear as bloodshot and are scary enough to give you the feel of the day.
If you have some bare trees at your yard, you are about to do a great decoration. Just hang some jack-o'-lanterns made from either pumpkins or Funkins (Styrofoam pumpkins). You could light up these lanterns with LED candle lanterns and some faux black crows.
Summary:
If you are looking for some creative ideas to welcome Halloween, these yard decoration ideas will help you add a mysterious and otherworldly like appeal to your hard, so you could enjoy the occasion to its best.