It is difficult and a little complicated for children to read time, which may lead to confusions and frustrations. This may lead to insufficient sleep as they may keep waking up to check if it is time to get out of the comfort of their bed. Maureen Griswold has designed a toy especially for children that will address this problem and make sure that children sleep peacefully and don't wake up in a panic mode. Christened Squishy, the child alarm clock has been designed in a way that makes it look very cute and will blend with the personality of children.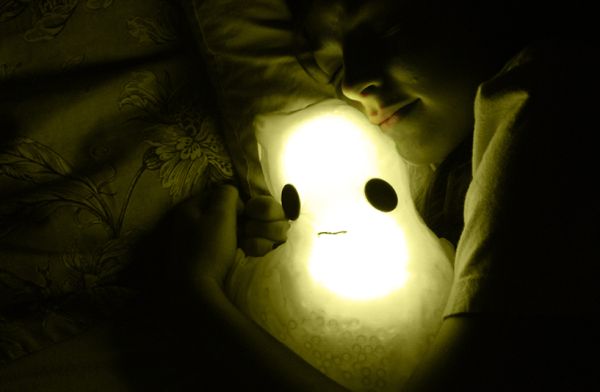 Squishy will give a new meaning to the act of sleeping in children. It will give easy indications that will help children to know when it is the correct time to go to bed or wake up. The ingenious alarm clock will tackle the time problem by making good use of colors and light. The design of this easy to use alarm has been inspired by bioluminescent creatures that use light as a natural alarm system. A dial has been wedged at the back of an alarm that is used by the child to see as well as set the desired time. The time can be set by simply shifting the dial to the right. 24 notches are present and each notch represents one hour.
A soft blue colored light starts illuminating from the clock when the alarm is set. The color blue was used as it has a restful nature and doesn't pierce one's eyes. The light will slowly start changing from blue to green as the time passes. If the child happens to wake up in the middle of the night, he/she will get an indication that it's not time to wake up yet by looking at the color of the light. As the time wake up gets closer the light will start changing from green to yellow, which silently means that the time to wake up is nearing. When it is finally time to wake up, the alarm clock starts emitting a pure yellow colored light and will start vibrating as well to stir the child out of a sleepy state. Color yellow has always been associated with energy and wakefulness, hence was chosen as a wake up signal.
Squishy is a great way to indicate the passage of time by different light hues. It will keep children away from any additional confusions and help them understand time in a better way.