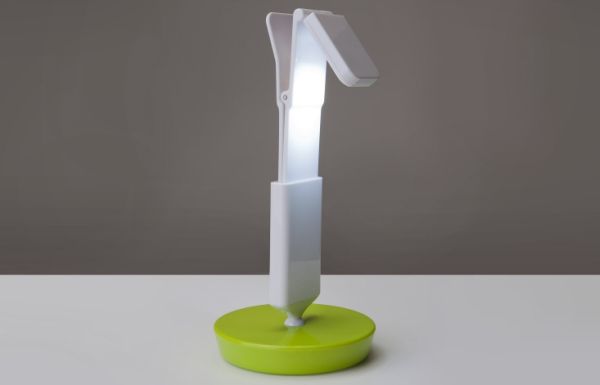 a. The Designer/Manufacturer
Matrix collection
b. Overview
A light piece with a new-age look, this one will look really cool in svelte and modern homes. You can also use it on your office desktop. Not only does it look swish sitting on top of a table, the lamp also fits in a number of functional benefits for its users. It is quite small and does not take up too much space on your desk. As the lamp is quite light in weight, it can be moved around easily. Also, a rechargeable integral LED bulb has been slotted in. Even the USB charging base is a great feature as it makes the accessory mobile. The light can be folded, stashed away and stored when not in use.
c. What's unique?
Although unlike any other ordinary desk lamp, this light fitting does have one feature that stands out – it can be used as a light accessory for reading books also. All bookworms will go ga-ga over this feature. The lamp has a strong and sturdy clip that can be affixed onto a book you are reading, providing an extra gleam of light on your page.
d. Features and specifications
The light lamp is about 18 cm in height and has a width of 4 cm. While the circular disc shaped base on which it stands, occupies close to 13 cm. Made from plastic, the light has a lustrous sheen on its outer surface. The neon green, though bright enough, does not hit you hard as the shade has been toned down quite a bit. The white tint gives the lamp a demure seem.
e. Where to buy it from?
The light can be purchased from the website made.com where it has been tagged at £29.
Via: Made.com