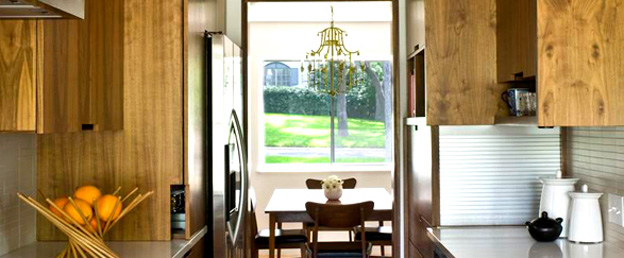 In every woman lies an instinct to maintain and manage a beautifully coordinated kitchen with latest modern day equipment. Spending hours or minutes, depending on one's preferences and needs, in one's kitchen does not alter this urge or do away with it. No one likes to cook in a dirty, stingy and unequipped surrounding. If a kitchen is well equipped with modern day techniques and gadgets, cooking can be fun, easy and extremely enjoyable.
Let us take a view of some of the most interesting, handy and stylish gadgets for your kitchen.
1. A smart shopper grocery list organizer
This handy gadget is considered inevitable for the modern day woman who has loads of things on her agenda. This organizer helps in meal planning and grocery listing. It has a built-in thermal printer and a voice recognition software as well which not only records grocery items, but also prints it. It requires no ink, making it non-messy, it runs on batteries and can be easily affixed to your fridge. A perfect companion for your kitchen that can take care of your daily needs of groceries and other food items. So, rest at peace once you install this extremely useful gadget and be tension free. The only area where you have to be cautious is to see that it does not run out of batteries. It comes at an approximately range starting from $45 up to $150 which has some additional features attached to it.
2. Baggu reusable shopping bags
These shopping bags, as the name suggests, are reusable, easily foldable and can be kept in your car to make your shopping easy and smart. It comes in a range of colors, designs and sizes according to your demand and suitability. It can be easily washed and reused. They not only look attractive, but also add a new look to your smart and modern personality. Very price effective, you can procure them at a range as low as $10. There are even packs of three and five available making it more cost effective.
3. Gorilla mobile ori for iPad
This instrument can be easily attached to your iPad, making it an all purpose kitchen helper. A very lightweight and versatile device which reads recipes hands free, makes you watch cooking tutorials and look up ingredients on its own. Again a very useful gadget for our fast moving lives especially for all those inexperienced and inquisitive cooks who need to know all about recipes and their ingredients. It comes at a price of approximately $60.
4. Progressive fruit and vegetable chopper
The most messy and tedious job in the kitchen is to chop, cut and peel off fruits and vegetables. But imagine a device that does all without asking for any help. Here is a chopper with sharp cutting edges, super handy measurements printed on the sides and also includes cleaning tools for the same. A perfect friend in disguise for your kitchen, I think it can minimize your cooking hazards in multitudes. This device not only cuts down on your cooking time, but also helps you save a lot of your energy. The price for this product is approximately $25.
5. Perfect portions nutrition scale
How many of us are health and diet conscious? I think all of us these days want a partner in our kitchen who can monitor and measure our food ingredients along with their nutritional value. So, here is a perfect item. A perfect portions nutrition scale can do the needful. It not only displays weight portions, but it can also store an indigenous database of 2000 entries. It displays the nutritional information for your food and helps monitor your diet. So, grab this product to make your cooking perfect and healthy. You can get this product at a price of approximately $50.
6. Magnetic digital timer
Here is a good news for all those forgetful and preoccupied people. A magnetic digital timer is launched which alerts and alarms you to complete your cooking activities right from preheating, marinating, cooking, heating, to boiling as well as soaking the ingredients. This gadget is very useful for the aspects of food preparation and can be easily attached to the refrigerator door. A perfect reminder for an imperfect cook! This product is priced at an approximate value of $15. This product can be described as a perfect companion for your kitchen.
7. Mr. Coffee 4 cup programmable coffee maker
For all you coffee lovers, this is a boon for your kitchen. This device makes coffee automatically, all you have to do is feed in the timer and program it. Once the coffee is made, all you have to do is pick up the kettle attached to the coffee-maker and pour it out. This product, again, is a must have for all modern day kitchens and also for those addicted to the bean. This is available at $20 approximately.
All the above mentioned gadgets are easily available on the net. You can order them on line and make it a possession for your beautiful kitchen. Though machines and gadgets make us dependent on them, we cannot run away from the fact that we are already their slaves as we become totally handicapped in their absence.