The Need
Tired of fixed interiors? Need something to change? Most often, when you decide to change the way your furniture is arranged in your room, you would face difficulty in dealing with it. That is because you would be needing to change several adjustments and commit yourself to strenuous permutations and combinations of your furniture set. Finally, you would harp on something that is commendable to your eyes. This entire pattern is now going to see a change with a miraculous table, coming into picture.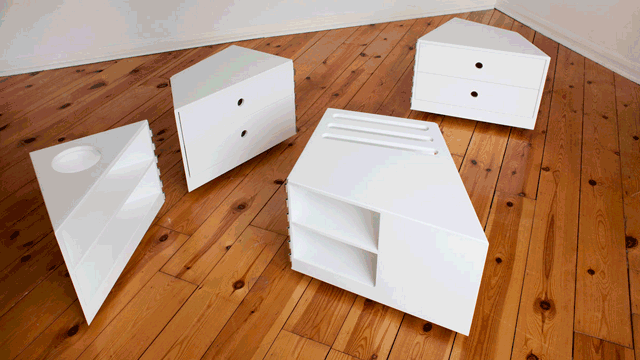 The Solution
The infinitely configurable table sources its idea from one 'higher-secondary class' mathematics theorem that since a square has equal edges, it can be opened up onto equilateral triangle. The designer has accordingly, split up the table into four smaller compartments, each containing adequate storage space in the form of racks and shelves. Using these four different pieces, you can adopt eight different combinations! Or if you need so, you could keep all these 4 pieces separately to fill up your house a bit more! Imagine, that would mean 1 arrangement extra as compared to the days of the week! Use it at your own sweet will.
Aesthetic Quotient
The design and color that have been used in making this table, coupled with the choice of material, creates something that is absolutely perfect to suit the tastes of any contemporary design lover. The best thing about this table is that it is hinged. So joining or opening up the different sections is not at all much of a worry! It is a multipurpose table. You could use it to stack books exactly as conveniently you use it to pile up magazines or place a sweet flower pot. Lover of change? Be the first one to claim a piece of this adorable thing.