Your kids room is a multifunctional composition of a nursery, activity, play, reading and a sleeping area. Parents painstakingly design fancy nurseries for babies and toddlers. But a transition from cribs to beds means that it is an appropriate time to revamp your kids room. As kids grow, focus changes from fancy design aspects to more functional aspects, like a dedicated study area with a personal computer, bookshelf and so on. All this, coupled with a child's growing tendency to have a say in the design, calls for a revamp. This can be done every few years based on your kids physical and mental growth, wear and tear of furniture/furnishings or just to create an invigorating atmosphere for your kid. Keeping in mind your budget and rising costs, it is advisable to recycle and reuse as far as possible.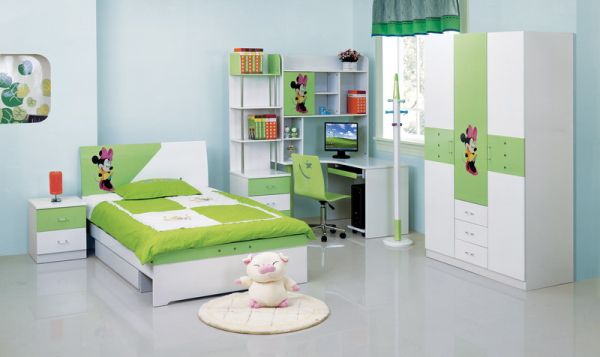 Basic revamp ideas
Reuse old furniture but change the function. An end table by the bed can serve as a desk for drawing and doodling. A long, rectangular storage trunk can double up as a homework desk, a bench and a cabinet for storing toys and clothes. Modify the existing bed: Get a set of storage drawers added below. You can even add a sliding bookcase under the bed to store school books, activity books and story books. This provides sufficient storage for toys and school art/craft projects, frees up floor space in the kids room and keeps it organized.
Kids in kindergarten and first grade levels love to write and draw on blackboards. Create a chalkboard wall for them. Paint an uninterrupted area on a single wall with readily available chalkboard paint, in innovative ways, for example, a winding road outlined with a few trees or an elephant trudging along a path. When it dries, kids can draw and write on it with colored chalk. Put up a cork board or message board on the wall to dish out some inspiration. Put a star on it for a good job done. Pin up report cards, time tables and to-do notes.
Now for some cute patchwork quilts, cushion covers and pouffes, pull out old clothes and bed covers/furnishings you had bought for kids a few years back. Carefully cut out the cute teddy patchworks, animal and floral prints or any embroidered patch that fancies you. Re-stitch these pieces onto plain colored cushion covers. Use the same idea to make attractive patchwork quilts. Revamp old pouffes. Stitch together old fabric pieces in different shapes and design patches to make attractive pouffes. Or you can go for some dollar store rugs to make new pouffes. Cover old sturdy cardboard boxes with fabric or left over wall paper to make attractive laundry baskets.
Painting the entire room is often a drain on resources and time. Spruce up kids room walls with cute wall decals and wall murals instead. Revamp old lampshades with stickers, glitter and embellishments.
It is a great idea to revamp your kids room, when kids need a change or when there is a need for some added functionality or storage. Revamping imparts an energetic and active atmosphere to your kids room. And it can be done on a small budget, with simple planning and innovative design.
Via interioguru