An outdoor kitchen can provide a homeowner with an option to enjoy their outdoor spaces in more ways than one. However, picking an outdoor kitchen scheme requires a bit of planning ahead too. Here are a few tips that can help you pick the perfect outdoor kitchen for you.
A full outdoor range
If you are an avid cook, a full outdoor cooking range could be a great idea for you. It would give you all the tools you need to create fabulous food while enjoying good weather in your backyard. With a full cooking range installed in your backyard, you would also need a few countertops to provide cooking space as well as some storage to house outdoor cooking tools.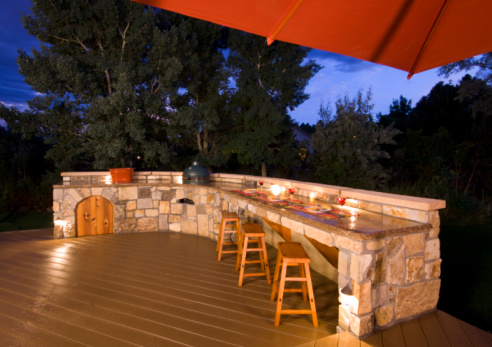 Island or no island?
Having an island for your outdoor kitchen is a decision that would be based solely on whether or not you are going to use your outdoor kitchen for lavish preparations. If you have friends and family members that like to get involved with cooking, having an island would help give everything the space to work during a cookout. However, if only one or two people can be expected to cook in your outdoor kitchen, the island can be forgone in favor of countertops right next to the cooking range.
Simple BBQ based outdoor kitchen
If you don't want to spend too much time and energy in developing an outdoor kitchen, you can always simplify everything and just build an outdoor kitchen around a BBQ unit. Usually, a prep space like a small kitchen counter with a lock-enabled cabinet underneath (to store coals and BBQ supplies) would be enough.
Herb garden
An outdoor kitchen can be decorated with a few hanging herb planters. If you have the space in your backyard, a kitchen garden can also be created to supply fresh tomatoes, etc. through the season.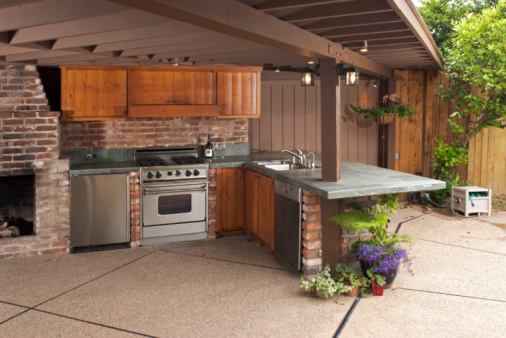 Outdoor dining area
When creating an outdoor kitchen, you also need to ensure that your plan includes an outdoor dining or lounge area nearby. If you are using a creating a smaller kitchen outdoors, your regular seating options would do though a larger installation would require you to put in a custom, weather proof outdoor dining area near the kitchen as well.
Summary
An outdoor kitchen can really open up your backyard space to a variety of entertaining options and functionality. It can also dramatically increase the value of your property while helping you minimize socializing and entertaining costs through the summer.