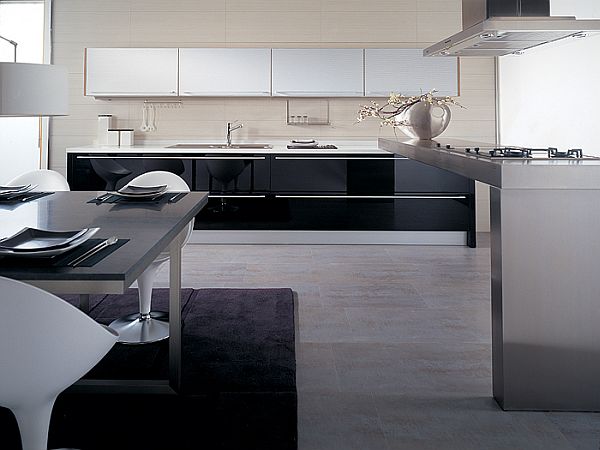 Contemporary kitchens have transcended their boundary of a room meant for cooking and cleaning only. Modern lifestyle demands stylish kitchen, which is a hub of style and class. It is a live reflection of fashion consciousness of the owner. So, gone are those days when owners paid importance only to the basic functions of a simple kitchen. Contemporary kitchens come with extended features and well as the most sophisticated décor. But you cannot overlook the primary function of cooking and storage too. Therefore, if you feel like giving your own kitchen a contemporary look retaining its functional and practical aspects as it is, then start reading further.
Kitchen colors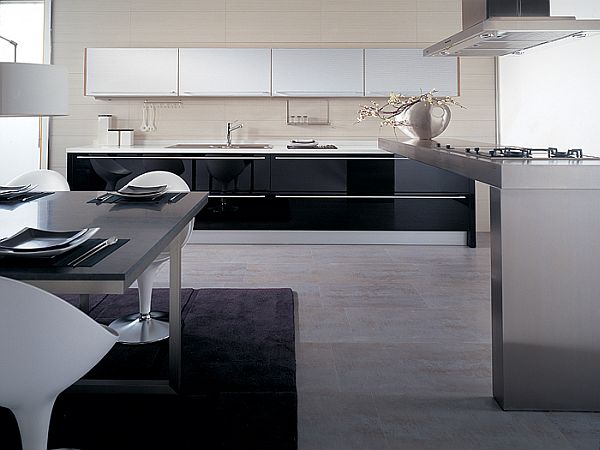 Colors play a vital role in transforming the look of a kitchen. While an incorrect shade can make the most luxurious kitchen look gloomy and clumsy, the right shade can enliven up a small and insignificant kitchen too. The universal color that matches with every kitchen accessory, furniture and fixture is white. Moreover, it will give your kitchen an ever new look if you couple it up with dark shades. You can further use a different and contrasting shade to highlight a specific spot of your kitchen such as the cooking area or storage area. What is most important to realize while opting for a perfect pallet for your kitchen is that it is not a particular color you must bang upon. It is actually the harmony of the shades that you select so that your kitchen imparts the feeling of warmth. An expert tip on this is settling on high contrasts like red and white, brown and grey, green and beige, yellow and lime, etc. will give your kitchen a dramatic look.
Kitchen lighting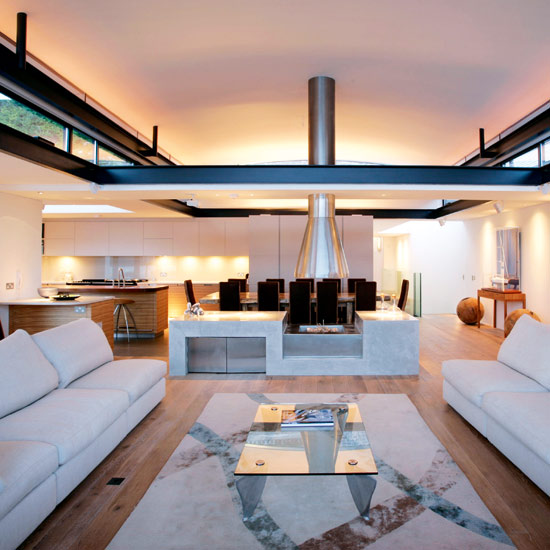 A kitchen can never create the feel you desire unless and until there is proper illumination. The kitchen nowadays is one of the most frequented social gathering spots in majority of homes. So, proper lighting in right area is the cardinal aspect of contemporary kitchen decoration. Dim wall lights will create the mood of the social assembly and add further to the décor of the kitchen. Similarly, ambient lighting of greater intensity is required in the cutting and chopping area since it demands proper illumination to prevent minor accidents. In-cabinet and in-shelf lights of lesser intensity are desired for your storage areas so that you can get hold of the things you want more conveniently. For the fortunate person with a large kitchen, you can play with lighting by creating different zones with different intensity of illumination.
Modular contemporary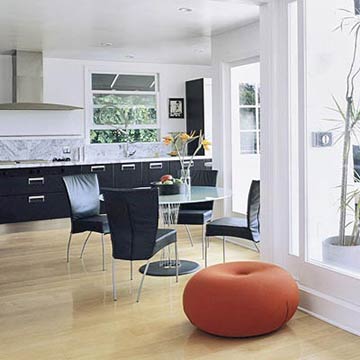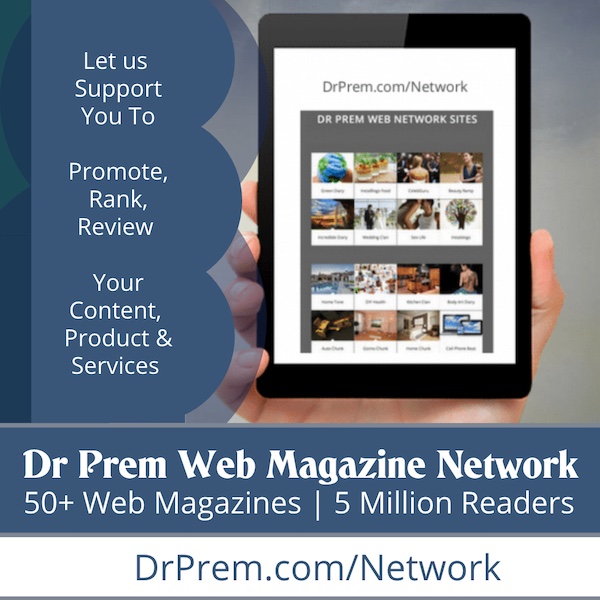 A contemporary kitchen stresses more of sleek designs, horizontal lines and simplicity. So, the suggestion of the experts on this aspect is to have the walls painted with neutral shades. For the cook top, you can opt for gray colored marble top with light grains. Settle on darker shades in case of storage cabinets. By the way, the storage area of your kitchen is the most functional part in a contemporary kitchen. So, besides the aesthetic appeal it must also be roomy enough to accommodate all your kitchen utilities. But remember that it should not subject you in difficulty while taking out things from there. Lastly, the most futuristic kitchen has wood flooring, which balances the monochromatic look of the area.
Contemporary windows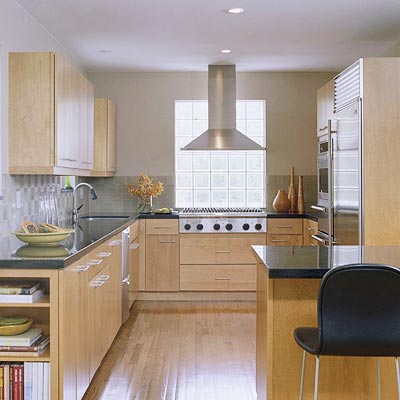 The windows of contemporary kitchens are extremely functional besides being aesthetically superior to their older counterparts. So, kitchen windows now serve the purpose of illuminating your kitchen area with natural light. But it takes care of the need to retain your privacy in the process. Hence, translucent window panes are a great idea for contemporary kitchens that prevent passersby from peeing inside. The sleek feature of a modern kitchen matches well with a grid pattern block window too.
Contemporary wood cabinets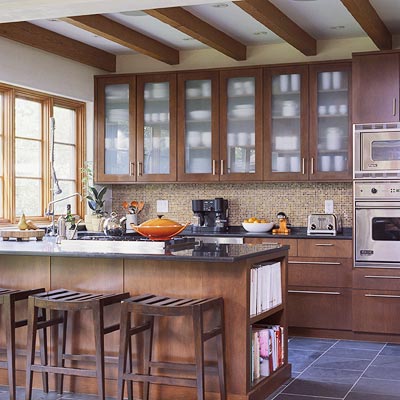 Wooden cabinets were the most prominent things found in traditional kitchens. Most surprisingly, these cabinets dominate the contemporary kitchens too as they accommodate all the kitchen utilities. These functional fixtures accommodate all the kitchen utilities and give the appeal of overall neatness. The major exception is that they have got a modernistic makeover in their look and functional features in the recent times. Wooden cabinets of contemporary kitchens emphasize upon horizontal lines, simple looks and slim features. So, the most widely found wall mounted wooden kitchen cabinets now have rectangular or square shapes with a plain wooden beat running all over like a photo frame. The translucent glass top detailing gives you only a hint of things kept inside it. There are open shelf wooden cabinets too. These are floor mounted and help you assemble things you need every now and then in a systematic way so that your kitchen looks tidy.
Contemporary kitchen countertop ideas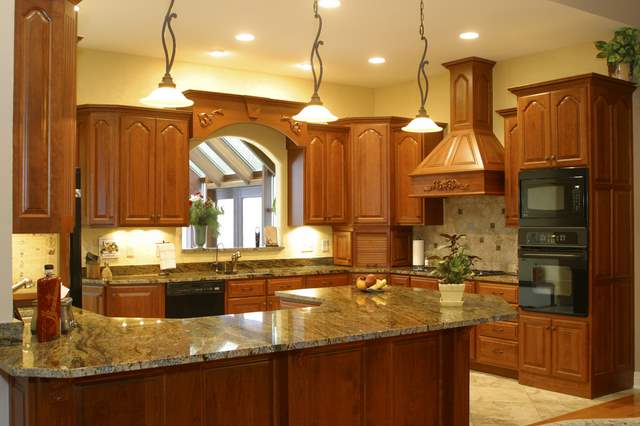 There are endless options of countertops for the contemporary kitchen for you to decide upon. The primary consideration in this context is your financial strength. So, either it is granite top or an expensive quartz countertop you have wide options to experiment with and find the perfect one for your kitchen. Although the basic function of countertops in kitchens are same but some of them are subjected to harsher situations than the other. Hence, while selecting the best one for you take into account factors like, the amount of wear and tear it is supposed to withstand, the durability of the material, the maintenance procedure and the quality you select too together with price.
Contemporary kitchen island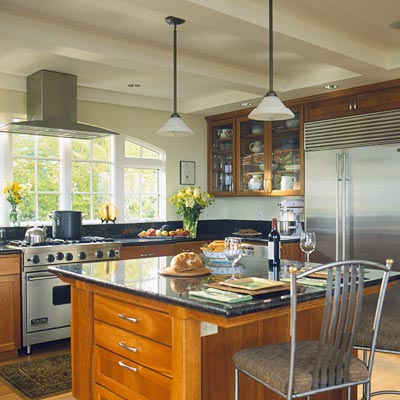 The most popular concept in the contemporary kitchen decoration is a kitchen island. The multifunctional kitchens in the recent times lay stress upon the concept of kitchen islands than the traditional dining tables. These modern furniture score in their superb storage facilities along with provisions of table top for dining. These kitchen islands are wiser space saving options for the modern population too as they replace the bulky cabinets on the window walls. Moreover, with separate storage areas for cutlery, crockery and napkins you will not have to run about in the kitchen to arrange a perfect dining table for your guests. All the necessary things will be within your accessible range.