In your childhood, did you ever wonder how an alteration in the position of the sun causes shadows to change constantly? If yes, then read on to know about an innovation that would amaze you in a similar manner. Designed by Roshan Hakkim, this creation is a time teller named Umbra. This specialized product is a modern-day clock that runs on the traditional principle of lights and shadow (umbra), as well as the system of sun dials. This clock has been designed in a stylish manner and it does not use needles to indicate time. Wondering how does it display time? It actually has a special system to create two shadows that work as the hands of the clock.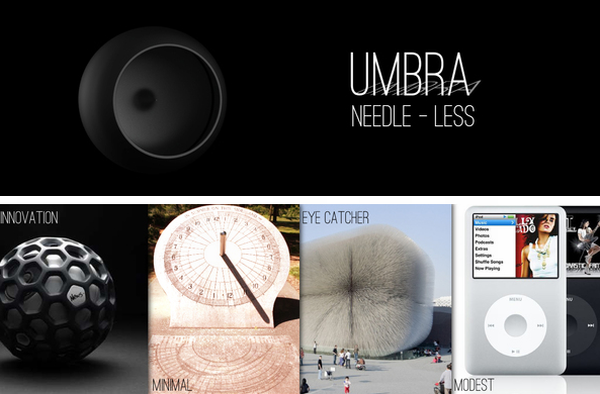 There are two light sources that are fitted inside this device and both create two shadows with different lengths. The shadow length is kept altered in order to communicate the time. The light sources are in the form of two light-emitting diode (LED) strips. The inner strip consists of 24 LEDs, and it projects the minute hand with a longer shadow while being nearest. The hour hand has a shorter shadow that is projected by the outer strip with 12 LEDs. These lights keep rotating and cast the required shadows for time display.
Umbra does not require a technical mechanism for operation. The height and angles are the deciders for the length of shadow that keep varying from morning through noon till afternoon. This simple yet eye catchy design is created like a regular clock. The difference is that Umbra is not a flat clock and has volume. This smart clock has gecko tape layer behind, which makes you place it horizontally and vertically as well. You may get several color options, if you wish to place this clock at your home. Even the light sources can be colored as per your liking. Umbra is designed to show you time in a very poetic way.
Via: Behance