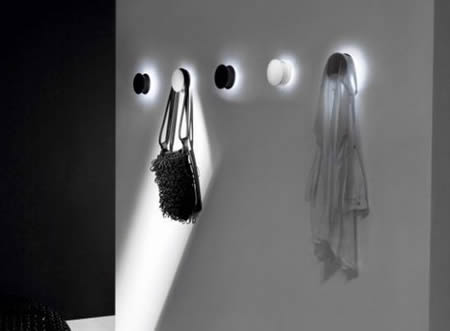 When it comes to decorating your home in an unusual and creative way, even the smallest of the things can make a huge difference. Have you ever thought that a common household thing like a wall hook can add to the décor of your space? Many designers have transformed the wall hook, which is commonly used to hang clothes and other accessories, into stunning décor item. Wall hooks are nowadays available in different shapes, colors and sizes to complement your home décor. Here we have some of the most unusual and creative wall hooks that are not just decorative but practical too.
"Alone" Light Wall Hook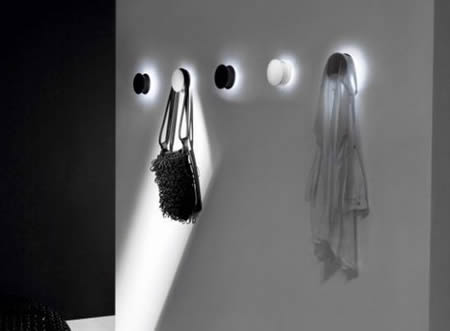 Designed by Daniele Trebbi, the stunning "Alone Light" wall hooks give out a soft light. These pretty wall hooks were specially designed for Italian manufacturer Pallucco, and are sure to complement any contemporary home decor. These coat hooks are made in opal and polycarbonate with built-in LED lights. The opal finish ring that fills with white light adorns the clear-cut design. A striking bright halo focuses on the hanging coat and a single battery is required to make the LED last for a long time. These hooks come in a variety of colors and these embellish your home in a sophisticated manner.
8-Bit hanger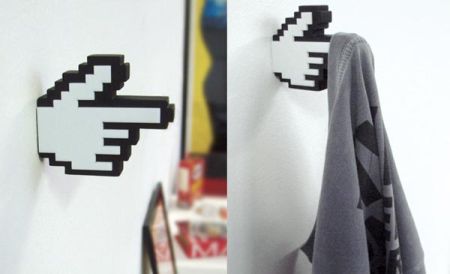 If you are looking for something cool and different to hang your coats and other household things, the 8-bit pointer pictured above is a great solution. This cute little pointer can be permanently mounted on any of your rooms' wall with help of a single screw. If attached to the wall of your kitchen you can cling bags of onions, if in the bathroom wall, you can hang your towel. These retro styled acrylic hangers measure 3 x 2.8 x 0.6-inches and fix permanently on the walls with one screw.
Knife Wall Hooks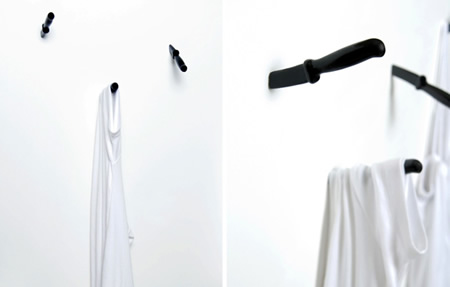 The unusual Knife Wall hooks have been designed by TC Studio, which is owned by industrial designer Tianyi Chang. These unusually creative wall hooks can be easily fixed onto any wall of your home. These hooks are available on deck in a single hue of matte black that can match with any color of the wall. Hanging your clothes on these knives mounted on your room's wall sounds simply interesting and moreover, this thing is sure to attract attention of your guests.
Ninja Star Coat Hooks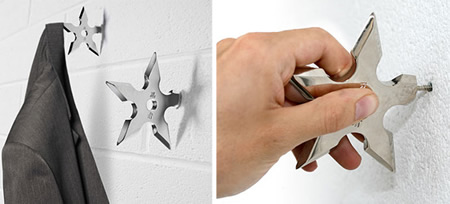 Ninjas are silent warriors who are experts of martial arts, wielding swords and throwing ninja stars. If you happen to be a Ninja fan, these cool Ninja Star Coat Hooks would be just an appropriate thing for hanging out your black masks…err…your coat. The Ninja wall hooks aren't sharp as they appear and are made out of nickel-plated zinc alloy, with one of the star trip inverted as a screw to be stuck on the wall. The wall hooks are very strong to support even the heaviest of your coats.
Paint Drop coat hangers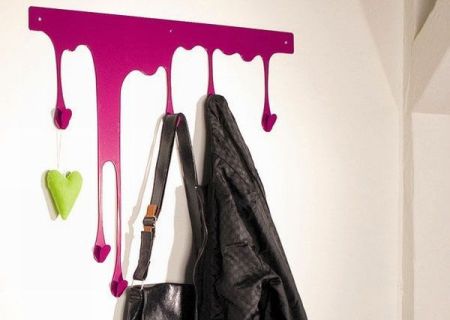 Here is yet another interesting wall hook design done by Julian Appelius. Dubbed Paint Drop, these marvelous wall hooks appear as if the paint is dripping out of your wall. These are crafted out of 1.5mm steel with powder coating in an artistic and creative way. These fun hooks would perfectly complement the color of the walls, as they are available in variant colors. These one-of-a-kind hooks come in various sizes varying from XS to L to XL.
Puppy Butt Wall Hooks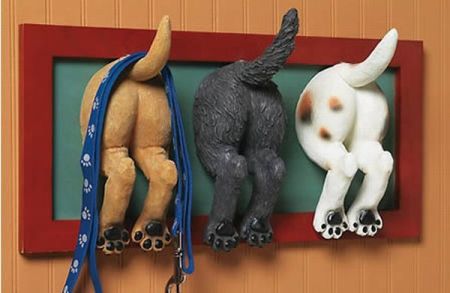 One will find these Puppy Butt Wall Hooks quite hilarious on the wall. Your guests would definitely pat the butt after drawing out their coats from these cute hangers. These puppy butt wall hooks can also be gifted to someone who happens to be a pet lover. While many of you would take these wall hooks to be a stupid idea, but then, it might interest to those who love puppies.
Mountain Coat Range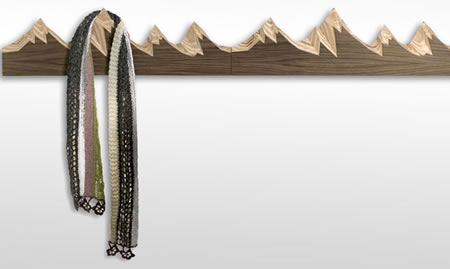 The artistic Mountain Coat Range by d-ECO-rate uses excess wood to create a useful two-dimensional representation of snow caped mountain peaks of the Grand Tetons. The walnut contrast to the exposed interior of Certified Maple wood represent the snow covered peaks where you can hang your scarves, coats and even bags. This wall hook serves as a functional landscape on any wall of your house. You can hang around four or more items on these strong peaks. The surface of the mountain coat range is coated with a durable non-toxic water based finish.
Hang Wall Hooks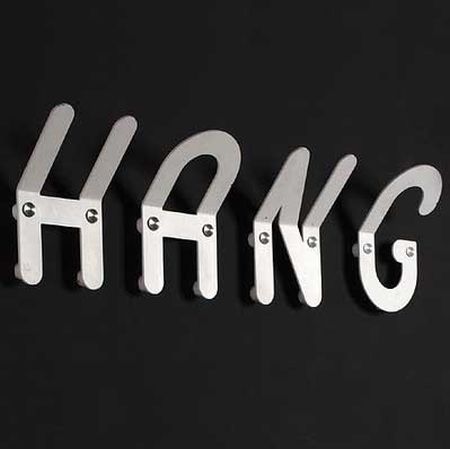 The HANG wall hook is another interesting way of suspending your clothes or even bags in a place. Designed by design house Seletti, the set of this unique wall hook comes along with four oversized letter shaped hooks that spell "H-A-N-G". This pretty wall hanger is crafted in durable stainless steel and is available with mounting hardware for being installed easily on any wall. Each of the four letters, double as a wall hook and measures 4.75″ Wide x 8″ High.
Hook Anemone by Anders Ljungberg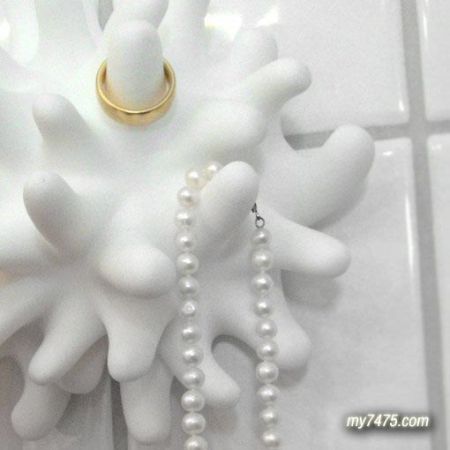 The Hook Anemone by designer Anders Ljungberg is yet another unusual wall hook design. She got inspired by the underwater organic life like corals and sea anemones to create this multi hanger creation in the form of a wall hook. You can hang your clothes bags etc. on this wall hook. This multi hanger also serves as a jewel caretaker where you can secure your jewelry items like necklaces and bracelets.
"Here Hook" Wall Hooks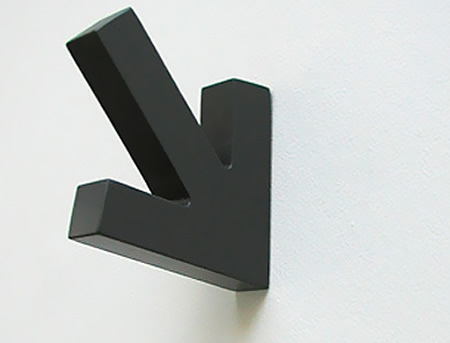 This "Here Hook" is a simple arrow shaped wall hook that simply communicates its purpose to the. It points out to drape your outerwear like coats, scarves and hats securely along the wall on the way in. The 'Here Hook has been designed by the Robert Shed Studio and is available in various colors like ivory, charcoal, red. They come with a screw for being stuck to the wall without any hassle.
Areaware-Hand Hook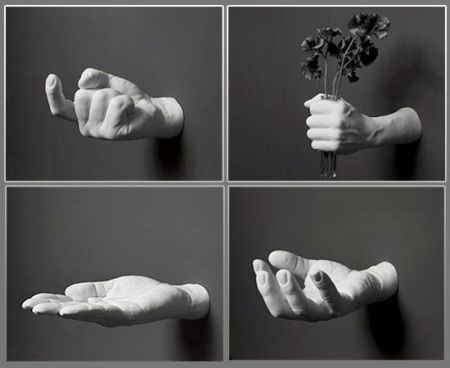 These Hand Hooks are an extravagant creation from designer Harry Allen. These wall hooks grab the attention of the viewer as they are realistically based on human hand, to be very precise- his own! The designer has intricately worked on each piece and has fantastically crafted a hypnagogic object for your house. These hand hooks represent various gestures of hands and are so named C'mere, grab, bestow, offer and Om. These marvelous hand hooks are carved in resin and marble for Areaware and can hold clothes, keys and even jewelry. Each hand includes wall mounting hardware for easy installation. The Areaware-Hand Hook is available in white and metallic gold.
Crazy Men wall hook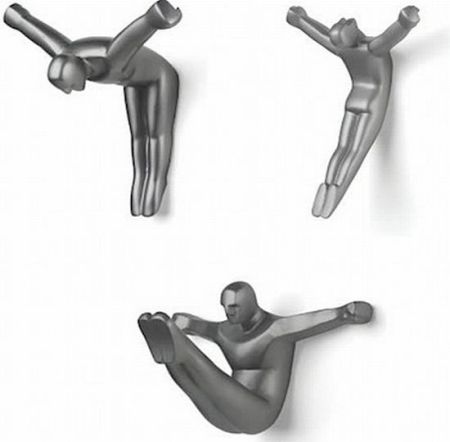 These cute stretching men figurines mounted on your walls and serving as wall hooks will definitely surprise your guests. These coat hangers are made from high quality cast resin. Mounting these shiny figurines on the wall is not difficult at all as these can be installed on any wall with a screw already attached to it. Your guest can drape their coats and hats on the outstretched arms or legs of the men hooks. These graceful wall hooks will add some visual interests to your walls. Measuring 5.2 x 6.2 x 2.2in, these outstretched men figures feature silver color finish.
Wall-mount Spooky Halloween Hands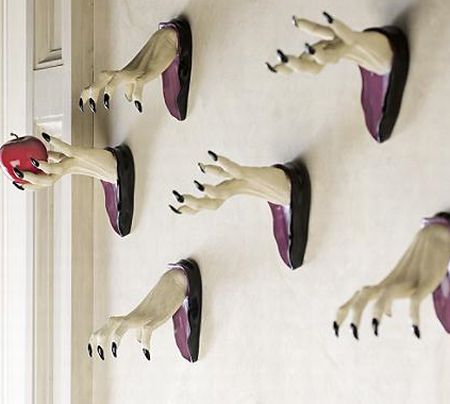 These scary Spooky Halloween Hands mounted on the walls are a cool way to hang your coat, hat, towel or your apron. Measuring approximately 7" long, these Wall-mount Spooky Halloween Hands come in a set of two, one with palm up and one with palm facing downwards. These creepy appendages are made from durable poly resin and stone powder. The guest after hanging their things on these startling set of hands will be definitely appreciating these nasty Halloween touches.
Dart Coat Hook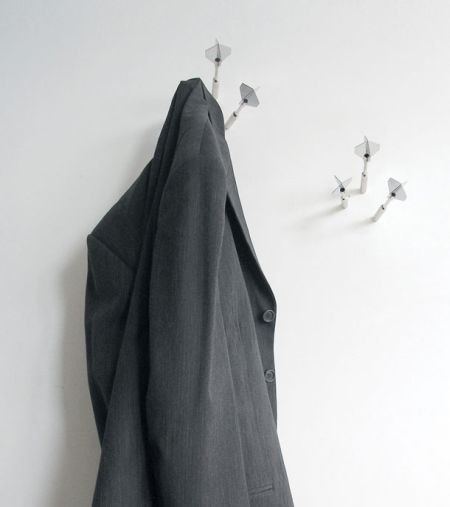 The Dart Coat Hook undoubtedly makes for a playful statement on the walls of your room. Originally crafted by Anthony Chrisp for SUCK UK, these darts are made out of stainless steel. These Chrome Steel Dart Coat Hooks come in a set of three with a screw for fixing them permanently on the wall. Each dart hook measure approximately 6.75 inches in length. These cool darts looks just perfect on your wall and you may not want to hide them behind your clothes. The Dart Coat Hook could be a great gift item too.
Paint Brush Wall Hook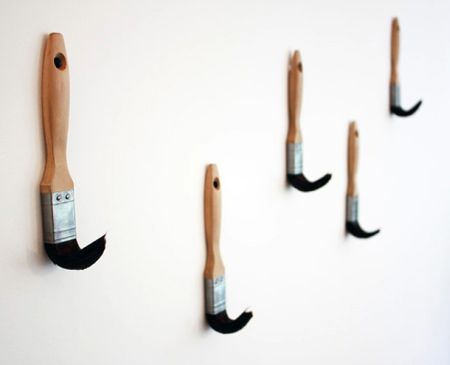 Creative designer Dominic Wilcox has made these intriguing paintbrush wall hooks from his old paint brushes that he forgot to wash. He remolded and repurposed the old discarded paintbrushes to create a functional object. That can be used to hang coats and even other small weight clothes too. He used a few amount of additional materials for this project created for the Object Abuse exhibition held at KK Outlet in London. This unconventional design will win appreciation of the guests when they drape their outerwear on these paintbrush wall hooks.
High Tea Wall Hooks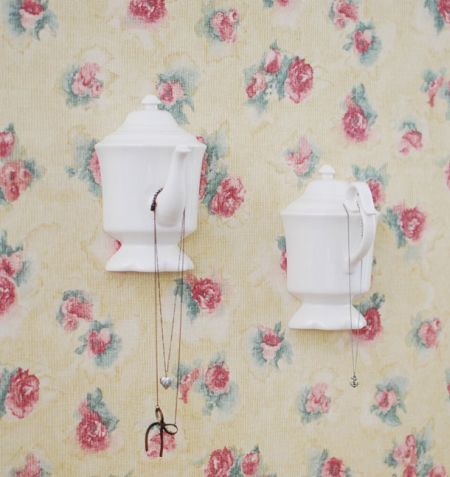 What would you do of your old, obsolete teapots? Finding no other option, you'll either lock them up in the store room or give them away for recycling. Here is yet another interesting way to reuse these cute little teapots. The High Tea Wall Hooks can be used as clever and handy wall hooks on your kitchen walls to hang on your aprons. These wall hooks are made of ceramic and are sold in a set of two. They can be mounted on the wall permanently with help of attached screw.
Forget Me Not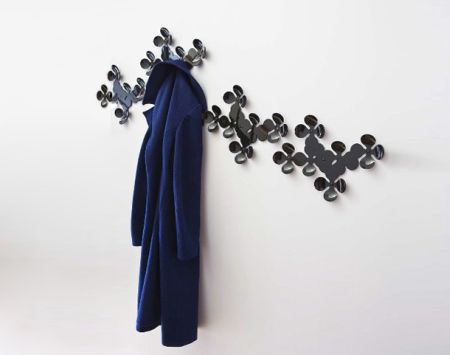 These beautifully crafted "Forget-me-not" is a set of clothes hooks designed by Charlotte Lancelot. She has integrated poetic beauty, harmony as well as emotions in a sphere while creating the floral patterns that solve the purpose of wall hooks to hang your clothes. These wall hooks provide a refined embellishment to any wall in your room. These come in four different colors of red, orange, black and white.
Bird Hook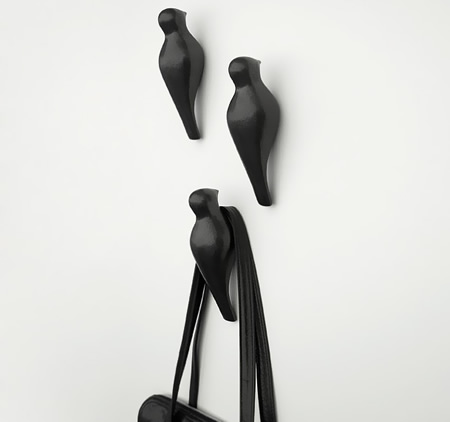 Jantze Brogård Asshoff designed these unusual bird shaped wall hooks for LAPD. Stoneware material in black or white glace was used to make these stylish wall hooks. These cute birds measure 5 cm in width, 15 cm in height and come out 4 cm from the wall. These little birds can be easily mounted with attached screws to add fun to your walls.
Ghost Antler Coat Rack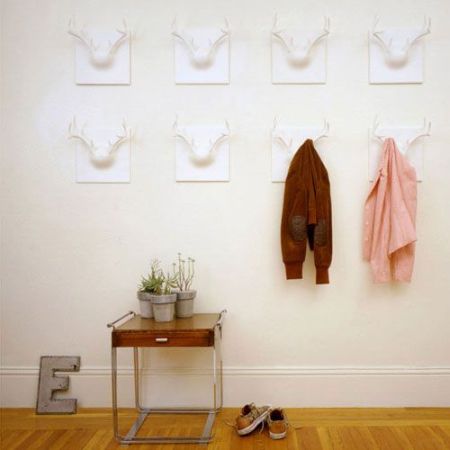 This Ghost Antler Coat rack is sure to give a rustic charm to the walls of your house. Eric Ginder got the idea of creating the Ghost Antler Coat Racks from the shape of deer's horns or antlers. He made these wonderful antler wall hooks with his hands by using only resin and acrylic. These Antler Coat Racks are available in white as well as black color to blend with your contemporary home décor. These coat racks come with a mounting bracket to fix to the wall easily. These appreciable wall hooks measure 12″H x 11.5″W x 8″D.
Axe hanger

If you are looking for some eclectic wall hooks that will complement your home decor besides serving the main purpose of wall hooks, then you might like to consider the Axe or Regnah hanger. This pretty, shiny axe hanger is quite different from the usual coat hangers and can easily hold your clothes, scarves, keys and handbags. These wacky hangers are made from sturdy MDF measuring approximately 9 x 24 x 1.5 cm. the hanger comes with permanent screws to fix to the walls easily.