If you have ever thought of bringing a part of your garden to your living room and make it the center of decoration and have a soothing effect as well, then surely this lamp is meant for you. The Vase & Leuchte lamp designed by the German designer Miriam Aust consists of a series of three ceiling lamps combined with a cylindrical vessel around it which can be filled with water and decorated with plants or flowers. Though the idea of putting a light bulb in a lamp and then submerging it entirely in water is not safe, this young German designer has successfully designed this impossible idea into a real light cum flower vase.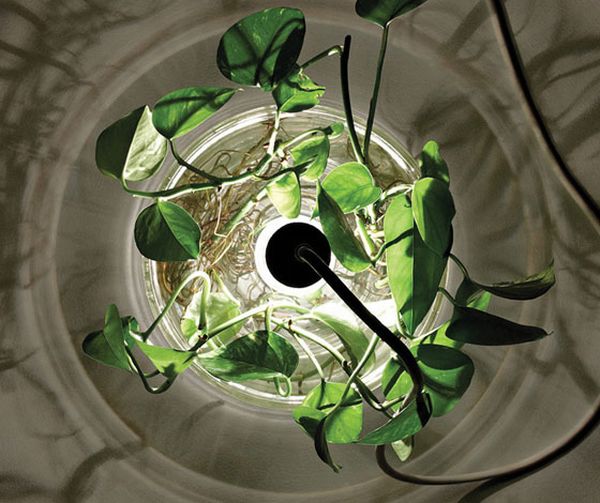 Generally a lamp or a flower vase with fresh flowers or water plants are kept on a table or is allowed to hang from the ceiling to decorate your dinner table. The concept of this Vase & Leuchte (meaning 'light') is a combination of both the objects. The light is brought down to be kept inside a lamp. This lamp is placed in a cylinder which is filled with water, into which plants are added for a decorative look. The halogen light from the bulb provides heat and therefore enhances the growth of the plant. The roots of the plants, which are visible through the glass cylinder and the lamp, act as the lamp shade through which the rays of light can be seen. When this object is placed on a table, the plant with the light rays give a beautiful yet subtle look.
It is completely safe to keep this lamp since the light bulb is waterproof and the plants are aquatic. Therefore, the plants will stay fresh for a longer period and the water in the cylinder won't do any damage to the light bulb either.
Via: Dailytonic