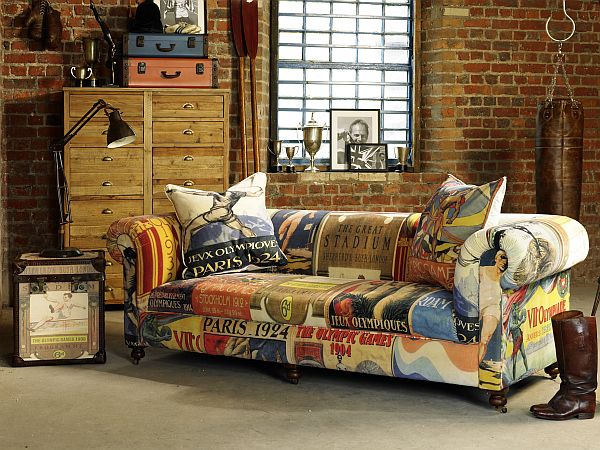 Overview
Throw in the bright shades and nobility of British Olympic to your interiors with Vintage Olympic-inspired living room furniture. Inspired from Sir Steve Redgrave and Matthew Pinsent, this furniture set consists of a brilliant sofa and trunk that can certainly liven up your living room.
What's unique
The set consists of a sofa and a trunk that has been named as the Redgrave sofa and the Pinsent trunk respectively. The sofa features a classic chesterfield style look, which has been covered in moleskin fabric that flaunts vintage Olympic prints. In addition, it has finished with traditional oak feet and castors along with two throws.
The Pinsent trunk is also wrapped in moleskin fabric that features vintage Olympic poster stamps and brilliantly boasts leather trim and metal latches.
High Points
The sofa and trunk looks extremely cool, fascinating and intriguing. Not only they add a splash of bright colors to your interiors but also enhance your décor. Furthermore, it will also offer an interesting and quite different look to your living room.
Price
The Redgrave sofa is available for £2399 whereas the Pinsent trunk can be purchased for £629.