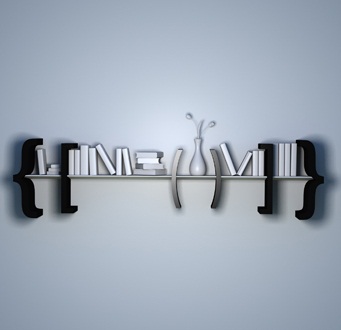 Books are a connoisseur's pride and his most prized possession, which he delightfully maintains and makes others envious of. Book lovers not only love investing in and acquiring different varieties of books to enhance and increase their collection, but also take great care in stacking them carefully in style. Here are designs of some beautiful modern wall mounted bookshelves, which will be appreciated and envied by all addicts of this art. These trendy designs not only give an identity to the contents of your library, but also add a statement of style to the surrounding interior space.
LOVE book shelf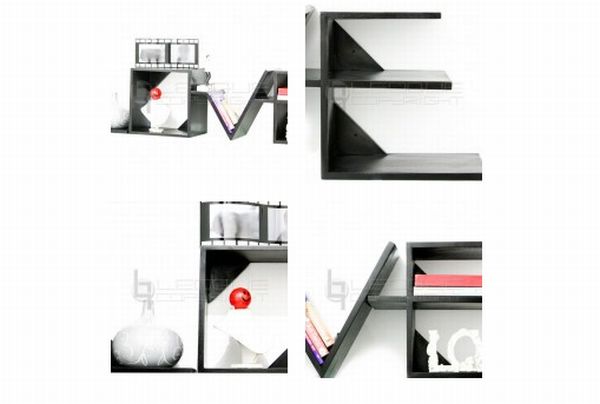 Price: On request
The LOVE book shelf displays a very rare and unique piece of creativity and imagination. It is a part of the 'SHELTER' bookshelves series from Leoque collections. The design has been formulated in a manner that it spells the word love in bold letters. The approximate height of each letter or shelf measure 14″, while the width varies as per the formation of the letter. The depth, however, remains constant throughout. Each shelf holds ample space to display and hold books, decorative lamps and other figures and display items like a fancy clock, photo frames and so on, thereby adding a personal touch to the entire wall arrangement.
What's unique: Each letter of the shelf has been kept detached from each other so that they can be mounted at different levels on the wall, for maximum impact therein.
United States map bookcase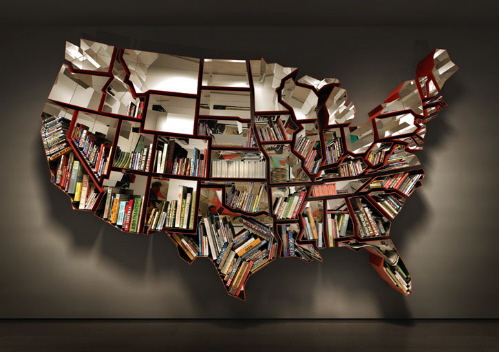 Price: On request
This bookcase, in the shape of the United States Map, signifies an artistic approach by the designer, Ron Arad, who is well renowned as the creator of eclectic furniture pieces, worth admiring. Inspired by a song from Rogers and Hammerstein's Oklahoma, he has named it on the words of the number which says, Oh, the farmer and crow-man should be friends. This piece of furniture is just what you needed, to store the contents of your library, in an organized manner.
What's unique: Each demarcated shelf has been given a mirror lining, which creates an illusionary effect of an added depth.
Tree shaped bookcase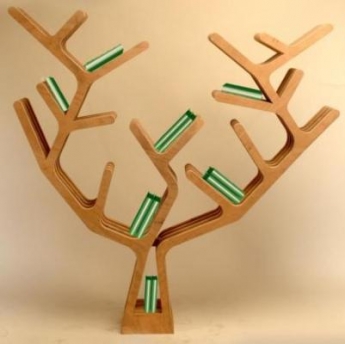 Price: On request
The 'Albero della Cuccagna' by Matteo Casarosa is an interesting and attractive looking bookcase, just appropriate to be a part of your little one's private space. The bookshelf has been designed in the shape of a tree, with compartments on the branches to hold the books of different authors. Now you can inculcate the habit of reading in your little ones, by exposing them to a bookcase, where he does not have to go through the rigmarole of hunting his way in order to catch hold of his favorite author's creation.
What's unique: It provides a breakthrough from the boring and monotonous geometric shaped bookshelves, thereby adding liveliness and appeal to your kid's room.
Equation bookshelf

Price: On request
It is often said that each individual is different from the other. This quality can be easily viewed, by comparing the methodology followed by an individual in performing the simplest of jobs, be it baking a cake or any other errand. The equation bookshelf provides a cutting edge in the world of design, by Estudio Breder, in an attempt to highlight this basic nature of every single human being. This piece of shelf comprises braces, square brackets and parenthesis, which enable the user to arrange his things according to their importance and priority level that it holds in his life. Priorities keep changing, and so does the contents of the bookshelf, as per the whims and fancies of the owner.
What's unique It makes easy for an individual to set his priorities and pick on them immediately, when required, without wasting time and energy in hunting for them.
Spell shelf by Da-Eun Song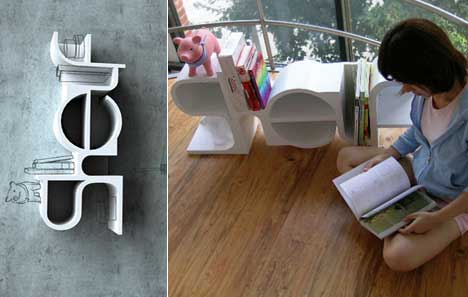 Price: Not available
This simple and elegant, yet modern looking bookshelf has been created by designer Da-Eun Song, to spell the word Shelf. It can be easily wall mounted in both vertical and horizontal modes, as per the space availability and discretion of the user. Though the shelf has very limited space, just to store a very small amount of books and other things of prime importance, it surely does add life and style to any boring and vacant wall of your home.
What's unique: All the letters of the word are attached to each other, making installation simple and convenient. Also, one can place it either on the wall, in any direction, or can simply place it on ground level.
Sum bookshelf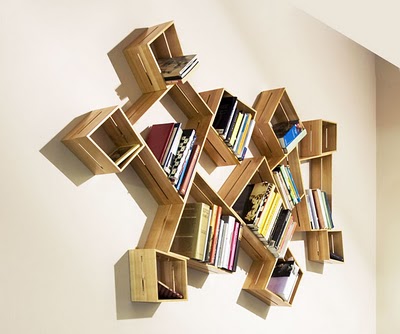 Price: On request
The Sum bookshelf comprises an asymmetrical shelving system, which can be easily configured on to any wall. It is made out of solid cherry wood with brass fixings. The design element features four angles, combined in different configurations, in order to create three unit shapes. This bookshelf comes in a three-piece set, with each set consisting of individual shelves in three different sizes. Each of the three, out of four, sides of the bookshelf contain grooves that make room for easy fixation and assembling.
What's unique: The asymmetrical blocks of the book shelf can be combined together in an innumerable number of abstract geometric shapes.
Ellipse bookshelf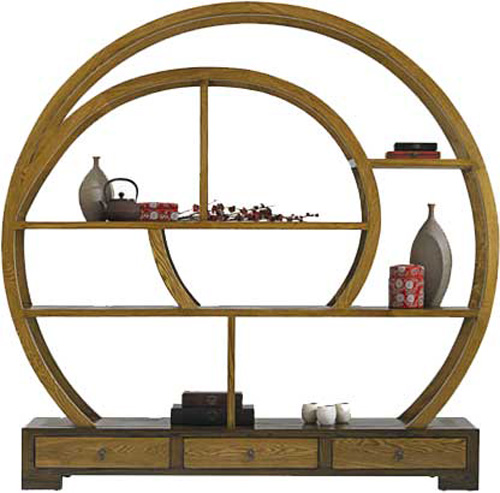 Price: On request
The Ellipse bookshelf lays more stress on its design element and looks, rather than its utility factor. Made out of elm tree wood, by using layers of wood veneers, this piece of furniture, although cannot store too many books, is sure to enhance the beauty of your living room. It exhibits a very interesting, gorgeous and stylish compilation of trendy style, along with contemporary looks, which can be easily placed against any modern backdrop.
What's unique It contains three wooden drawers at the base, which can be utilized for storing other nick-knacks.
String pocket by Nisse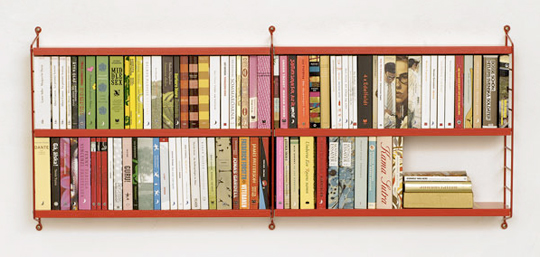 Price: $106.55
Conceited and inspired by the String system of operation, designer Nisse Strinning conceptualized the String Pocket bookshelf especially for wall mounting and storing paperbacks. This bookcase comes with three shelves and two sets of brackets, which can be easily expanded and cleverly fitted into any small space. It comes in a variety of colors like white, red, black walnut and so on.
What's unique: It is also available with plexi-side brackets and provides a perfect solution, for smart storage of books, in space constraint urban dwellings.
Wall mounted bookshelf: Bookhouse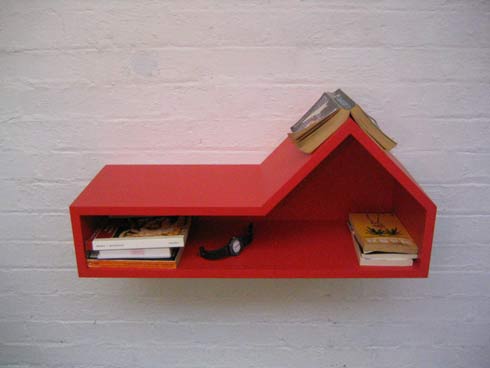 Price: On request
This beautiful and attractive wooden bookhouse, in a bright red color, can be conveniently mounted on the wall, beside your bed. Due to its small size, it can be effectively and interesting used as a side table, which can enable you to keep and store your personal belongings, like your watch, cell phone, keys and some books.
What's unique: You can simply rest your book on the ridge of the house and use it as a bookmark, before dozing off to sleep.
Sonoma Hutch wall mounted shelf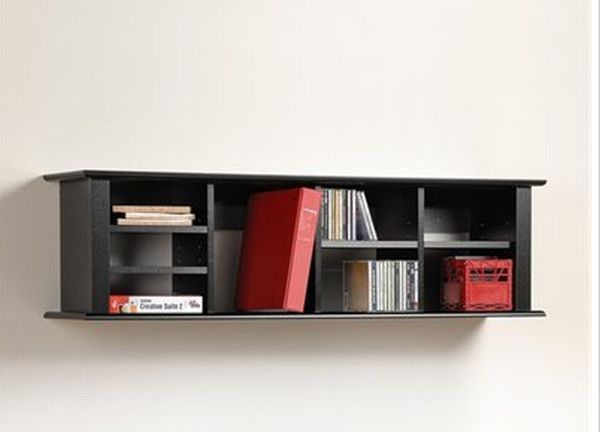 Price: $92.50
The Hutch wall bookshelf from Prepac Furniture is a corollary of its Sonoma collection, which can be conveniently wall mounted over and above any contemporary computer desk. It provides room for easy and organized storage of books, papers or computer disks, or can be used exclusively as a floating bookcase for your personal collectibles and accessories. It features four shelves, which can be easily adjusted to fit binders perfectly and comes with easy installation facilities, using the two-piece hanging rail system. Constructed from high quality laminated composite woods, this wall mounted shelf comes in a wide range of colors namely maple, black, Espresso and white.
What's unique: Its shelves can be adjusted according to the size and volume of the books, as per the convenience of the user.