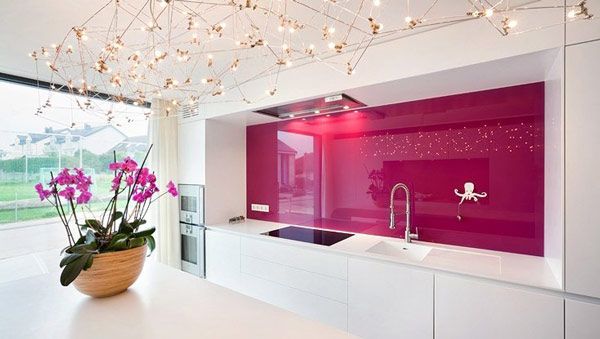 Kitchen is a paradise for those who take pride in their cooking capabilities. However, for making kitchen a blissful place, it is necessary to give it a tinge of style with a notch of convenience. Kitchen designers do exactly the same. If you are in search of some beautiful and sumptuous kitchen designs for your dream home, here are some designs with luxurious display and high utility, designed by some of the best kitchen design firms of the era.
Modern and exclusive Italian designer kitchens by Cococucine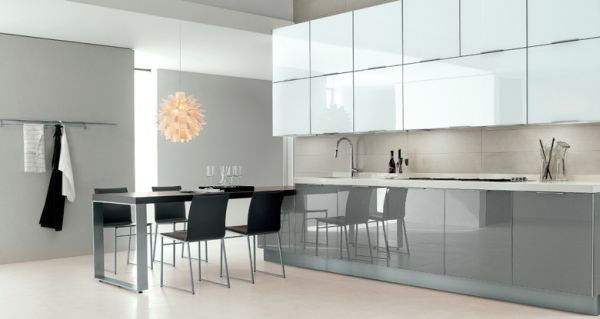 If you are looking for a designer kitchen for your home and are just irritated with the extravagant burden that your pocket is being charged, here is an air of relief for you. Cococucine offers you a wonderful kitchen design at a price that will sweep you off your feet. The good news is that these designer kitchens are affordable. The kitchen that is in context now, has a white backdrop that is complemented by the furniture and appliances. With a set of dining provisions as well, it is just what your home requires to get a perfect kitchen.
Luxury and modern Italian kitchen designed by Pedini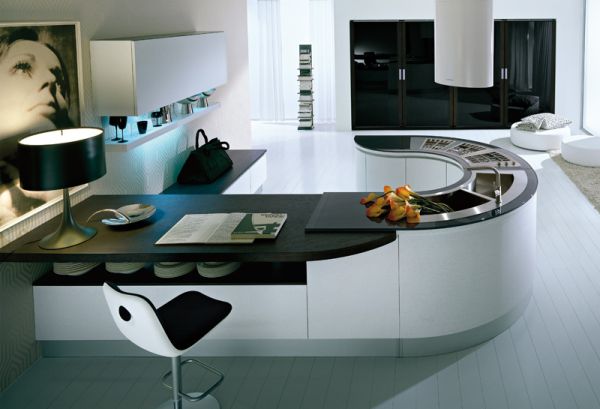 Coming from the house of Italy's finest kitchen design firm, Pedini, the luxurious kitchen is a wonder box of absolutely stunning designs, applaudable interiors and stunning attention to the needs of a convenient cooking session. It features a curved base unit, hidden handles and oak wood frames to make the décor even more enticing. The kitchen design is available in seven unique color combinations.
Brand new kitchen design from MK Style

For the lovers of geometry and acute precision, this kitchen design is nothing less than calm green to the eyes. With a soothing glacier white color and the uniform use of Corian, this MK style wonder can make minds boggle with awe and admiration. The kitchen area features special wall inclusions, with built-in electric appliances. This arrangement has special purpose of retaining the smooth finish of Corian by coupling it with the delicate sternness of stainless steel.
Kitchen design 2012 by Snaidero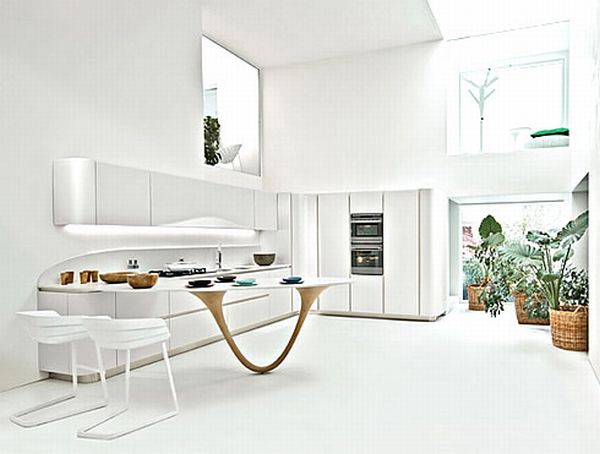 Meant for people staying in small apartments, this kitchen design by Snaidero has everything that allows you to cook special delicacies. Unusual parts of this kitchen are its circular cabinets that don't have any handles and confined storage space. Besides these, there is a refrigerator, stove and sink. When you enter this area, it would not just be the conventional kitchen, it would be a lot more, an area that would soothe your senses apart from helping create thing that would tingle your taste buds.
Revolving kitchen design presented by CC Concept Ltd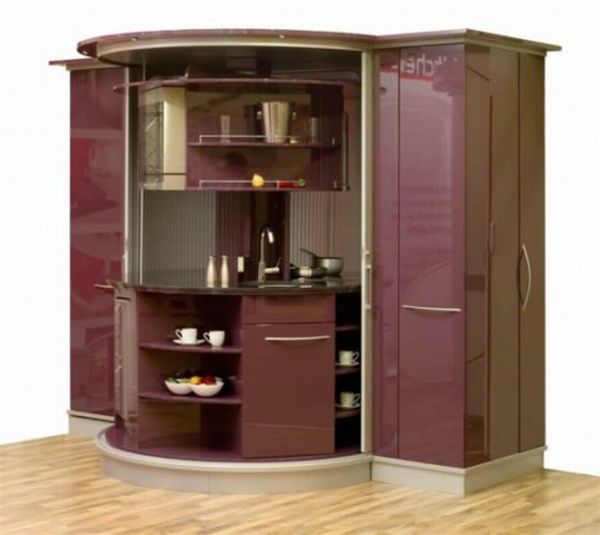 This kitchen design is a mirage come true for people who want to set up fully equipped kitchens within small spaces. The most interesting aspect about this small kitchen is that it rotates 180 degrees and has storage space equal to 12 cupboards. Apart from this, it has an oven, refrigerator, dishwasher, space for collecting garbage, ceramic stove and a unique concealed sliding door. Therefore, if you are a fan of uniqueness and antiquity, this is exactly what you need to go for without a second thought.
Luxury kitchen design by Hungeling Design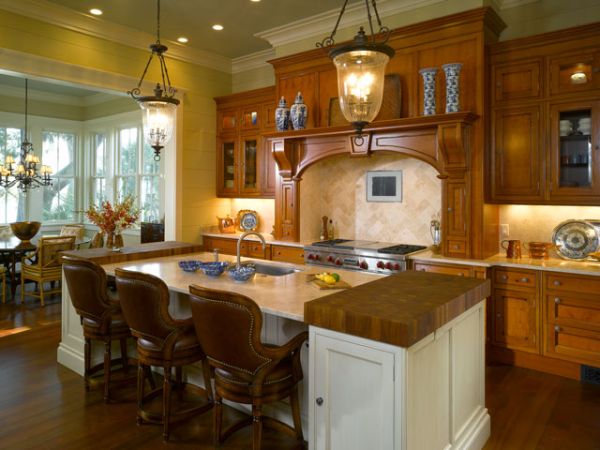 Perfect example of opulence! Designed using the English Yew Wood, this kitchen smells of West Indies essence. This kitchen décor is a wonderful destiny that people with perfect cooking habits deserve. This awesome architecture showcases specialties like double dickered glass cupboards, refrigerated drawers and a 12-inch carved ceiling and chopping blocks. The spotlights could be many, but one that needs to draw utmost attention is the fact that the cabinets are hand painted.
Wow factor kitchen design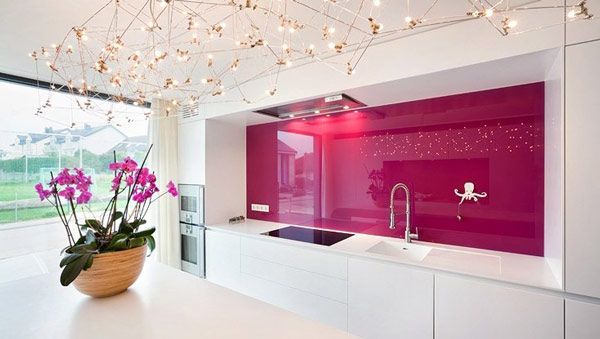 'A pure metaphor of delicacy with lots of mature artistic thinking', that is exactly how I would describe this kitchen design! Like me, every person with a chefistic heart, dreams of having one of such kinds. One look at this majestic kitchen and you are sure to get spell-bound. The credit for designing this pinky wonder goes to Metaform. The contrasts are just amazing, so are the interior décor, a special mention is of course reserved for the beautiful and delicate chandelier.
Tansu inspired kitchen design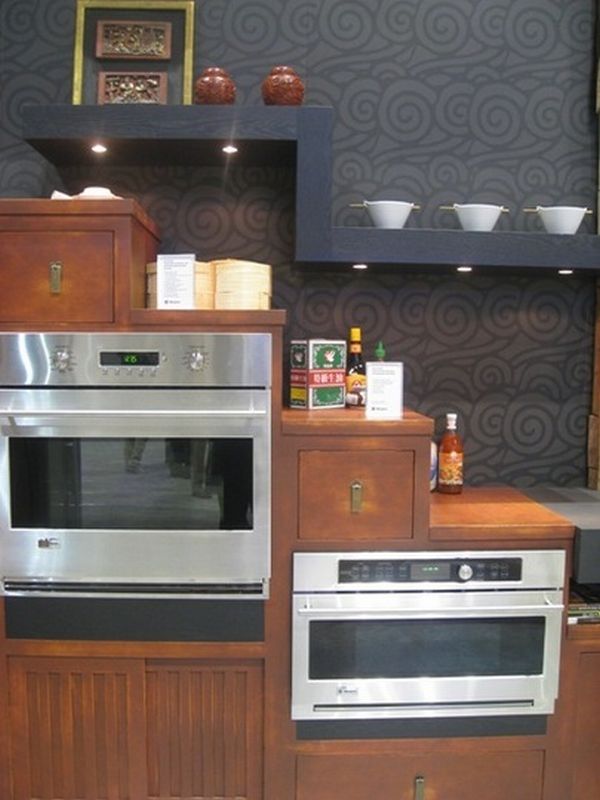 Designed by GE appliances, this kitchen has amazing honey colored cabinets with tall storage spaces. The prime features are the staggered cabinets with integrated ovens and an altar style platform area. The dishwasher is artistically integrated with the black colored counter. With not much of a focus on fussy-tacky designs, this kitchen design is a representation of pure cooking pleasure.
Industrial chic 20 cemento kitchen from Modulnova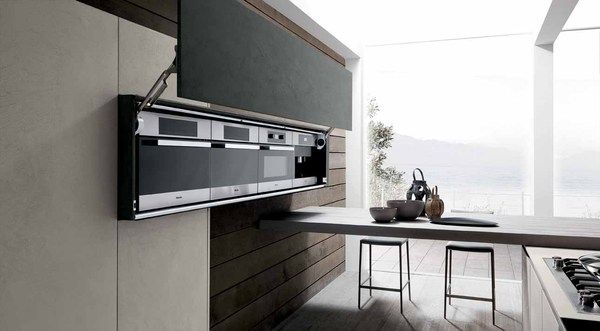 Tough to imagine a kitchen made from cement and metals? Well, Modulnova, a famous Italian kitchen designer firm, has come up with kitchen designs that are carved out of industrial materials and unique resin technology. The cabinets are coated with 3 mm of concrete that impart the kitchen an enviable look. The kitchen has adequate storage space for appliances, cupboards and internal drawers. The black granite sink is a speciality that is accompanied by beautiful brushed and oiled breakfast bar.
Prima AV kitchen from Binova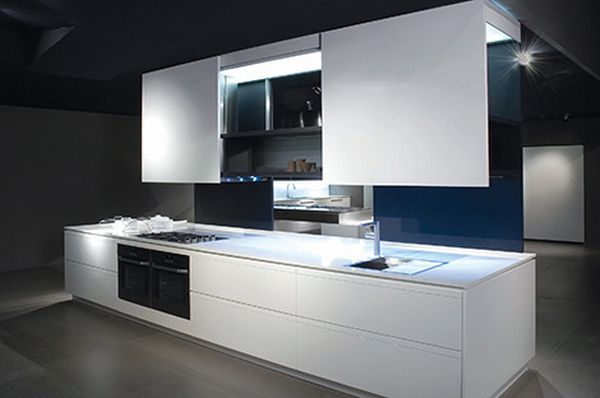 This design has placed a greater focus on the virtuality of spaces. It can often be a fun-to-be-in place. The walls are such that they can slide open whenever you wish to open up the kitchen to the living area. In case you wish to conceal its beauty, you can slide the walls close as well! The handles have also been designed in a similar fashion. They appear only when you touch the walls to open or close the desired door. As for the storage speciality, well, this kitchen would offer you a hollow box underneath the steel island wherein you could just tuck in your utensils. A pure work of imagination and beautiful carving, this kitchen designed by Paolo Nava and Fabio Casiraghi is bound to blow off the minds of its onlookers.