The interior design industry has experienced a huge demand for sustainable designs and has been leaning towards eco-friendly material. Sustainable design can be achieved through the usage of materials that have the minimum amount of environmental impact. Not only do people search for stylish and trending designs, but also opt for building materials that are healthy. These healthy materials are the ones that have least impact on the ecosystem. Thus the use of bamboo in interior design comes into play. 
Bamboo is also quite versatile and can adapt to any weather conditions. Changes in temperature, humidity, soil and climates does not affect its growth. The rate of growth of bamboo is so high that it does not require any usage of fertilizers or pesticides. That plant itself is anti-fungal, anti-bacterial and anti-pest and hence it does not require any other form of pest control.
Specialty of bamboo compared to other hardwood plants
The plant is capable of consuming carbon dioxide at a higher rate than most hardwood plants. It is also able to produce more oxygen than most hardwood plants. The specialty of bamboo as an eco-friendly material is reinforced by the fact that it is not a tree. Bamboo is a grass and hence, it can be renewed endlessly. Because of this reason, cutting it does not have a tremendous impact on the environment.
It takes a bamboo shoot only five years to reach complete maturity. It is also renewable as it does not need to be planted again after harvesting. A new plant develops from the pre-existing remains of the shoot. Bamboo shoots take an average of 60 days to be replaced, whereas hardwood trees like oak take nearly 60 years. Bamboo is stronger than oak and does not expand or shrink like wood obtained from most hardwood trees.
How to use bamboo in interior design:
1.    Use of bamboo as flooring: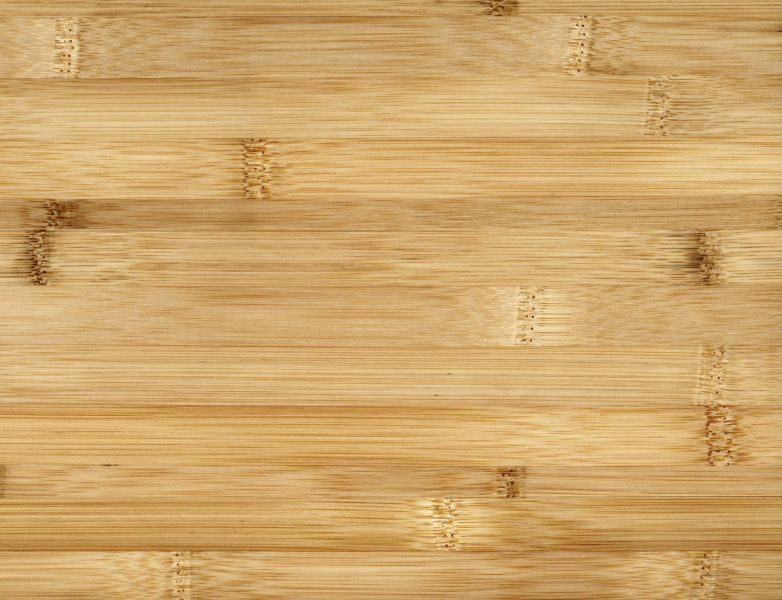 One of the most antiquated and versatile uses of bamboo are in the form of material used for flooring. The primary demand for flooring material is that it should be unaffected by environmental conditions such as expansion and contraction. Bamboo possesses all these properties. Even hardwood floors are prone to climate changes. Hence it is perfect for the construction of floors and home furnishing such as furniture and wall decor. Bamboo also had a tensile strength that is greater than that of steel. This is the reason why bamboo is used to construct houses in earthquake-prone areas.
2.    Bamboo used for the construction of bathrooms: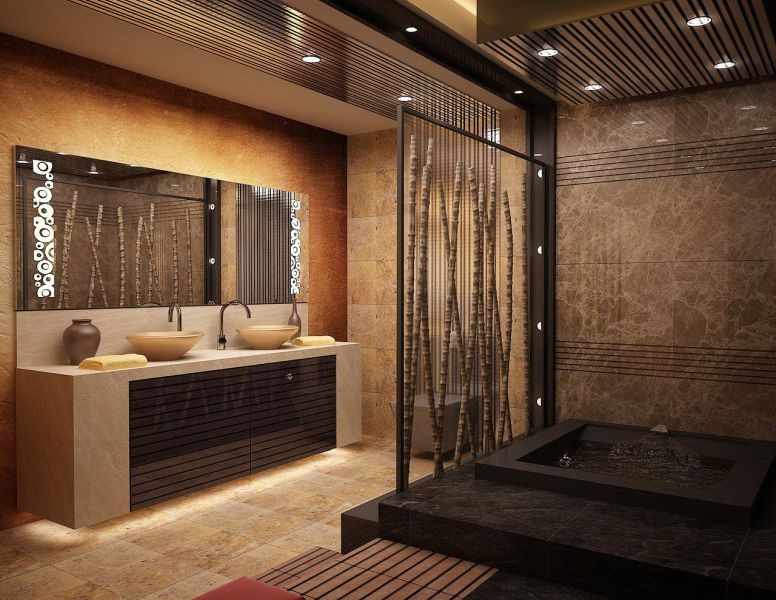 Wood made from bamboo shoots has a greater density and provides low conductivity of heat combined with thermal insulation. Hence it has gained popularity due to its use in the construction of bathtubs in tropical countries. It is also a good material for the construction of bathroom floors as its fibres prevent water from soaking in. Such bathrooms are quite relaxing as the light amber interiors give off an aura that is quite 'Zen'-like.
3.    Decorating bedrooms using bamboo: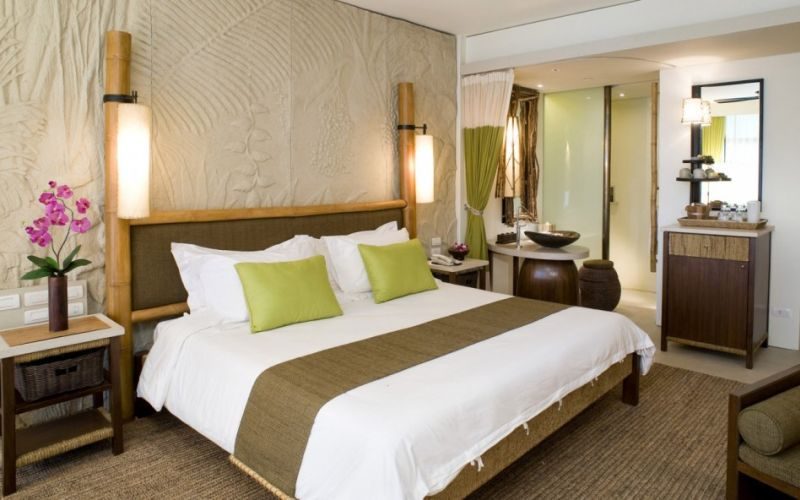 Image Source : groliehome.com
In order to use Bamboo in interior design while considering bedrooms, we have to take a look at home furniture. Bedrooms go really well with nature-centric wall decoration ideas such as birds made of bamboo. Bamboo beds are another way to add character to your bedroom.
Modern home furnishing ideas are trying to substitute four-poster beds made of hardwood with those made from bamboo. The vibes associated with bamboo beds are also different. Bamboo is a plant that is frequently associated with relaxation amidst nature. Bamboo beds would thus have an overall effect that is more relaxing to the senses. Other decorative things that can be introduced are bamboo headboards or bamboo panels above the bed.
4.    Using bamboo as decoration in the living room: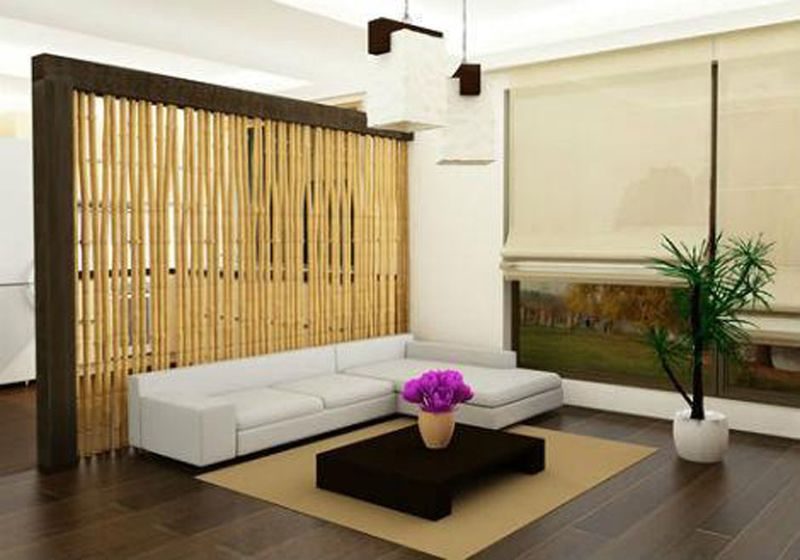 Image Source : l2.hfilcdn.com
There are a number of wall decoration ideas related to use of bamboo in living rooms. Most of these include wall inserts such as bamboo poles installed into a panel in the living room. These panels are then provided with LED lights which emanates a warm and welcoming glow. This bamboo-laced wall will give off a tropical yet modern oriental feel to the living space.
A simple yet elegant and minimalistic way to brighten any living space is to decorate it with potted bamboo plants. Bamboo takes very little sunlight to grow and looks extremely aesthetic in a muted living space. Chinese bamboo can also be used for this purpose since they are harbingers of good luck according to Chinese tradition. Using bamboo sofas and chairs as statement furniture is also another way to incorporate bamboo into the decor.
5.    Use of bamboo in interior design as an indoor garden: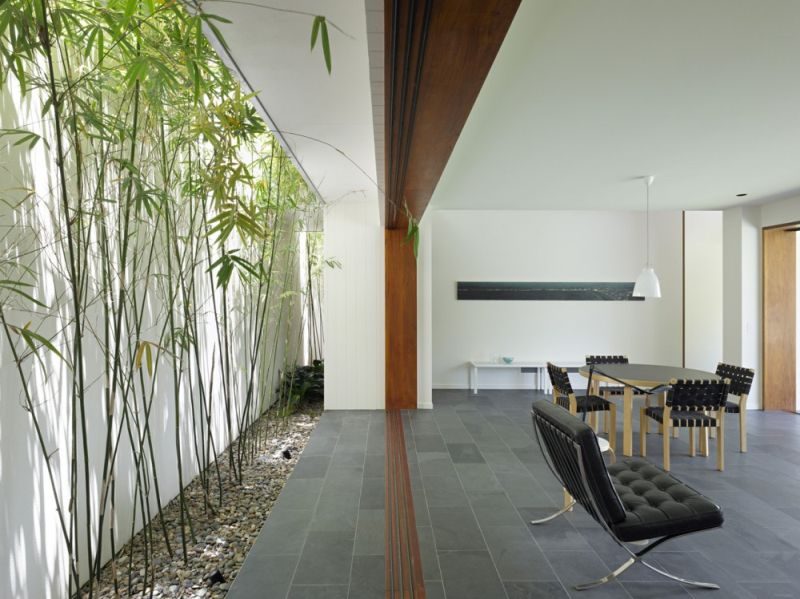 Image Source : 1mut.com
Bamboo is a plant that requires little maintenance and hence, it might be possible to construct tiny bamboo gardens indoor. As discussed earlier, bamboo is extremely versatile. It absorbs more atmospheric carbon dioxide than most hardwood trees and emanates 30% more volume of oxygen. In order to facilitate better ventilation, it might be a good idea to construct and maintain such indoor bamboo gardens. Not to mention that bamboo trees definitely blend in with their surroundings and decor. Thus it is a really good option to use Bamboo in interior design.
Tips & Tricks: Installing bamboo floor goes easy
Bamboo plants are used to manufacture the new-age elegant looking bamboo floors. The majority of products for bamboo flooring come from China and other parts of Asia. This kind of flooring is known for its durability, strength and similarity to hardwood in terms of appearance. Bamboo flooring is eco-friendly and stands strong against insect and moisture attacks. To add to the glory of bamboo flooring is the fact that it can be easily installed above any kind of floor – wood, concrete, marble,etc. This kind of flooring will add a unique look to your house and definitely helps you get many compliments.
The task of installation of bamboo flooring is moderately challenging, but you can get hold of a good worker to get things done in the best manner. The only problem that you might face would be the lack of color options in this flooring. The resources required for the installation include:
Measuring tape and pencil
Bamboo flooring
Hammer
Nails
Hardwood hammer and rubber mallet
Miter saw or miter box and hand saw
Dust mask and eye protection
Mallet
Procedure for the installation of bamboo flooring
1. Let the Wood Adjust to a New Climate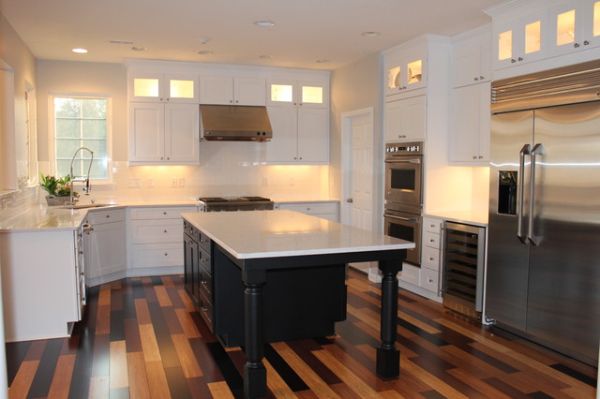 First of all take the measurements of the room where you wish to install bamboo flooring. Determine the requirement of bamboo for the floor; do not forget to get some extra bamboo to face contingencies.
Empty the room entirely before you get the installation started.
Get the bamboo flooring from the market as per your need, likes and budget. Spread it on the floor to let it acclimate for two days.
2. Determine a Method Based on Floor Type
Decide how you want the flooring to be done – vertically,horizontally, or diagonally. The horizontal cut tends to give you much wider strips in comparison to vertical cuts.
Measure the width of room to determine how much of area will be covered with full boards and how much you will have to cover up using parts of board. Try to avoid having the partial board on one side, rather divide it into two and have it on both the sides of the room.
For a cement floor, use glue to paste bamboo panels on it. Ensure tight fit using a mallet. You can also opt in for nailing the panels to the floor using a hammer.
3. Keep the Floor Clean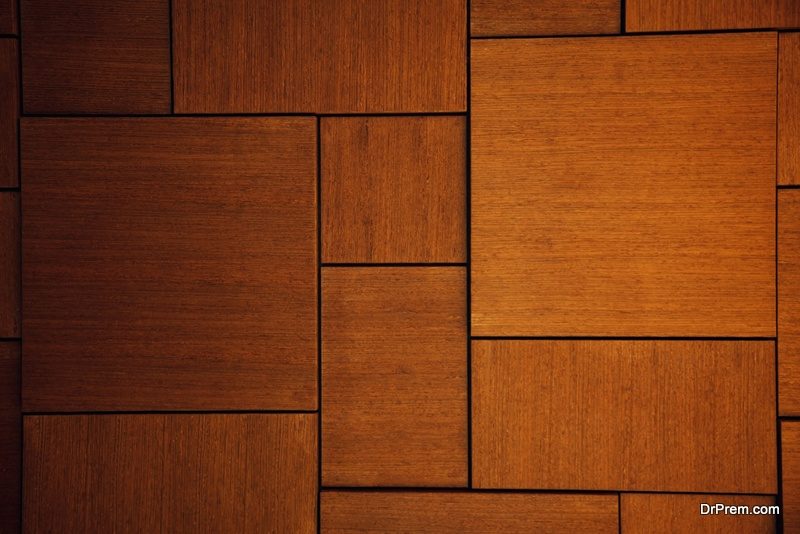 Treat your new floor with extreme care to avoid any scratches or dents.
Keep the floor looking fresh by sweeping broom and mopping it with a soft cloth.
Avoid wearing high heels on a bamboo floor to avoid dents and keep your pets with claws away from the flooring.
Things to watch out for during installation of bamboo flooring:
Place your tools onto a cardboard or any other surface to protect the bamboo flooring from dents.
Do let the bamboo acclimate for two days at least; do not rush with the installation process.
Tips for Proper Bamboo Floor Installation
Make sure that the sub-floor is clean, dry, and flat and smooth prior to installation.
The bamboo flooring should be left to adjust for about 72 hours in the room where it is going to be installed.
Do not forget to use the vapor retarder and overlap the vapor retarder sheets. Seal the joints with an adhesive tape.
Lay the bamboo planks parallel to the longest wall for better looks.
Use a tapping block and avoid tapping the bamboo flooring directly to avoid it from getting damaged.
Before installation, check the flooring for damage and defects.
Place doormats and rugs near the entrance to soak away extra moisture.
Do not use harsh chemical cleaners on bamboo floors.
Avoid using high heel shoes and sandals and falling of utensils to prevent scratching.
Use soft damp cloth to remove hard stains and spots or scrub the floor gently. Do not use steel scouring pads on the floor.
Advantages of Using Bamboo for Kitchen Flooring and its Installation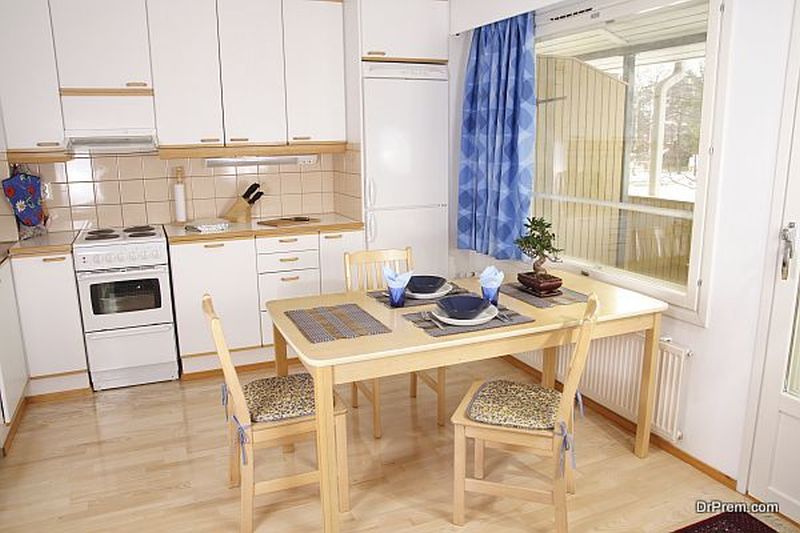 Bamboo furniture has been in demand since many years now but bamboo flooring is setting the new trends in the market these days. With people restoring to the better alternatives of having a wooden flooring, bamboos have certainly emerged as the top most choice of people to be used for their flooring material as they have lately realized its benefits. Bamboo, produced from a specific type of grass, has gained tremendous popularity as a durable and attractive flooring material.Given below are the various advantages of bamboo that make it a perfect pick for your kitchen floors and tips on its installation and maintenance.
Compatible with all decors
The stylish quotient of the bamboo flooring just cannot be ignored in these days. The bamboo wood is having a very unique and inviting appeal to it which can beautify the look of your home. Moreover, the best part about having the bamboo flooring is that you would not be required to replace your decor as it looks good with every type of decor.
It possesses all the qualities of a good quality hardwood flooring material and is beneficial for the environment too. It is preferred for its eco-friendliness, longevity, affordability, variety and low maintenance qualities.
It is environment-friendly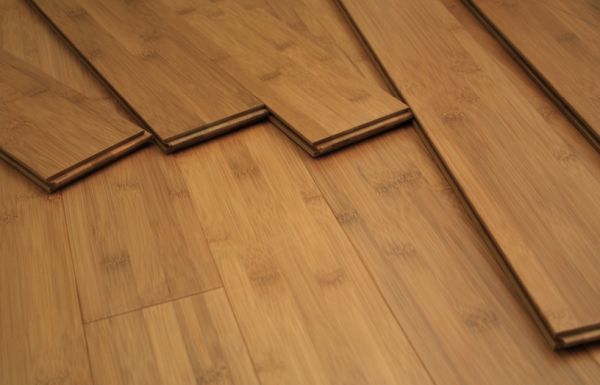 Obtained from type of grass bamboo is an excellent choice of sustainability conscious people and grows faster than that of wood. Moreover, Bamboo harvesting does not kill the plant and it grows again.Since it does not need to be replanted, it is renewable.Bamboo flooring is non-toxic and is made using water-based, solvent free low VOC finishes, which are known to improve the indoor air quality.Bamboo flooring makes use of a special Moso variety of bamboo that even animals like Pandas do not eat, thus preserves the food of these wild creatures.It is a certified material by the LEED.
It is highly durable and strong
Bamboo wood is way much stronger and hence durable and any other type of wood available in the market as flooring material. It is quite hard in nature and can thus survive even if there is regular traffic in your home.Certain varieties of bamboo are extremely long lasting and durable.Bamboo floors are generally laminated and blemished off which makes them water resistant and unlikely to decay.
Due to this, bamboo floors are an excellent option for your kitchen, bathrooms and dining area that experience heavy traffic. Moreover, it can withstand scratches and impact resulting due to falling objects.Bamboo has comparatively greater compressive strength when compared with concrete and steel and is yet soft and comfortable for the feet.On Janka Hardness Scale, which determines the hardness and strength of wood, manufactured bamboo ranks as a better option than the Red and White Oak varieties.
It is affordable and easy to install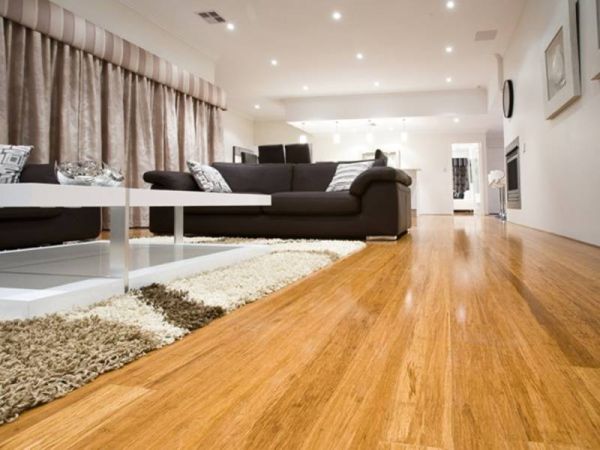 If you are having any budget issues then having bamboo flooring is the most stylish alternative you can have within your budget as it is 20-50 per cent cheaper than the other types of woods. Thus, you can enjoy having a smart flooring material with fewer amounts to spend on.Installing bamboo flooring in your house would not take days but only a few hours unlike other types of floorings.
Besides, if you are not having much budget to hire the professionals for its installation, you can do the job on your own too as it is very simple and quick process.In fact, being a sturdy and long lastingflooring material bamboo is extremely affordable.It costs less than other hardwood flooring materials.Bamboo flooring is extremely easy to install since the material is not so expensive.It remains useful and undamaged for a long time and hence bamboo floors area a good investment.
It comes in large varieties
Bamboo floors are available in many types of construction styles like horizontal, vertical and woven or stranded construction.It comes in numerous color options out of which natural bamboo (light blonde color), stained bamboo and carbonized or caramelized bamboo (darker shades) are commonly used.All the varieties are extremely stylish and attractive and compliment all the types of décor.
It is easy to maintain and clean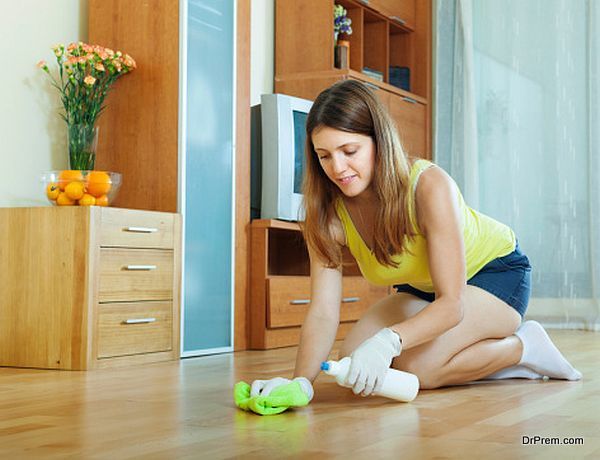 The basic problem these days is scarcity of time with the people. Managing office and home together means performing double job. However, the bamboo flooring is really easy to clean and indeed less time consuming.
You are just required to use a dust mop to make your floor look shiny and beautiful as ever.Bamboo floors can be cleaned easily simply by mopping or with a minimal damp cloth without the need of harsh chemical cleaners.You can clean it occasionally with a non-wax, non-alkaline and bamboo floor cleanser.
The Good, the Bad, and the Ugly of Bamboo Flooring
Much like hardwood flooring, bamboo as a flooring material has the same warmth and natural visual characteristics making it a great choice for contemporary styled homes. Unlike hardwood floorings, bamboo is derived from naturally growing grass instead of trees, making it a premier choice for all environment-friendly homeowners. If you are confused about making this purchase, we have all the advantages and disadvantage of bamboo floorings here, for you to consider before making an informed decision.
Sustainable choice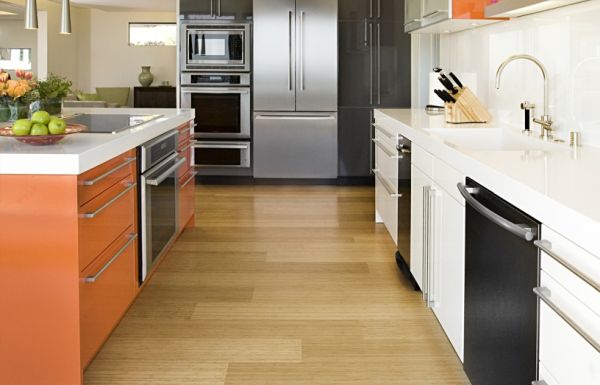 Hardwood is derived from trees that take up to twenty years or more to grow back to their full potential. Bamboo is a grass that grows in the wild and can replenish itself within a span of three to five years, making it an eco-friendly option.
This grass can grow in fully sustainable forests with little or no effect on the local plants and animals surviving in the same conditions. Areas that are currently used for harvesting bamboo are places where pandas no longer reside, so do not fall victim to the myth of taking food away from these exotic creatures. Bamboo lasts for years making it a sustainable choice in floorings.
Bamboo and water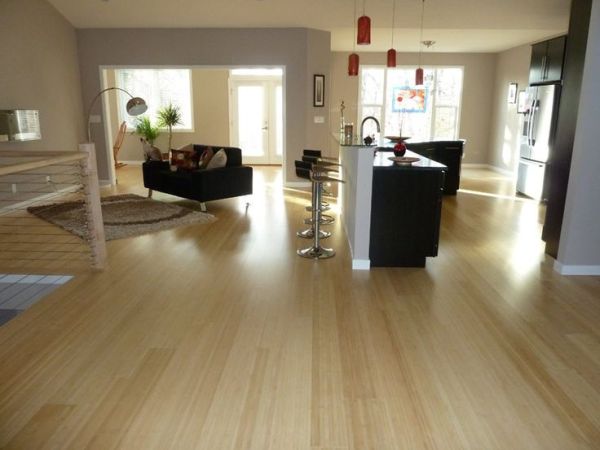 To clean a bamboo floor you can vacuum or sweep it regularly to remove tiny dust particles. You can also occasionally use a damp cloth to mop the area to clear stains. The water-resistance of bamboo is a matter of debate for many. A slightly damp cloth to clean occasionally is an ideal choice over using wet sponges and mops. Bamboo is not water-resistant but its moisture absorption property is relatively lower than hardwood. Remember to clean wet spills instantly and your bamboo flooring will be just fine.
Scratches and marks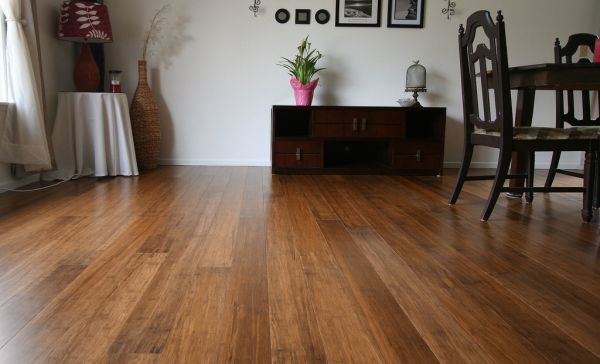 A problem with bamboo is its susceptibility to scuff marks and scratches over time, which is also the case with hardwood and timber. Although bamboo has a better resistance to scratch marks, the polish can still wear off slightly quicker than timber. Stubborn stains can be cleaned by scrubbing with wood floor cleaner. An advantage of bamboo floors is their ability to be repolished by sanding it down and reapplying the finishing coats.
Quality concerns with Bamboo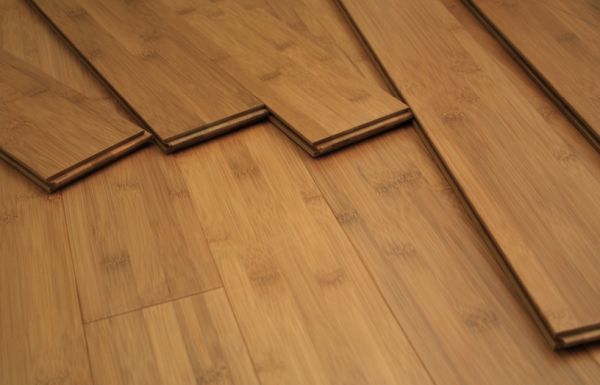 The chief exporter or bamboo is China, which causes many to be doubtful of the quality of the product because of the relatively low-quality control in the country. Some manufacturers use cheap urea-formaldehyde for bonding the bamboo strips together during floor manufacture, raising questions on thequality of the final product. Check for the credibility of the manufacturer and look for the Forestry Stewardship Council label for quality assurance on the product before purchasing.
VOC emissions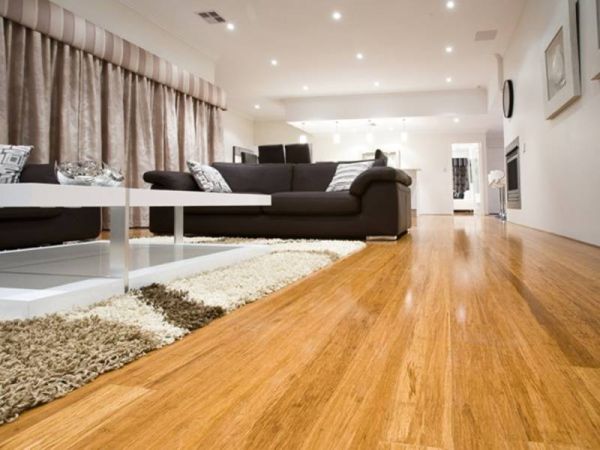 Volatile organic compounds are used in the urea-formaldehyde adhesives used during manufacturing of bamboo floors. These VOCs are toxic gasses that can gradually be released from the bamboo flooring and harm your health and the environment. The same VOCs are often present in the top coat for finishing applied over bamboo. However, this is an issue that many manufacturers claim to have solved. By using formaldehyde-free adhesives and finish coats over high-quality bamboo, VOC emissions can be completely nullified.
Change in color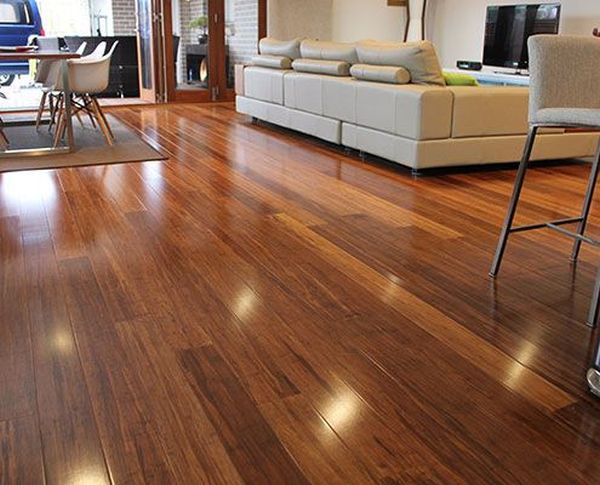 Changes occurring over a span of time in the color and look of flooring material are common to both hardwood and bamboo. While hardwood darkens with time, bamboo seems to lighten and fade away with time. This is why it is essential that you avoid direct sunlight to the bamboo floors by keeping the drapes shut.
Issues with installation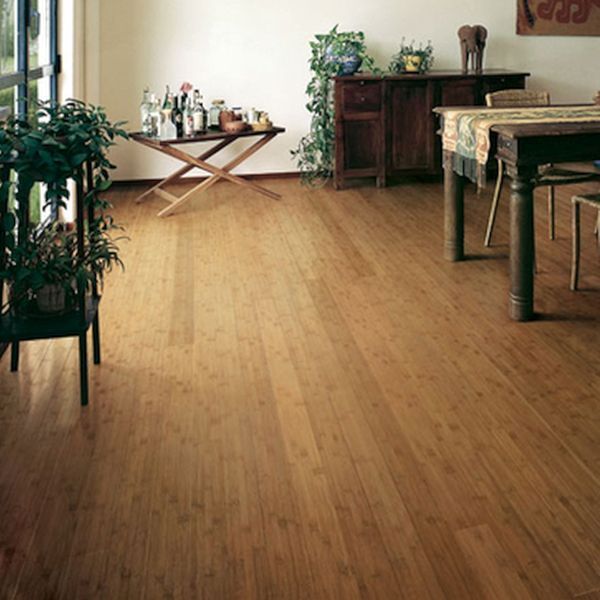 While bamboo is a durable and sustainable choice over hardwood, it cannot be installed in all places. Because bamboo can warp, bend, or swell under moisture, avoid using it near high-moisture areas such as bathrooms or outdoors.
Seven cool and creative bamboo furniture designs
Bamboo is a very eco friendly and sustainable wood and hence excellent for creating furniture and houses. Bamboo is also very strong though the stalks look hollow and narrow. Bamboo has been in use for centuries and now the interest in bamboo is revived due to its sustainability and strength. A medley of stunning furniture design is created from bamboo and they blend exceptionally well with modern interiors.Here are some magnificent creations from bamboo that can be considered for your eclectic home interiors.
1. Bare Bamboo Bench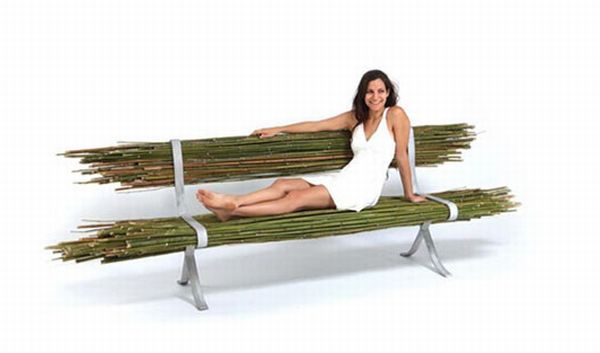 The fact that bamboo is fast growing and very durable makes it an ideal choice for sustainable projects. This beautiful bamboo bench looks amazingly simple and rustic. But, there lies the charm of this bench which can be used as a garden bench or as living room furniture for a rustic environment.
The basic aluminium frame is threaded with numerous bamboo stalks, making it very strong and great support. The back is optional and due to its raw stalk design, it is also easy to replace any broken bamboo stalk locally.
2. Boo- Bamboo Lounge Chair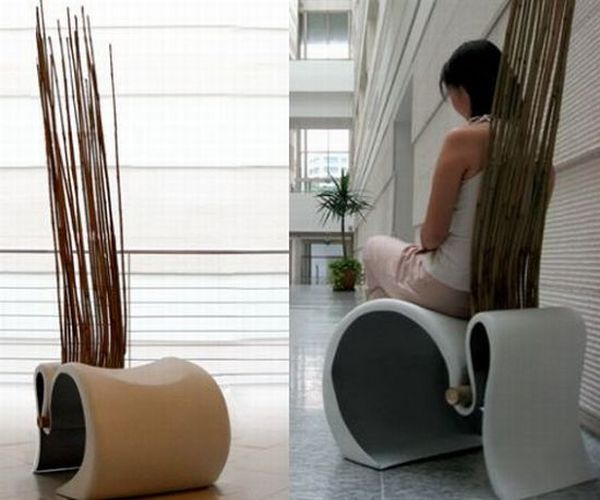 This exquisite and exotic looking lounge chair by Singapore based designer Kitty Cho is a beautiful design combined with contemporary materials to create a relaxing chair that has a very flexible backrest. The modern design along with the elements of rusticity adds to its charm and simple looks with which it is constructed, just by adding a few sturdy bamboo stalks into the groove provided at the back of the chair, the entire piece becomes a work of art that can also be easily repaired if the stalks are damaged in anyway. The flexibility of the backrest makes it possible to relax your body backwards or sit straight spined, whichever way you prefer.
3. Bamboo Bundle Bench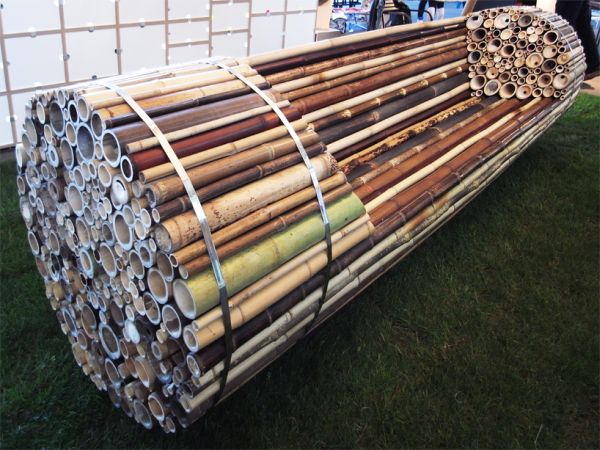 The bamboo bundle bench looks just like a bundle of bamboo stalks at first glance. But look closer and your eye will slowly recognize the silhouette of a bamboo bench. Known as the 'Pile Isle Reloaded', the design is developed by a German designer Elene Goray and an Engineer, Christoph Tonges. 10 varieties of bamboo coming from China, Columbia and Indonesia are used for making the bamboo bundle bench. The varieties of bamboos are tastefully arranged to form a beautiful blend of hues and the bamboo bundle is just tied with four stainless steel belts on both the sides. The tasteful arrangement of various sizes, shapes and colors of bamboo is what makes this bamboo bench exquisite.
4. El dot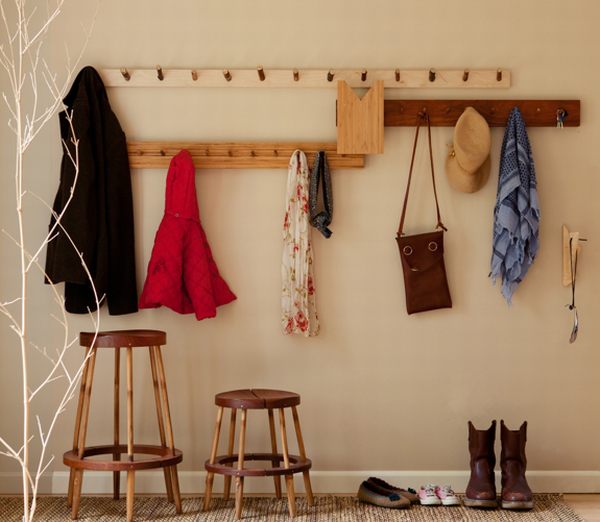 The bamboo furniture that comes from el dot is almost reminiscent of basic necessities. They are very simplistic, yet aesthetically created that they immediately become the center of attraction. Handcrafted by artisans from Nepal, these beautiful pieces can grace the rooms of modern environments and also rustic interiors which makes them very special. The sophisticated styles are definitely a range to consider if you are looking at bamboo furniture for your house.
5. Medusa Stool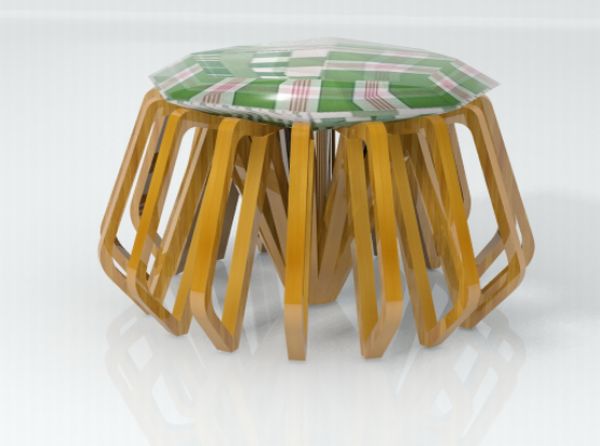 Every small piece of bamboo has been used without wastage in this stool created by Mia Lambinicio and industrial designer from Philippines. The medusa stool is made from strips of bamboo. The green chequered fabric used for the stool compliments the natural shade of bamboo. Scraps of fabric is used for the cushion stuffing making the medusa stool a totally eco friendly and recycled product as well. The medusa stool is a great addition to your kid's room as it is very sturdy with its multiple legs and hence also fall resistant.
6. PIE Chairs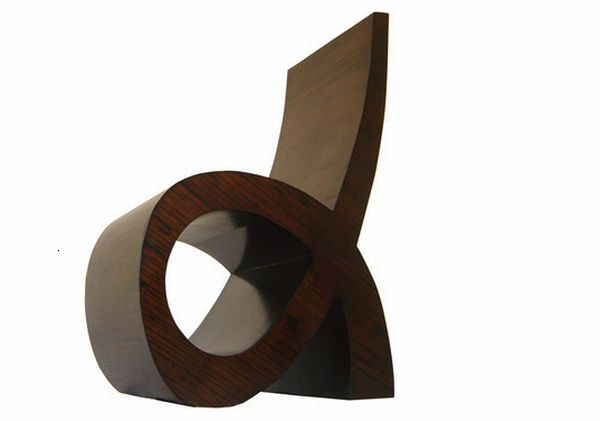 These beautiful and aesthetically pleasing chairs from PIE are creativity at its best. They are all hand crafted and imitate the curves and lines of nature. The designs are very simple, yet look complex in their design elements and imagination. The angular and curvaceous styles that dominate the design imitate nature and use natural elements as well for creating the furniture. The rich texture and colors too add a sensuality to the creations that is entirely infectious.
7. MELLO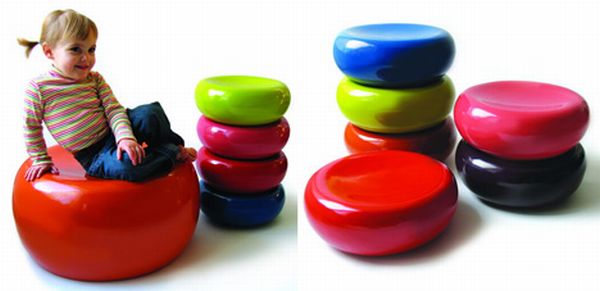 This cute and vibrant range of bamboo stools are so enticing with their soft and circular forms that they make a beautiful furniture set in your kid's room. They look very glossy, which make us doubt whether they are actually made of bamboo. The stools are stackable and they come in various sizes.
A final note on bamboo in interior design
Bamboo flooring is not only durable and economical, but it also helps in sustaining the environment. With all these benefits and precautions, I am sure you too would like to install bamboo flooring in your house.The chic looking flooring option of using bamboo cannot be applied to all scenarios. While the material is a highly sustainable option when used in high-quality and bought from authentic sources, bamboo's susceptibility to color changes, scratches, dullness, staining, and moisture absorption resulting in bends and warps make it a controversial choice for most homeowners.