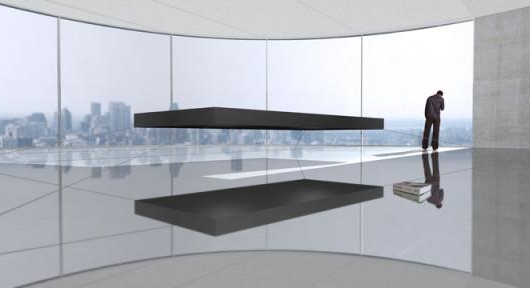 The run of the mill designs with clean lines and a headboard are for those who only play safe. But people who like to dabble with neoteric ideas and cutting edge breakthroughs will certainly appreciate novel concepts. Here are a few beds that will fill you with awe. The concepts are really pioneering. These beds have fresh silhouettes, restful sleeping surfaces and have been outfitted with hi end machinations. Given below is a brief account of a few such amazing designs.
Magnetic floating bed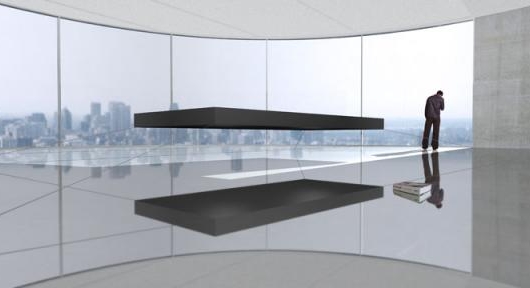 If levitating in mid air has been a fantasy, then you must go for this piece. The straight clean lines will blend with almost any type of interior but the bed is a great pick for minimalistic homes. Its Dutch architect Janjaap Ruijssenaars has aptly given this berth the moniker of 'Falling Up'. Loads of magnets keep its weight of 900 kilograms hovering in air. Four robust cables have been tied to the bed so that it does not glide away by a gust of wind or a budge.
Fantasy coach bed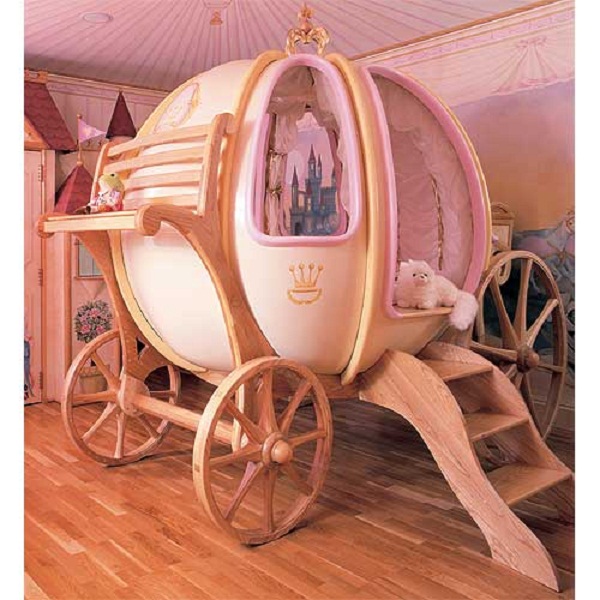 If Cinderella is your favorite fairy tale, then you will simply love this pumpkin chariot shaped bed from the famous lore. Made from fiberglass and wood, this piece is built in England. Detailing on this coach that carried Cinderella to the royal ball is absolutely mesmerizing. The interiors can be customized so the cost of the bed can vary, but pricing starts from $47000. It will take about six months for the bed to reach you after placing the order. The ovular berth has a diameter of 6 feet.
Computer bed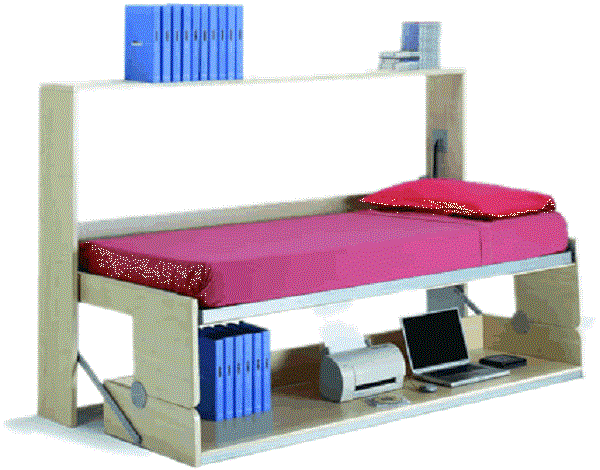 This is a natty concept for abodes with a compact floor area. Students living in dorm rooms and interns sharing an apartment will really appreciate its practical space saving design. Use it as a bed by the night and transform it into a work desk for the day. The desk has enough space for a computer, books, miscellaneous paraphernalia and even additional gadgets like a printer or scanner. Moreover, the arrangement on the desk does not get disturbed when you open up the bed at night. The desk, along with all your belongings, rests neatly on the floor right under the bed. A hobbyhorse of Europe based Lino's son Francesco, the bed is available in a wide variety of woods and its price starts at $3650. Youngsters will really dig its funky colorful look.
Hanging bed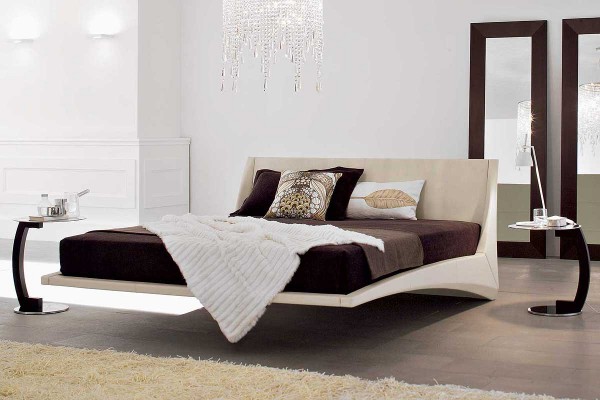 You don't see any support propping up the bed and it looks like the bed has been suspended above the floor. This creation by the Italian artist Andrea Lucatello looks really classic and is done up in wood and leather. But do not deter from jumping into the crib as it is actually supported by four sturdy legs, which stay out of sight. It is available in plenty of colors and two sizes, namely, Queen European King and double. Its retail price is $5500.
Cosmovoide Bed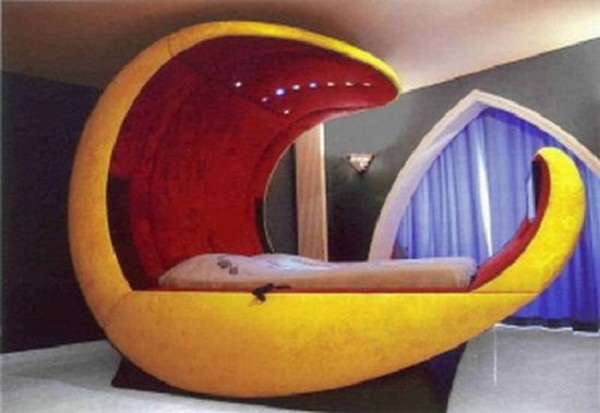 Not only will you get restful sleep in this berth but you will also never ever get bored in here. The number of doodads fitted will certainly keep you occupied. Stay glued to the television slotted near the footrest or use the DVD player and the high definition home cinema gear. The telephones helps you stay wired while the six power sockets and seven LED lamps also come handy. The ovular shape of the bed is taken from the 'cosmic egg', which incidentally has also inspired it name – Cosmovoïde. The berth can be customized to your liking and the pricing starts at $61,415.
Letto zip bed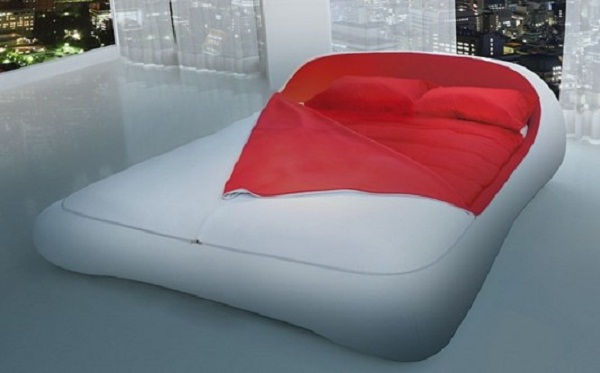 This bed looks really swell and is also very cuddly. The modernistic looking piece comes in solids like red or white and also in combinations like blue-white and red-gray. The addition of the zip is really neat. Just unzip the bed when you want to get inside and zip it close after use. The fluid outline with soft curves gives the piece a soothing appeal. It will blend easily with a cutting edge streamlined décor.
Hamburger bed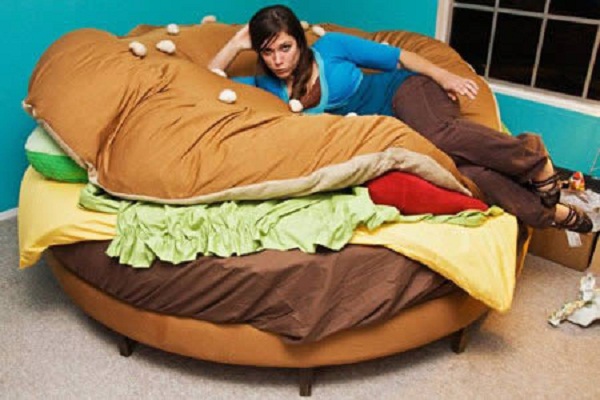 All junk food fans will give thumbs up to this design and rightly so because it is quite fun filled. The bulky layers make it look very cozy and inviting. You will love cuddly into the bed with a hot cup of cocoa during the nippy winters. However, people only in a very good shape should go for this one. It does not have a head or foot support and its layers are extremely heavy. Hence, getting out of it in the morning when you are feeling drowsy is not easy. For the same reason, very young or old people should also avoid purchasing this piece.
Sonic bed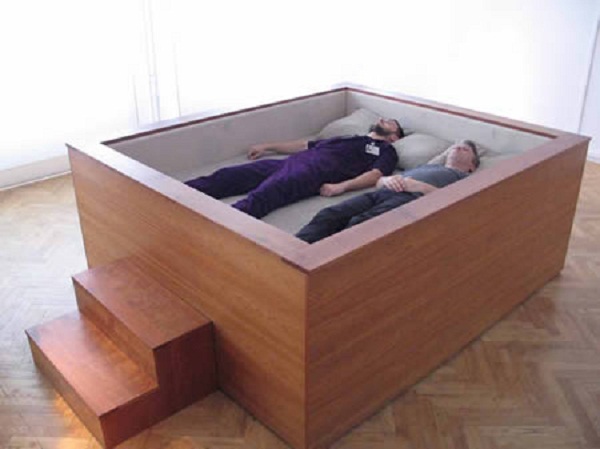 This one is not available in the market for sale. In fact, it is up for display at a museum. However, this design by Kaffe Matthews is definitely one of a kind. The bed strums out music beats for you. Moreover, the quality of the intonation is absolutely great, it is even better than the blast of a home theatre. A current of 220 volts is required to play the music and the waves emanating will make your entire body reverberate. The flight of stairs to climb into the bed is a neat touch.
Lomme bed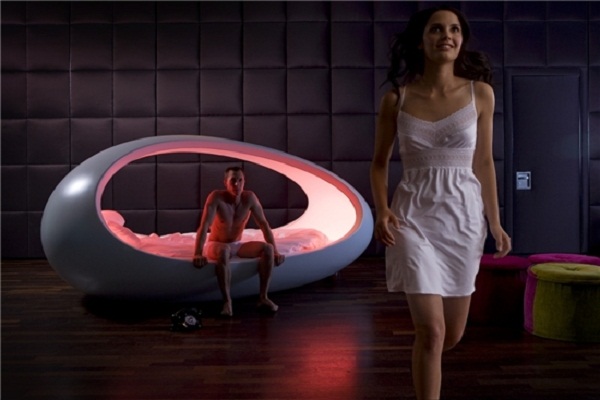 The curvy ovular bed with a roofed top looks smashing and futuristic. This artistic piece will pacify you and re-energize your mind. The design has been formulated after intensive research. The company 'Light Over Matter Mind Evolution' has integrated sound as well as massage therapies and also many other machinations in this berth that will help you get a good night's sleep.
Private cloud, the rocking bed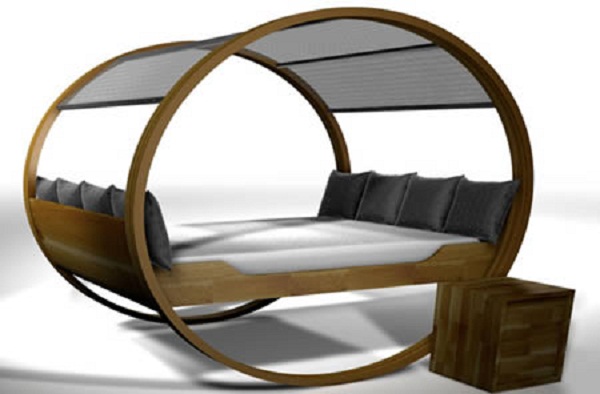 This sheltered bed that rocks to and fro will fulfill the fantasy of many people out there. You will love relaxing inside while it sways away. The patented design is available in umpteen colors and also in ash or oak wood. The cushions at both ends are a cozy touch.