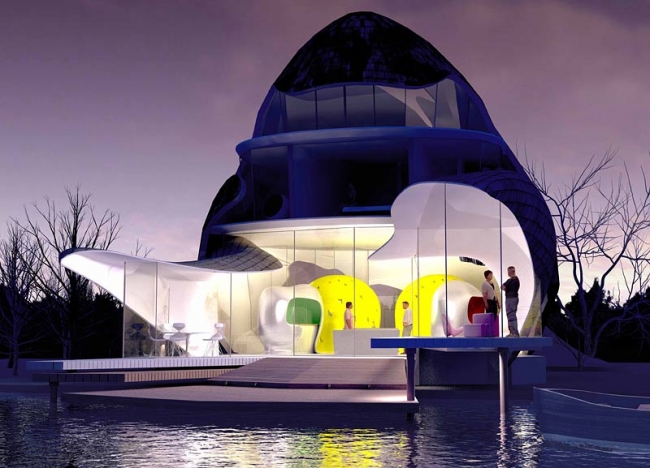 Home is where the heart is. Where would you like to go if your home was better than the best hotels you can stay in? Beautiful, mesmerizing, amazing, spellbinding, these are some of the words which cross your mind once your eyes perceive these art of bricks. These are not just houses, these are museums for a builder. Here we have a collection of the most expensive houses in the world. Read on and feast your eyes.
LA Luxury Home with a bird's-eye view of the city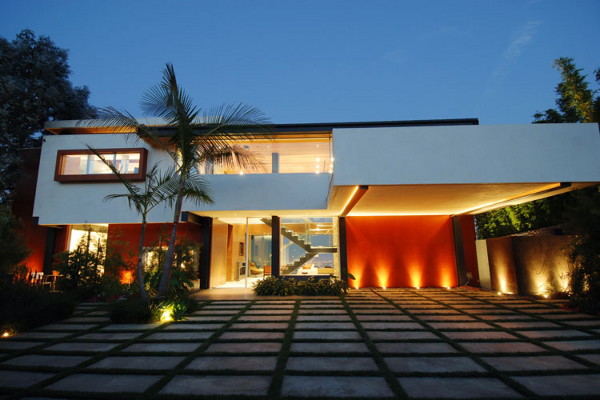 Beauty takes on a new meaning once you see this house. Located at 8400 grand view drive in Hollywood hills, this house enables you to view the entire city and the ocean across. Perfect for any celeb, this home was given a grand rating in the LA classic estates. Designed with a happy amalgamation of glass, steel and stone which gives it a contemporary feel, it is made to make you just stop and stare at it. The entry is glass enclosed which gives a grand entry to the house. The lighting is very modernistic. The designer kitchen and spacious living areas make you want to spend all your holidays in your home. The home has 3 bedrooms, spa baths, cantilevered terraces, an infinity pool. All this costs $ 4.95 million.
Antilla, Mumbai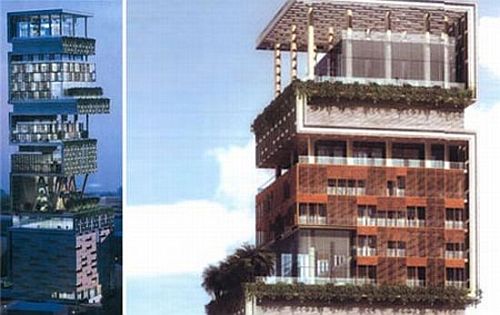 What do you do when you have a family of four and billions of dollars to waste? Simple, you build a 22 storey house! The world's most expensive home, and completed in 2009, this stands tall at 550 ft, and covers an interior area of 40,000 sq. ft. The building has a parking space which covers six storeys. The living quarters have nine elevators, and a huge number of storage areas and lounges. No two floors look alike. There's a ballroom, dual staircases, bars, an entourage room for guards to relax. Such a home will need people to look after it, how many? More than 600! Now this is called spending with style.
Villa Leopolda, Cote D'Azur, France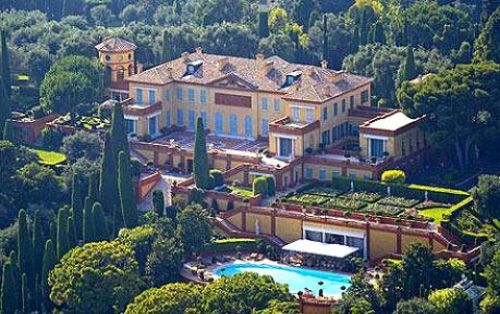 Before the Antilla, the Villa Leopolda was the most costly home in the world. Roman Abramovich bought this home for $500 million after he fell in love with the mansion while on tour with his girlfriend. Roman is the owner of Chelsea football club, an the house he has pickd overlooks the French Riviera , and is spread over 10 acres. Finished in 1931, King Leopold II had gifted it to his mistress. It was also used it as a military hospital during World War I. It comes with a fair share of history attached to it. Alfred Hitchcock had used the house in his 1955 movie, 'To catch a thief'.
The Manor, Los Angeles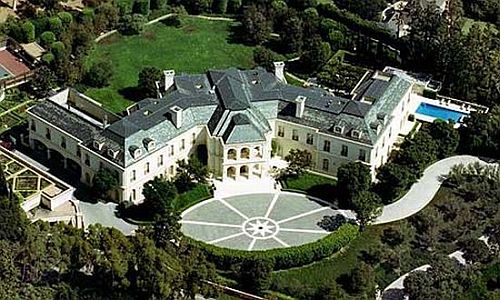 You would think that economic recession had made houses cheaper at that time. It had, but still Candy Spelling's estate located in the Holmby Hills demanded a gargantuan price of $150 million, the highest price for a house in the US. The French chateau-style estate was finished in 1991 and is spread over 4.6 acres encompassing the living space of 5,248 meters. The main house is placed at the end of a long driveway. The attractions are a bowling alley, gift wrapping room, tennis courts, swimming pools, a spa, a salon, barber shop, parking space for over 100 cars. Bowling anyone?
The Orchid House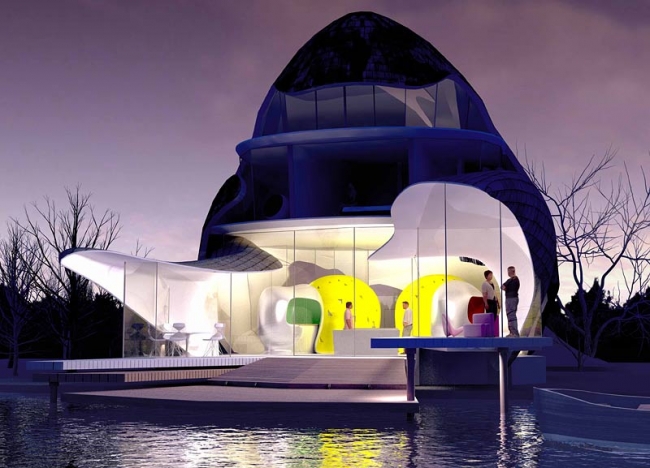 If green is your thing, then you are gonna love this Orchid house which is located in the Cotswold nature reserve. Based on the green theme this house produces more energy than it uses with the help of a geothermal pump located below the house. The cost of the house is approx. $7.2 million, and rumor has it that it has been sold to an anonymous buyer from the entertainment industry. Brad Pitt was also keen to get a good look at it. The design will take three years from concept to reality.
Hearst Mansion, Beverly Hills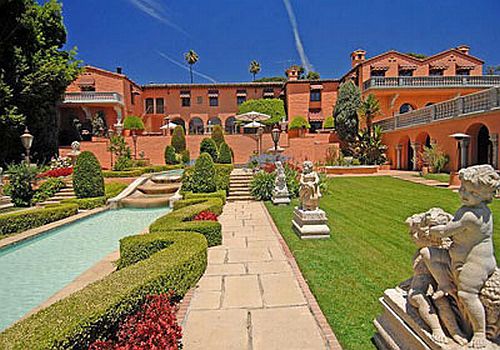 The cost of becoming the neighbor of Amazon CEO Jeff Bezos – $165 million. Beverly Hills is a place where everybody wants to have a house. The Hearst mansion is spread over 6 acres of land and was once home of the famous newspaper magnate William Randolph Hearst. The estate has 6 separate residences, it contains 3 swimming pools. It also encompasses 8 fireplaces, tennis court, 29 bedrooms and a nightclub, nestled within the Platinum triangle. The house was bought by Hearst for &120,000 in 1947, and in 1976 it was bought by Leonard Ross who wanted a lifestyle change. Some change!
Versailles, Florida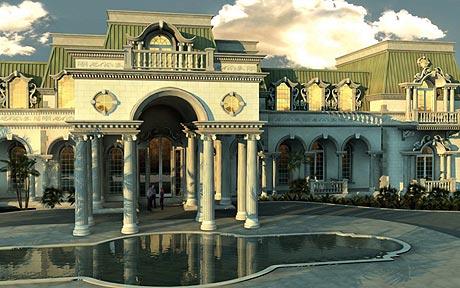 David Siegel wants his mansion to be sold for $100 million. The estate is located at 6121 Kirkstone lane in Windermere, Florida. It will be finished according to the buyer's specifications. If you want to but in its current state, it can be yours for $75 million. This super mansion comes loaded with amenities such as a boathouse, gardens, a total of 13 bedrooms, 3 swimming pools, 23 bathrooms, a garage to accommodate 20 cars, tennis courts, 7,200 sq. ft grand hall, 2 grand staircases, formal dining room with a seating of 30, 10 satellite kitchens, 1,110 sq. ft. primary kitchen. It covers an area of 10 acres.
The Manalapan Residence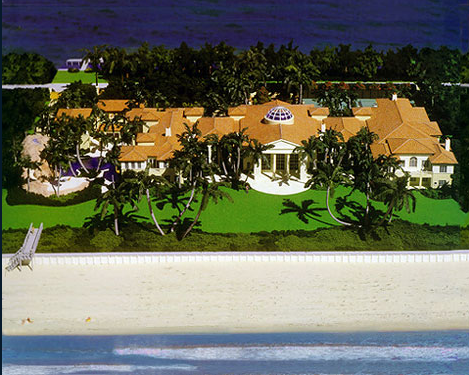 The Manalapan residence is spread over 5.5 acres and covers an area of 520 ft. The house features hordes of amenities like a 3-story home which includes an area of 67,672 square feet, 24 bathrooms, 14 bedrooms, 18 car garage, a 6,140 sq. ft. master bedroom suite, Grand Rotunda room for entertaining, aquarium ceilings and walls, a movie theater, a casino and a club room with amazing aquarium wet bar, an oceanfront gourmet kitchen, catering kitchen, offices, 2 wine rooms, 10 wet bars, a gymnasium with beauty salon and 2 swimming pools.
Barbie Malibu Mansion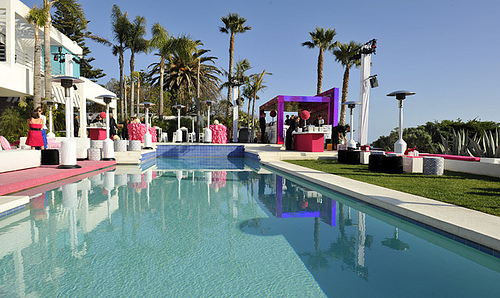 Barbie's Malibu mansion is now not a dream but has been given realism by Mattel on the 50th anniversary of Barbie. The house covers an area of 350 ft. and is designed by 'Happy Chic' designer Jonathan Adler. The house has a chandelier made from Barbie hair, a closet which is filled with thousands of shoes, and it also has a sunburst mirror made from 65 Barbie dolls.
Nicolas Cage's Bayshore Drive home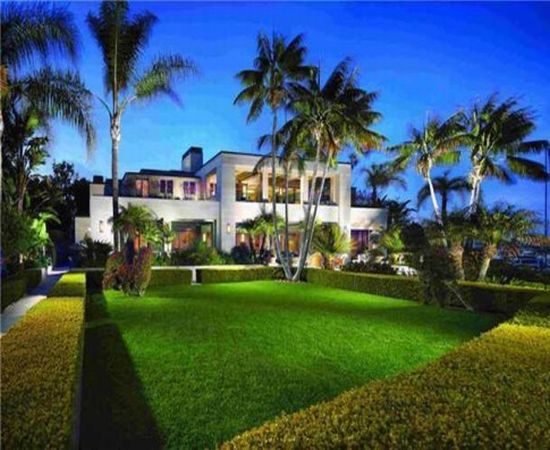 Nicolas Cage is also the victim of recession. The actor had bought the Bayshore mansion for $35 million, but has sold it for $28 million. It has been described as the finest waterfront residence on Newport Harbor. The mansion covers an area of 30,492 sq. ft. and has six bedrooms and 9 bathrooms.