Comfort, signature colors and textures, and minimalist style are the main characteristics of a Colonial-style bathroom. The American Colonial period lasted for roughly two centuries and was a period that experienced a great deal of social and cultural transition, and had a great historical significance and all this could be seen in their architectural designs. The main characteristics of a Colonial interior are:
Natural colors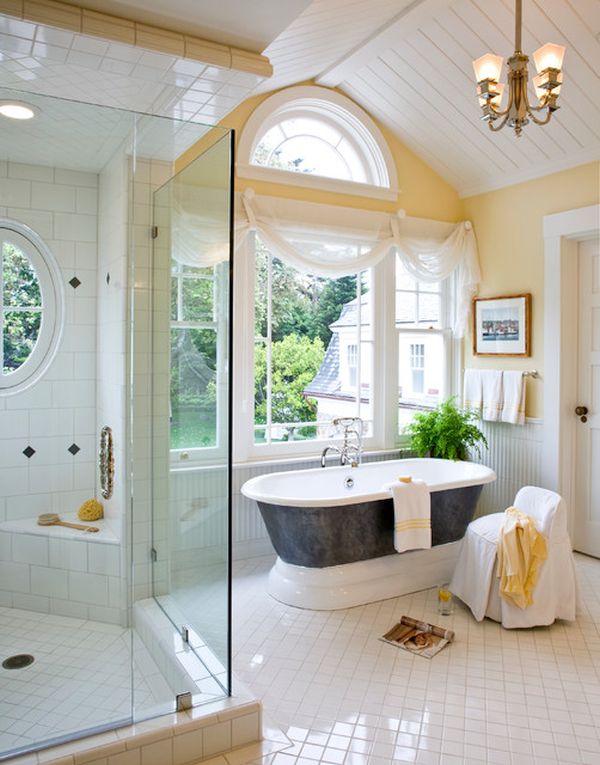 Colonial interior is a display of light, natural colors such as deep wine reds, blues, mustard yellows, and whites. These colors give a warm feeling to the interior.
Handmade textiles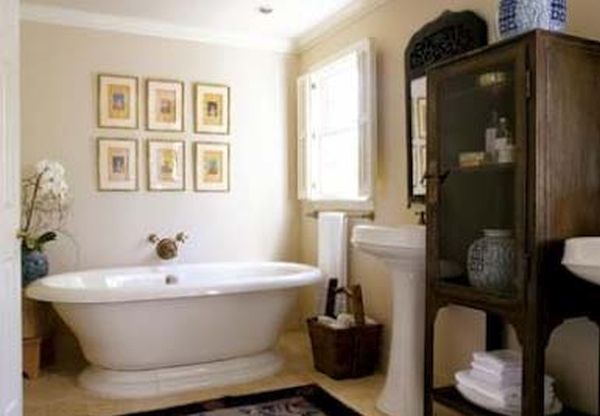 Handmade textiles form a major part of Colonial interior, the hooked rugs on floors, and hand knitted blankets enhance the beauty of the already beautiful Colonial interior decoration. Just like natural colors, natural fabrics play integral role in Colonial interior decoration.
Clutter free and practical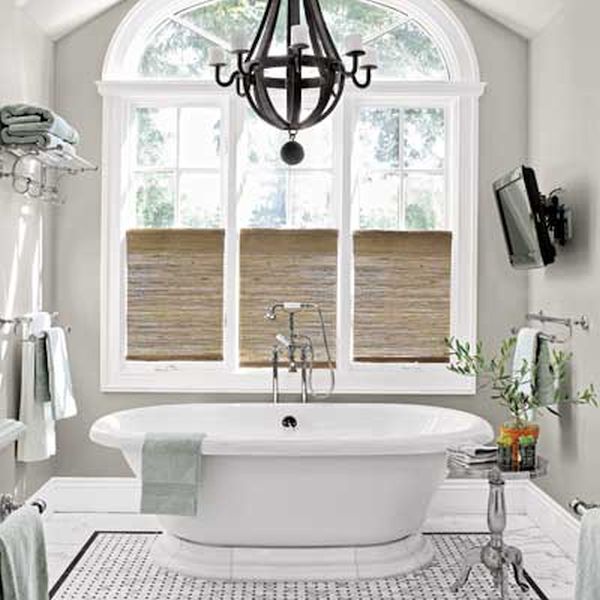 Colonial interiors are clutter free because they believe in minimalistic addition of accessories. You will not see over or heavy ornamentation in any Colonial style bathroom. Elaborate detailing is also not a Colonial style, rather practicality and functionality is a true Colonial style.
Colonial style bathrooms speak volumes of functionality because most of the things and features you will see relate more to functionality than anything else does. This does not mean Colonial bathrooms look dumb or boring but they look extremely sophisticated and classy. Rustic table, a trunk to use as a vanity, and flower stands you get to see in a Colonial bathroom.
Characteristics of colonial bathrooms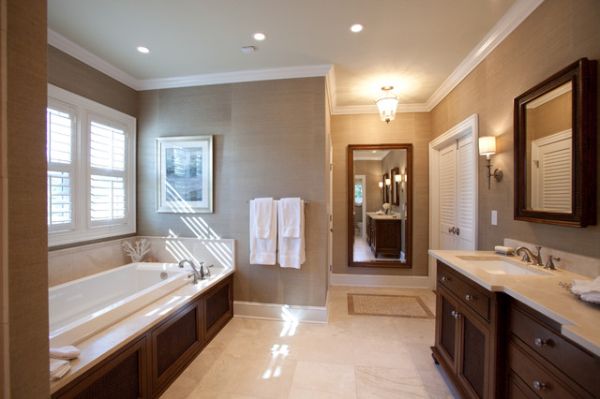 If you notice the use of color in Colonial architecture, you will find a very limited use of colors. This is because paints used to be made only from natural pigments, so barn red, soft blues, light greens, cream, and mustard yellows used to be the only options. You will see these colors in Colonial bathrooms and no other colors as you see in modern bathrooms.
Another decorative aspect of a Colonial bathroom is stenciling, flowers and other figures drawn on walls. It was the ancient alternative for modern day wallpapers. If you are in the process of giving your bathroom a Colonial-style look then you must add stencils around fixtures and mirror.
While adding accessories, use natural wood for towel racks, wood frames as mirror frames, and wrought iron for the sconces. Doing this will help you add a genuine Colonial look to your bathroom.
Here are some other tips that will help you transform or create a Colonial-style bathroom:
Accessorize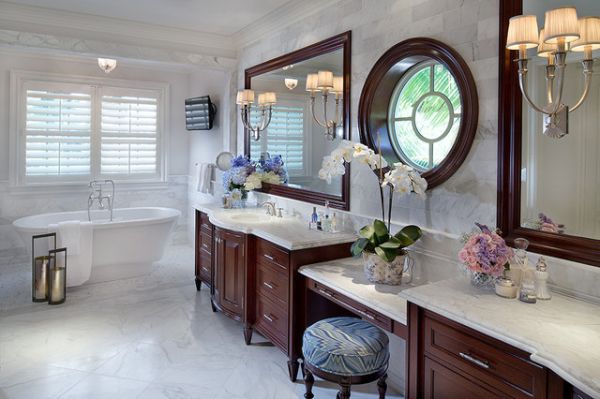 Ensure you accessorize your bathroom authentically so that it looks accurately like a Colonial bathroom. Hang a rustic iron chandelier over the bathtub, and use large plantation shutters to ensure privacy. Install sconces beside framed mirrors over the sink and try to make an unusual soap dish, such as the one made with a half shell.
Décor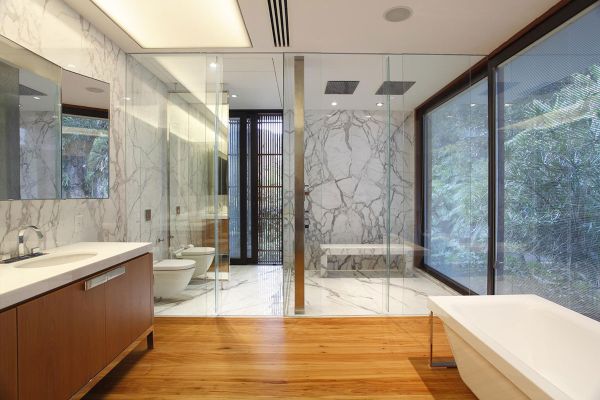 You are supposed to consider every detail while creating a Colonial-style bathroom. For instance the walls, make them plank walls as wood construction is a major feature of Colonial architecture. Paint the plank wall with white paint, and the same paint you will use for door, ceiling, and trims.
Flooring and the tub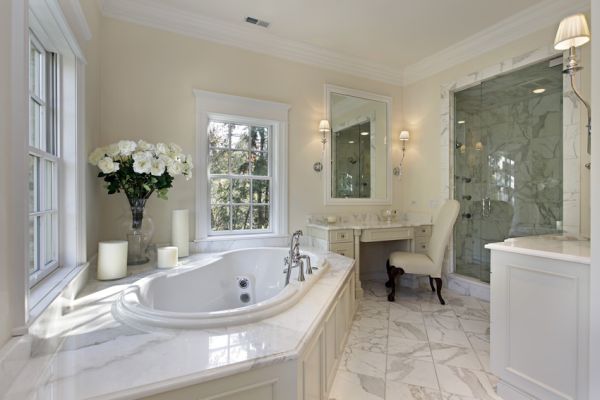 Invest on white porcelain fixtures rather than colored ones to give your bathroom an authentic Colonial look. This is because colored bathroom fixtures were not there until early 20th century. Plank floors are the choice for Colonial bathrooms but ensure you paint them tight and well with water-resistant coating.
Lighting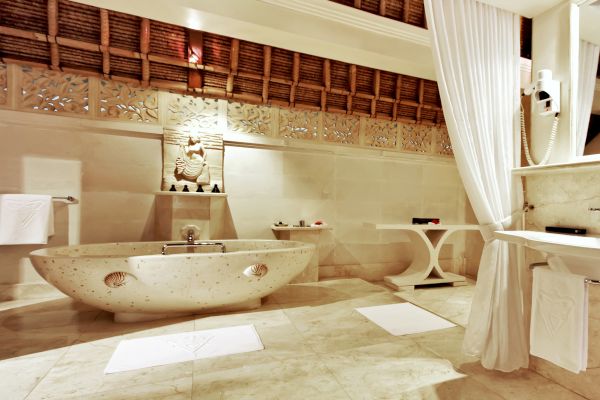 To give your bathroom a traditional, Colonial charm, you should give quite a consideration to lighting fixtures. Colonial style lighting is very different from the modern lights. Choose classy vintage lamps, brass lamps, candle sconces that give a mystic feel, and punched tin light fixtures also look good.

Colonial style bathroom has its own characteristics that include functionality, comfort, and minimalistic use of accessories.