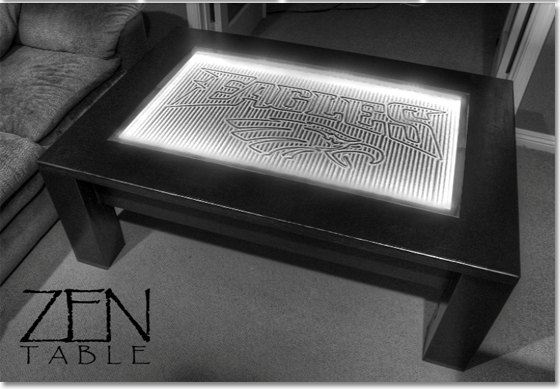 Product designer: Simon Hallam, San Clemente, CA
Overview
Award winning video game developer Simon Hallam has brought down his imagination of bringing the classical Zen Garden art to your table top by using technologies like electronics and robotics. Imagine owning a thrilling piece of glass-topped table making different sand patterns by itself. The tiny silicon beads under the glass sheet of table sculpt different amazing geometric patterns and images by a programmable robot. The effects are magical. A nice way to keep your guests busy while you complete other chores!
There are two versions of this concept; a full sized one and a desktop version to provide it more portability.
Features
1. Coffee table version
To make it suitable for home purposes, it is provided with a 5/16″ thick strong tempered glass. It gives you the facility to choose from a wide range of varnishes. According to your eye comfort, you can control its brightness by a dimmer switch control. An SD card is provided which contains programs for sculpting in the sand. To receive new programs for sculpting via cell phone network, an optional 3G modem can be built into the table. If you want to send commands directly from the PC, you can connect a USB cable to the table.
Dimensions: 56″ x 39″ x 19.5″
2. Desktop version
It has the same features as those in the coffee table version. It has a universal switch-mode power adapter. In addition, a software is provided to convert bitmap images into sculpting programs to make patterns of things like your name, logos, etc.
Dimensions: 13″ x 9.5″ x 2 1/2″
Green credentials
To achieve sustainability and environment protection, FSC certified renewable bamboos will be used for construction that not only will enhance the beauty of your interior, but also are durable and strong.
Current status
The design and execution of the first functioning table is complete. However, there is still some pending work for software to direct the table's robotics particularly on the desktop-size version.
USP
As it comes with an SD card containing programs for sculpting patterns into the sand, you will never get bored with limited patterns. You can receive new programs for sculpting via 3G modem as well.
High points
1. This masterpiece will also work great in hotel lobbies, waiting rooms, conference rooms, theme parks, restaurants, bars or destination resorts. This technology can scale to virtually any size, and it can sculpt the logo or your name in a beautiful way.
2. It will help you in engaging your guests and friends while you are busy doing other things or you can simply relax and watch the patterns and images being sculpted in an engrossing way. It will never let you divert your eyes as it sculpts complex geometric patterns, family crest, favorite team or company logos or meditative designs in an interesting manner.