Zhoujie Zhang would not have tasted success the way he has, hadn't the factory and workshop owners in Shanghai ignored him. They claimed that his designs were unpractical and impossible to create. He was way too determined to lose hope, he spent months in learning the various stages of production and manufacturing. Zhang acquired the knowledge of welding, cutting, polishing to create his own workshop.
Heart chair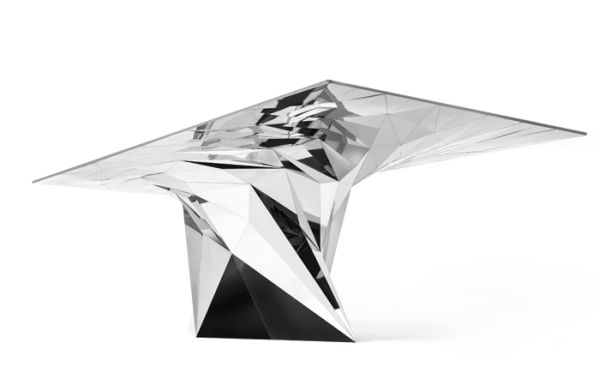 Since the designer is fascinated by spontaneity and designing from the heart, let's talk about the heart chair first. The physical dimensions of the chair are 75X60X60 cm i.e.Height, Width and Depth respectively. As the name suggests, this chair features a design of a heart on the back. Zhoujie acquired his product design degree in China and then went to Central saint Martins, London to do his masters in industrial design. He came back to China to create objects and designs like this one, close to his heart.
Spider chair
The dimensions of the spider chair are exactly the same as that of the brass heart chair. Flaunting a digital design like all his creations, the chair reminds one of a spider when seen from the front. "I believe that objects in the digital world will grow as nature does, in an organic way, but we just need to discover why and how that happens," said Zhoujie talking about his design ideology. The spider chair draws inspiration from the elements of nature.
Triangle stool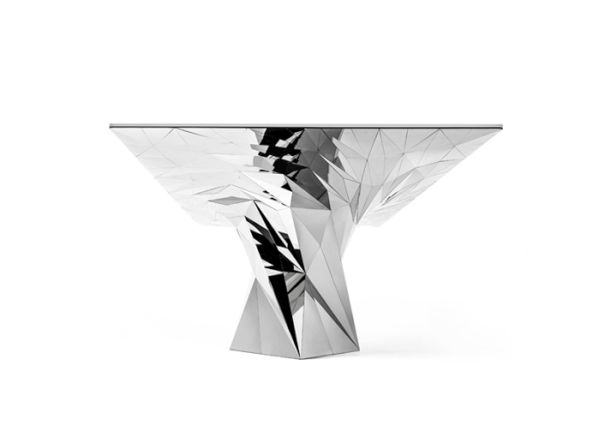 This tri-legged brass beauty is also hand made using digital crafts. Standing 56 cm tall, 36 cm wide and 30 cm deep, the stool is perfect for an elegant living room. Zhang calls himself as a digital crafterand believes that when furniture is made by hand it becomes non-conventional, unlike the traditional furniture.
Tornado table
It took the team three years to create this epic designer table. The base of the table is twisted like a Tornado. The massive table is over 175 pounds and is 78 cm high, 100 cm wide and 220 cm in length. The tabletop is not conventional plain flat, the enthralling design includes the tabletop. With a whirlpool like element is revealed in the top view.
There are two simple rules that Zhoujie prefers to stick to while designing. One, design without expectation and abide the digital and logical rules. Secondly, allow the design to flow by exercising minimum control. His designs are automated digital designs and impulsively created, just like emotions.
Source : Zhangzhoujie.Com