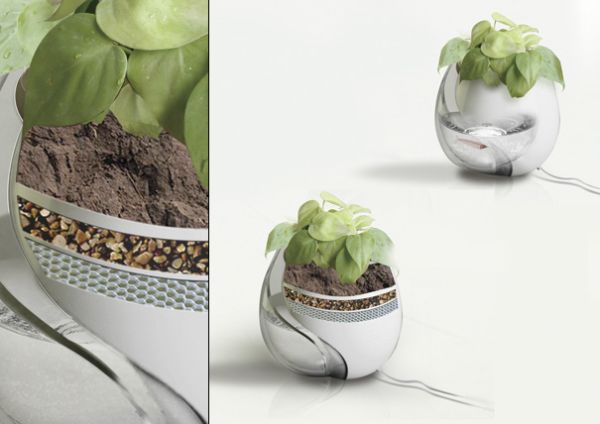 There are many gadgets available in the market that adds to the beauty of your home. When it comes to home decoration, fish bowls are ineluctable. These fish bowls not only are gorgeous but also add to the beauty of your house. The fish tanks are usually available in number of sizes but the standard size is what is highly preferred. These bowls come along with cool and attractive fishes which are the major part of attraction. These fish bowls are a rage all over the globe and there is nothing practically better than these bowls when it comes to home decor. These are so gorgeous and some of them are just stunning. Here is a list of 10 artistic fish bowls for a lively home decor. Have a look!
1. Bronze Little Fisherman Fish Bowl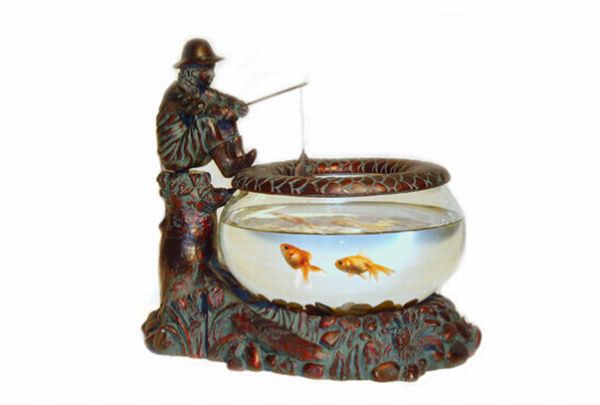 This ultra-cool fish tank is what defines creativity with a touch of style and luxury. This fish bowl named the Bronze Little Fisherman Fishbowl comes along with an exotic design and cool looks. The best part of this bowl is the virtual man sitting on the edge of the bowl. It makes it look something real which is pretty impressive and attractive. It is quite large and has a dimension of 11″x8″x11″. This cool fish bowl is made of plastic and plyresin. If you are actually crazy about fish bowls, this is definitely for you. Priced at $54.95, it is worth of a strong deal.
2. Fish Bowl Bookends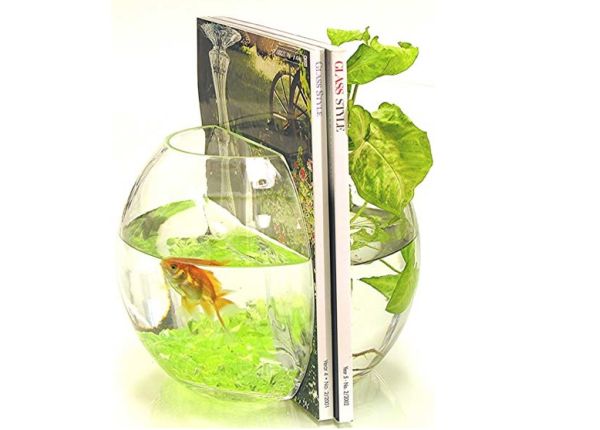 This is one of the cool and exotic fish bowl which is surely worth of keeping in stock for all those people out there who expect something more from a fish bowl. This is no similar to the traditional fish bowls; instead it is something unique which is provided with a book space to keep your favorite book besides it. Also, it can hold up your DVDs and CDs quite comfortably. This cool product is a rage all over and is so highly appreciated for its design. Priced at just $29, this fish bowl is worth going for.
3. Magic Globe Fountain Well Aquarium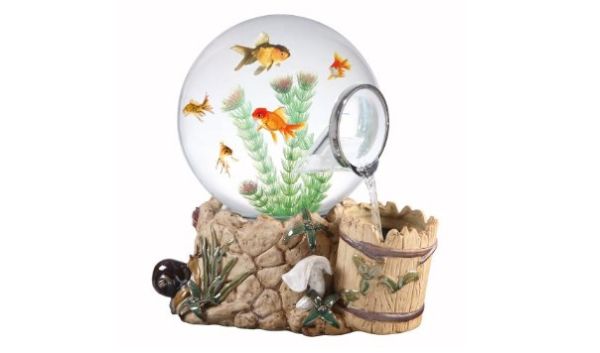 The Magic Globe fish bowl is one of the most exotic and beautiful fish bowls. This fish bowl is shaped like the traditional utensil which has an opening at the mouth and has a well kind of thing near the mouth. The fishes inside are provided with a plenty of space to roam around and also the fish bowl is surrounded by fountains. The exotic looks is what makes this fish bowl different.
4. Globe Aquarium with LED Light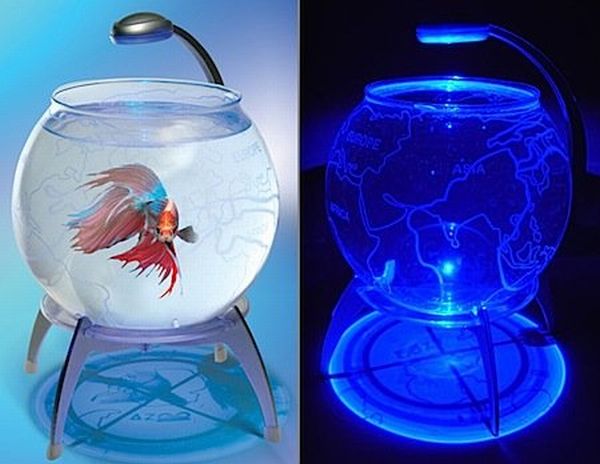 The days are gone when the fish bowls meant those big tumblers with complete darkness inside. This is the era of LED incorporated fish bowl which are so cool and gorgeous that you will really find it hard to take your eyes off them. This globe aquarium is a perfect example of beauty with design. It comes along with LED lights that not only add to the beauty of the fish bowl but will also add to the overall beauty of your house.
5. Fish Bowls by Roger Arquer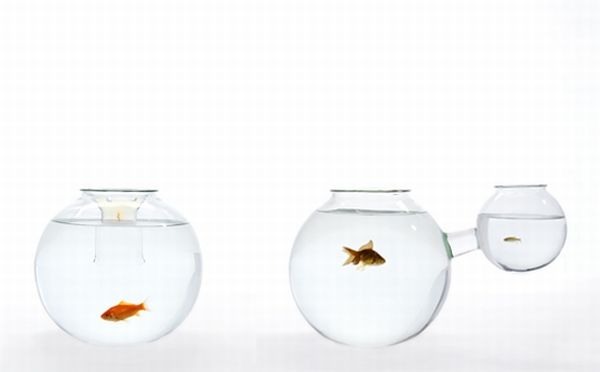 This is one of the most luxurious designed fish bowls which will completely drive you crazy over its looks. The artist Roger Arquer has created a masterpiece out of his creative mind and this one is just stunning. It is made in various shapes and sizes and all of them are pretty cool. The white glass with the round shaped vessel is really impressive.
6. Tetra 1.8 Gallon Waterfall Globe Aquarium Kit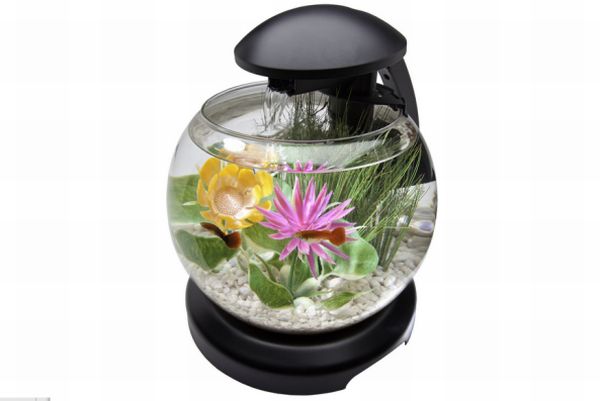 Tetra is known for producing really stunning fish bowls and this is one among them. It is fun to use the features included with this fish bowl. The black base body with a tower like structure emerging from the back of the bowl and feeding the fishes inside looks impressive. Also, the round shaped vessel like structure given to the bowl adds to the beauty of the bowl.
7. Hanging Fish Pod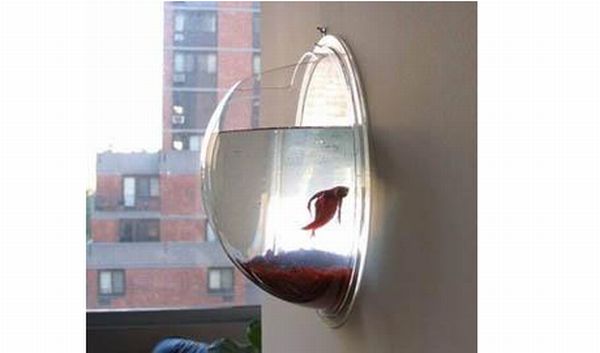 Creativity is what lies when you make out something cool and gorgeous. This device is a perfect example of creativity with a touch of style and luxury. No more you have to worry about keeping your fish bowls over a particular ground space. This hanging fish bowl can be hanged on any wall of your house and its oval shape is really awesome. Compact and beautiful, this fish bowl is really hard to ignore in terms of beauty and style.
8. Hanging Fish Bowl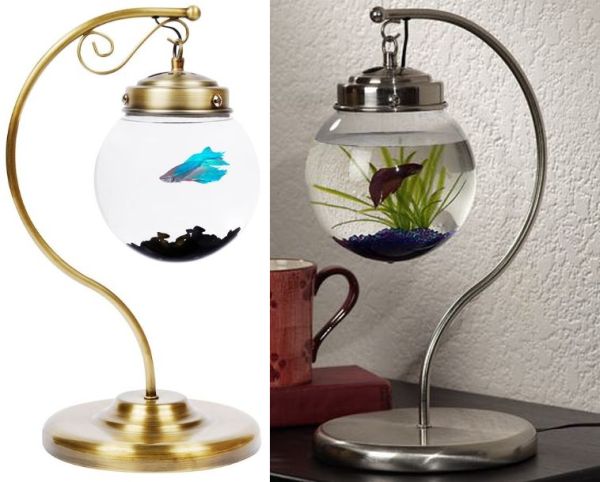 Now the fish bowl is given a new dimension. The days are gone when the fish bowls were kept on the ground and occupied plenty of space. This era has got something new and creative like this hanging fish bowl with a table lamp like structure and the only difference is the bulb being replaced by a fish bowl. This new idea is highly appreciated and is worth going for all the people out there who love keeping unique and exotic things.
9. One Pot, Two Lives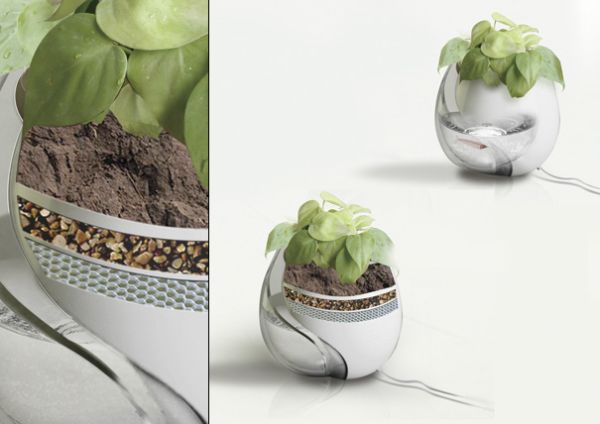 The One Pot, Two Lives is an exotic and really creative idea by the designers Sheng-Zhe Feng and Ling-Yuan Chou. They have come out with this stunning masterpiece which not only supports the fish life but also gives a room for the gardening stuff. This is a perfect fish bowl for all the people out there who love both gardening and fishes. It comes handy and is so compact that you will hardly find that you are carrying something in your hands.
10. 1984 Fish Bowl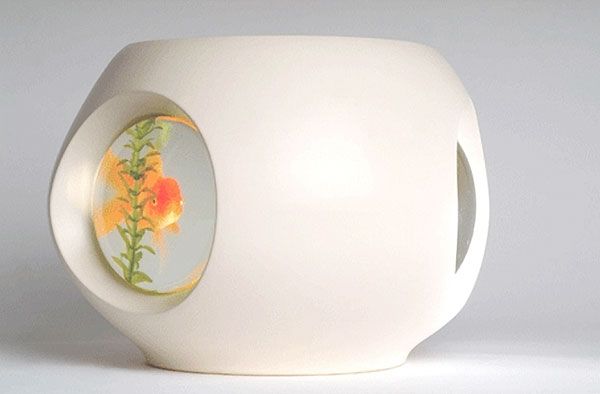 This is a stunning fish bowl which is so elegant and gorgeous that you can hardly ignore this beauty in terms of its design and structure. With a mini glass window you can actually track out the fish. It features a solid wall from all sides with only a single glass window in front of it. Priced at just $430, this exotic fish bowl will definitely add to the beauty of your home.