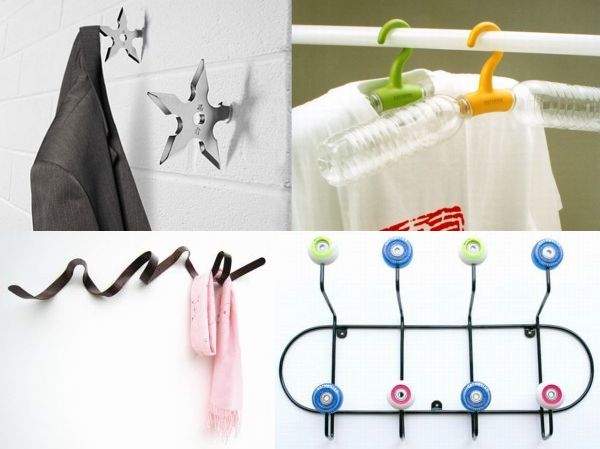 The main function of wall hooks and hangars is to keep your coats and clothes arranged in a neat and proper manner so that the crease is not disturbed when you are wearing them. However, it would be nice to hang our clothes on creative wall hooks and hangars that make our walls interested and also look very appealing at the same time. Here are ten amazing designs of coat hangars from around the globe that are likely to get you enticed.
1. Newspaper Clothes Hanger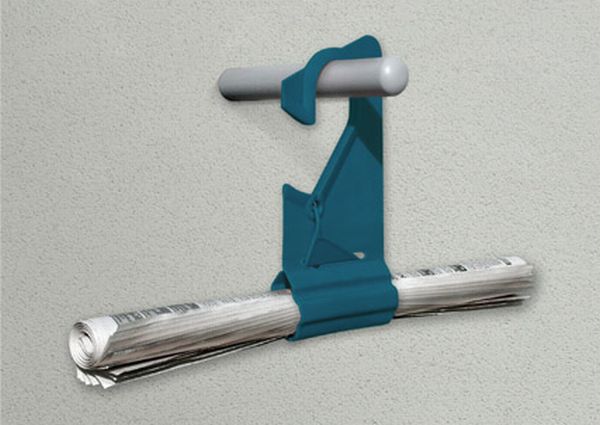 This amazing newspaper hanger is basically made by having a polymer sheet that is used as a clasp for a rolled up newspaper which transforms into a great clothes hanger. This is great on the environmental front too as you end up reusing old newspaper for hangars. This is a great product that will increase awareness amongst people to start recycling and reusing waste materials by making them functional in every possible way.
2. Gear-shift coat rack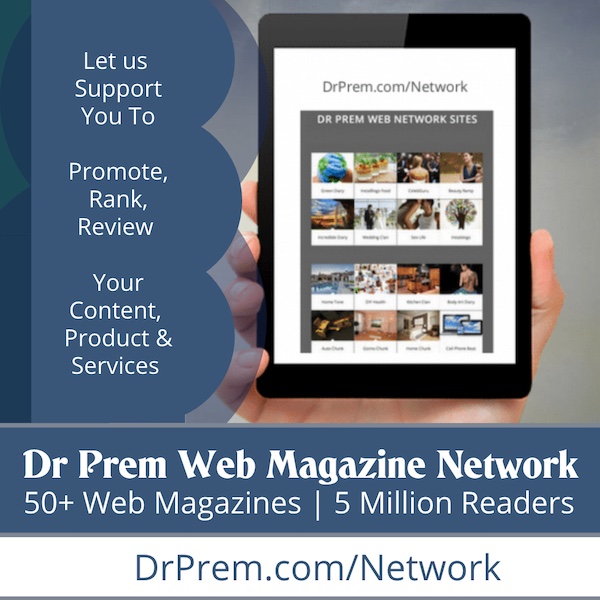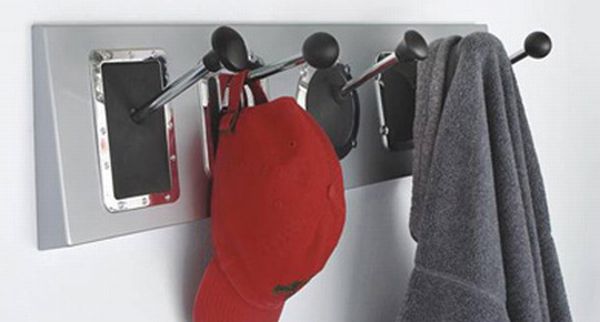 This gear shift clothes hangar is a very innovative and stylish looking one. Now all the men will hang their coats on this hangar with its macho looks and you won't be bothered about having to pick them up off the sofas! This coat rack has five hooks on which you can comfortable hang your hats, shirts and coats etc. and looks exactly like a manual gear shifter! This simple looking hanger rack looks amazing and would cost you around $68!
3. Rethink Hanger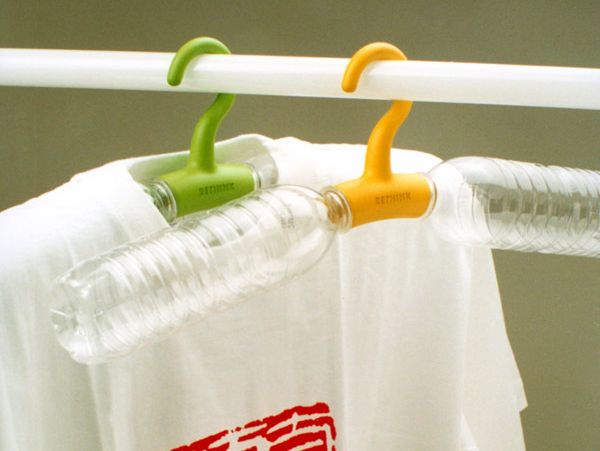 The rethink hanger is an amazing and innovative piece of that actually functions as a hanger when you screw two PET bottles onto the plastic hook. As its name suggests, it does try to send across a message that states stop using plastic and if you do, then recycle it! The shape of this hangar is great in supporting the clothes as compared to a traditional hanger and looks cool too!
4. Ninja Star Coat Hook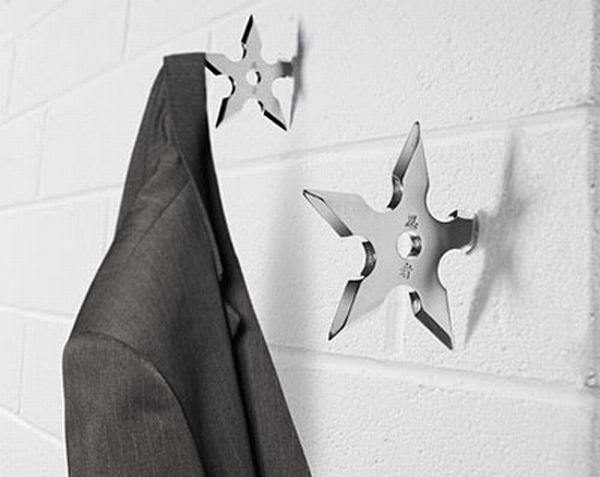 This coat hanger would be a hit with the Ninja-fans out there who just about dream of achieving everything that a Ninja does with the help of his Katena. Now, with the Ninja hook, you can actually do your clothes a favor by hanging them stylishly upon this Ninja star coat hook, which actually is a safer proposition too! This hook is crafted out of a strong allow that is nickel-plated. One of the tips of the star has a screw which can be fitted into your wall. So, if you fit a couple of these Ninja coat hangers in your office, it would look as if your office had been invaded by a Ninja whose Katenas are still stuck into your office walls! Very cool indeed!
5. 8-Bit hanger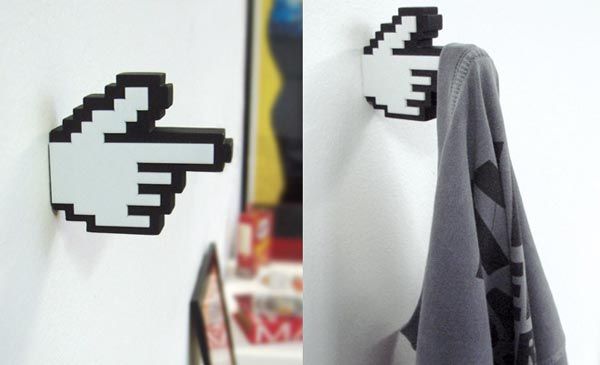 This 8 bit hangar is an amazing design for the gizmo geeks who cannot do without an iota of the internet and Windows in their homes. This hanger can be mounted on to your wall and it would bring the impression of bringing a mouse pointer into your room! Made out of acrylic, this wall hanger can be screwed onto your wall very conveniently and can 'point' out to your coats that have not been hung up on the hanger yet!
6. Hang Up coat hanger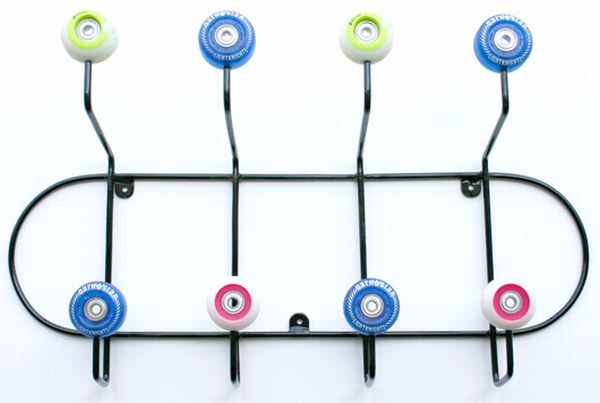 This great design of the hang-up coat hanger makes use of old polyurethane wheels of old skateboards that were widely popular in the 1970s. However, these skateboards continue to be popular, however, reusing the old plastic wheels of the skateboard is a good effort to recycle plastic. This hanger is a great fusion of a regular and creative hanger with the skateboard wheels that makes it very attractive. It is also great on the environmental front too!
7. Arrow Hanger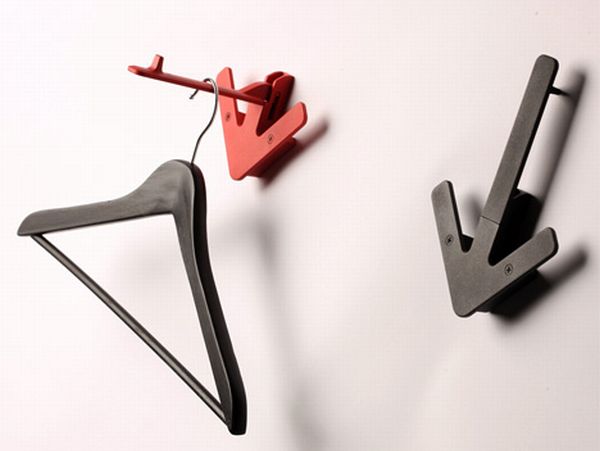 The arrow hanger is a cool and stylish way of hanging your clothes and coats and looks entirely different from your regular hangers! You can either hang one piece of clothing or you can simply slide down the arrow shaft and hang multiple clothes by using many individual hangers. When you do not want to use this arrow hanger, then all you have to do is fold up the shaft and it will look like a great wall decor.
8. Light Hangers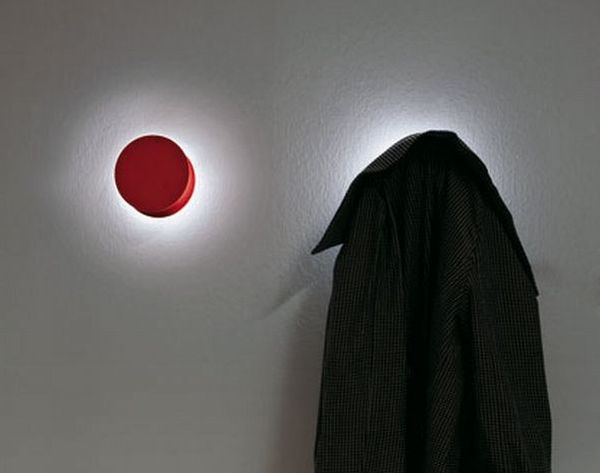 The 'Alone' light hangers are creations from Daniele Trebbi and Palluco and they are available in red, white and black. These circular wall hangers glow and you can combine them with different colored clothes to experiment with the resultant light which makes an interesting pattern as well. These are very good to use at night, when you return in the night and do not wish to turn on the lights. This wall hanger is made by using polycarbonate and opal and look very elegant.
9. Magnetic Clothes Hangers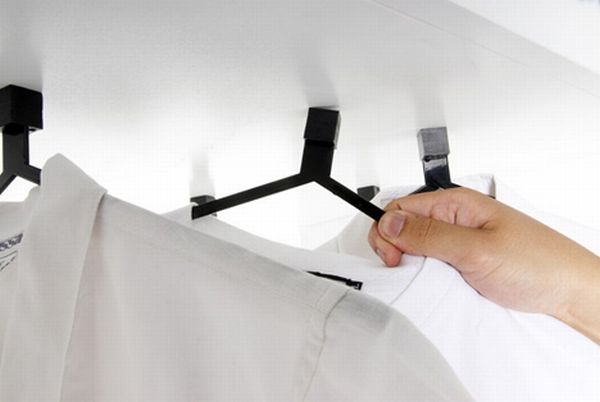 The magnetic coat hangers are great for using in limited space as they clasp on to metallic rods and are great to manage as well. With the help of these smart magnetic hangers, you can store more clothes neatly within a limited space. These magnetic hangers also provide a very contemporary and modern look to your wardrobe!
10. Ribbon coat rack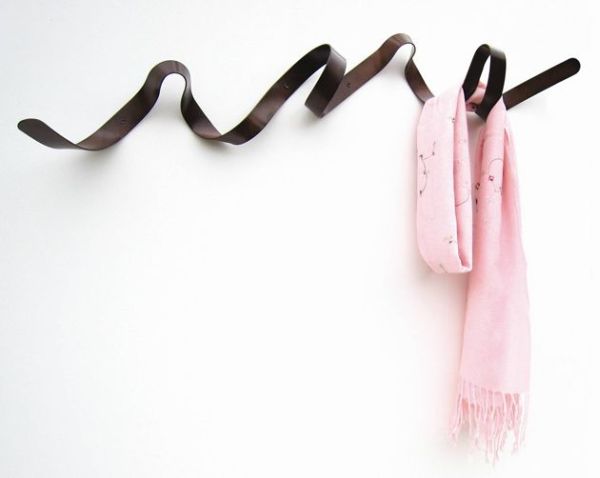 Designed by Hemal Patel from HeadSprung Studio in London, the ribbon coat rack is an elegant wall decor cum coat hanger that looks extremely elegant with its soft flowing form. The design is inspired by ribbons blowing against the wind. The screws at the end of this hangar also match the hangar color, which makes it look very appealing. This ribbon hanger can easily hold five clothes and is handmade, so each hanger is unique!