Rugs and carpets have been in use since a very long time. Although they may be a small addition to your home; they can surly uplift any area and bring in a new look. It is a lot easier to style your home with rugs, since you do not have to spend too much of money. Moreover, the best thing about living room rugs is that you can change them regularly to give a new look to the interiors of your house. Here are a few ideas that you can use for styling your house with rugs.
1.     The layered finish hits the latest trends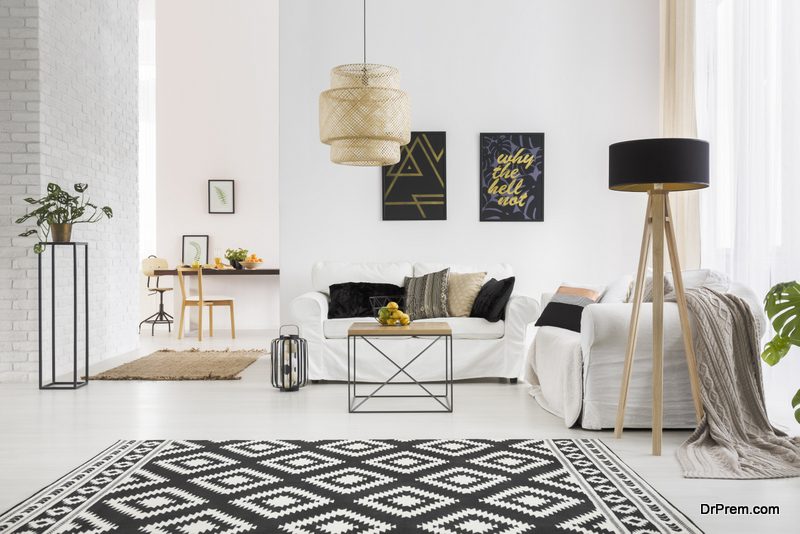 Known to be one of the hottest home décor and design trends in the recent times; the layered finish is perfect for people who want to play with color schemes. If you are considering to style your home with rugs in this concept, you can use the color blocking concept to add the perfect finish. To start with, use a basic corner to corner carpet and then play along with it. To bring in individuality to every space, choose rugs of different sizes and styles. This idea brings in the three dimensional effect in the room and does not require any professional expertise to get the look.
2.     Solid colored area rug ideas for the living room
Another way to style your home with rugs is by picking up differently toned rugs of the same or similar color. Pairing them together will give a nice finish and it also creates an abstract look. To display the creative side of you; you can choose to go with differently styled rugs of the same design. For example, if you plan to go with flowers, then choose rugs that have the same or similar kind of petals. The only difference will be the size of the rugs and the color. You can start with a darker shade and end with the lightest one or just go with different materials of the same color.
3.     Add some life to your walls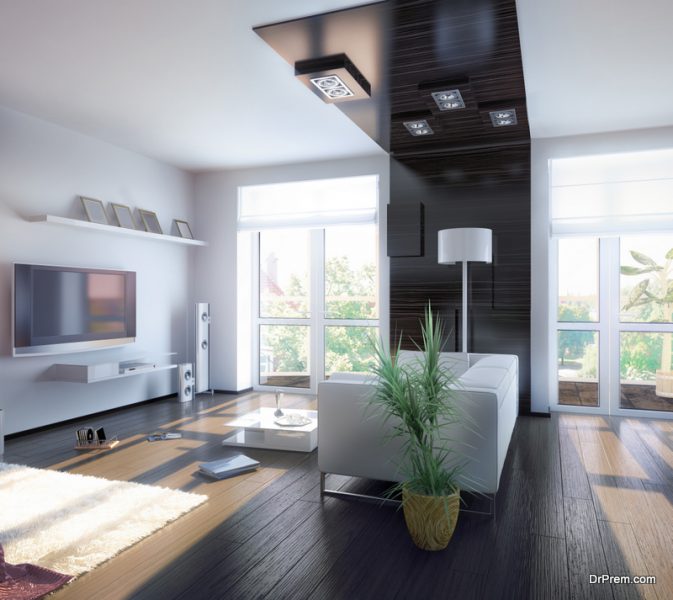 Want to break free from the boredom of conventional styling? Well, this is one of the living room carpet decorating ideas that lets you to. You can also use this idea if you want to preserve one of your favorite carpets or just use a very old one. Make changes to the placement every now and then by shifting it diagonally, horizontally or vertically.
4.     Bring in some greenery to inside
Well since we are looking at different ideas to style your home with rugs, this one is perfect for eco-friendly homes. There are artificial grass rugs available in the market that allows you to make a perfect space at home. With this concept, you can bring the outdoors inside and have your very own indoor rock garden.  This idea is perfect for people living in apartments who do not have the liberty of a balcony or outdoor sitting area.
5.     Make your very own lighting fixture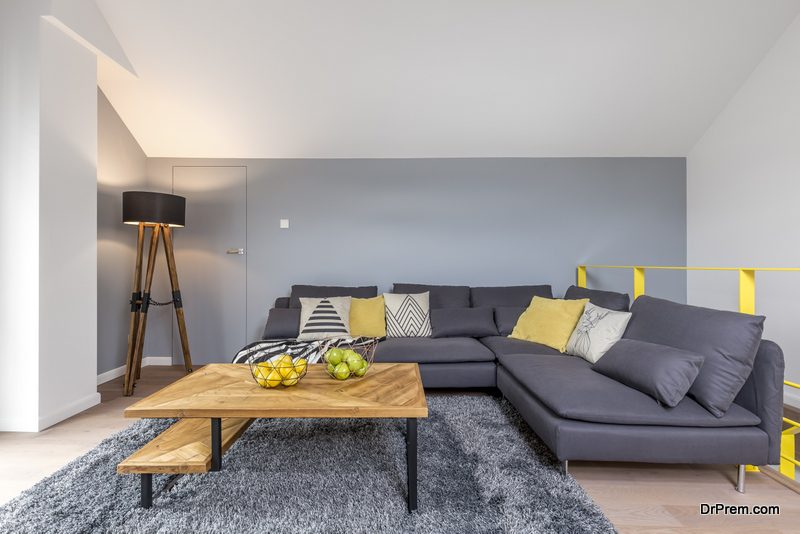 Got small sized rugs that you no longer use? Well instead of throwing them out; why not convert them into something unique. There are many DIY ideas on lighting fixtures made from cloth. You can use any of these ideas and covert your rug into a beautiful, customized and original piece of work. This is handy when you want to throw your old or worn out living room rugs.
6.     Use large sized carpets as a cover
If you have a full length carpet that you hardly use, instead of letting it occupy space in the storage, why not put it to good use. You can use your carpet as a cover by and make your own seating area. All you need to do is stack a few large sized cushion one on top of the other and cover them with the rug. This will replicate the look of the sofa but the only difference is that you have used your rug as a cover instead of a bed sheet. This option is perfect for the winters since the floors are generally cold. It is also an ideal way to save space if you live in a small sized apartment or room.
7.     Make your own wall hanging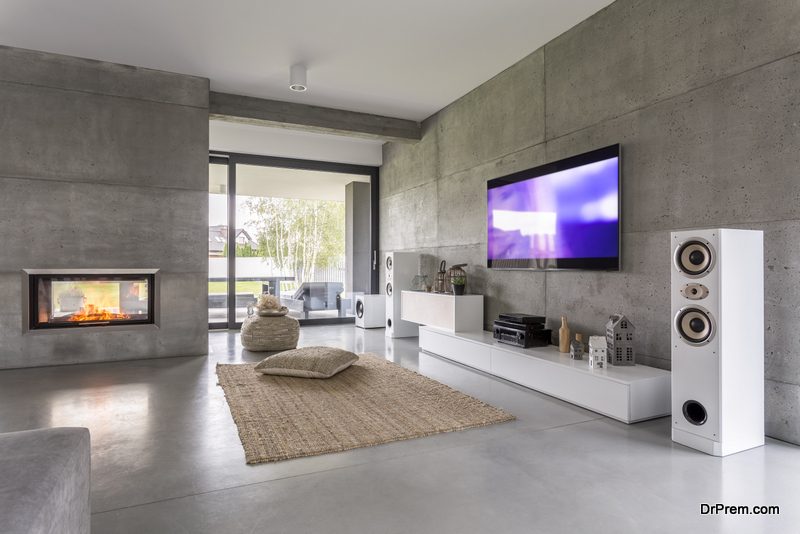 For carpets that are stained or torn, you can reuse them by making your very own wall hanging. This is not only a great way to style your home with rugs; but it is also a perfect way to put them to good use. Cut your old carpet or rug into the sizes that you want. This way, you can make a wall hanging with any and all the old carpets or rugs that you have in the house.
8.     Make a new chair out of it
A great way to reuse old rugs and of the area rug ideas for the living room that will look unique; you can make a beautiful chair out of your rug.  This will not only put your rug into good use, but also add some beautiful life into the space or area. The only thing that you should be careful about is the cleaning part. It would be advisable to get it professionally cleaned to maintain its beauty and durability.
9.     Convert it into a headboard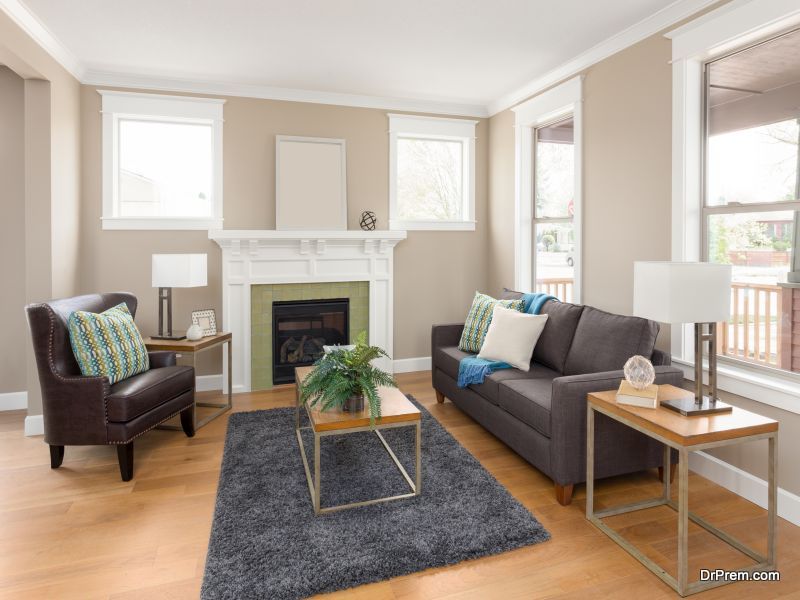 If you want to add something new to your bedroom, why not make a headboard with your old rug or carpet. This is not only one of the most innovative ways to style your home with rugs; but, it will also bring in a new change to your bedroom décor. There are various headboard DIY's that you can choose from.
10. Use it to style your pets space
Do you have pets in the house? Or are you considering a new nest for your furbie? Well know how much pets love their privacy. Well, one of the living room carpet decorating ideas that you can consider is using your old rug for your pet's new space. This will not only keep it warm during the winters, but will give it the security and comfort it needs when you are not around.